We may earn a commission from the companies mentioned in this post.
Do the words "I want to lose some weight" sound familiar?
If you haven't heard this line from several people you know, you've probably used it yourself. That is because reaching a target weight is a very common goal.
It is also why more people are buying home gym equipment. While there is nothing wrong with the gym, the convenience and privacy of working out at home are elements many appreciate. And if you are self-conscious about your current weight, you might feel too self-aware working out in a public setting.
This article is dedicated to helping you choose the best home exercise equipment, and the primary focus is to lose weight. Make no mistake; there are many great machines on the market that won't be mentioned.
But all the models can be overwhelming, especially when you are not sure about what to look for. Luckily, you are in good company, and we want to make things a little easier for you.
So, here is our list of the best home exercise equipment for weight loss. And we invite you to use it for some helpful perspective when you finally make a purchase.
Top 5 Home Fitness Equipment Options for Losing Weight at Home
Rower
Exercise Bike
Treadmill
Smart Home Gym Mirrors
Total Gym
1. Rowing Machines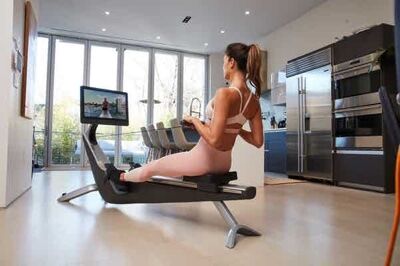 It is interesting to note that rowing machines can be traced back to the 1800s. Of course, they didn't feature state-of-the-art flywheel systems and monitoring equipment. These are elements that have been added over recent years, which helped to transform how people see rowing machines today.
Today, they are regarded as some of the most effective exercise machines for weight loss, toning, and ultimately increasing your level of health.
Even though you go through the same motion of propelling yourself, the technique requires the majority of muscles in your body to respond. And the better your technique, the more effective each stroke becomes. From your feet to your shoulders, you will feel the resistance provided by your own weight.
The main difference between home rowing machines is the flywheel/drag system. Some like to use patented magnetic components to set resistance levels, while others prefer an old-school design where actual water is used. Not only does the latter create a sense of realism to being out on the water, but the harder you row, the more challenging it becomes. The best part is that rowing provides the type of exercise you can do every day without excessive muscle pain.
Key Benefits
This a very low-impact exercise that will not put unnecessary pressure on injuries or joints
Exercise up to 85% of your muscles with a single stroke
Easily maintain a regular routine without aches and pains
Burn substantial calories without having to push yourself too the limit
Work out from a safe sitting position
Great for target areas like belly and buttocks
Allows you to do HIIT training
Rowing is fun and keeps you motivated
Our Top Rower Recommendation?
In our opinion, the Hydrow rowing machine is the best overall. Through the big touch-screen display, you can access amazing workouts that are not just for rowing, and you can stay on top of your performance statistics.
In addition, the Hydrow makes use of a patented electromagnetic drag system, which replicates the "water" experience almost perfectly. It looks great, provides a stable position, and does not expect any noise or distractions while rowing.
RELATED READING: How Much Does Hydrow Cost?
Finally, it is designed to be practical, comfortable, and durable. In other words, you can move it around easily thanks to the wheels, then store it in an upright position using the storage kit.
Special Features of The Hydrow:
22″ touch display with immersive live and on-demand workouts
Durable and sleek design
Operates silently
Patented mechanism for a smooth and realistic experience
Option to store in an upright position
2. Exercise Bike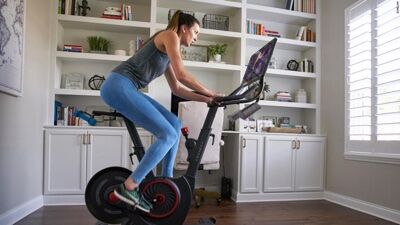 Also referred to as a stationary bike, the exercise bike is a mandatory piece of public gym equipment. You will never see a professional gym without enough bikes to go around, and with good reason. Just like rowing, there is almost no impact to worry about. Nor do you have to worry about possible injuries because you stay put in one position. More importantly, you can burn a lot of calories on an exercise bike.
Exercise bikes and rowing machines share a common design trait, namely a flywheel or drag system. However, to make that flywheel turn requires very different techniques. On a bike, your training speaks to the lower body and cardio. A rowing machine, on the other hand, makes the whole body part of the exercise.
RELATED READING: Which is better Echelon vs Peloton?
Thanks to the wide variety of models on the market, you shouldn't have a problem finding one that is compact enough, sturdy, and smart when you connect it to an app or display. And when you think about it, cycling indoors is usually much safer than taking your chances on the open road. When you are comfortable with your surroundings, you can concentrate more on sustaining your pace.
Key Benefits
A low-impact exercise
Safe and easy to use
Most home models are compact and easy to store
One of the most effective ways to burn calories and strengthen your heart
Our Recommendation?
When it comes to the best exercise bike, we think a model from the Echelon range is the way to go. Each one of them comes with Bluetooth connectivity and a 180-degree adjustable console.
Alternatively, you can get a higher-end model with a 22″ HD touch screen. What matters more is the immersive workouts you can get live and on-demand.
Be guided by motivational trainers with years of experience, and set up your program specifically for losing weight. The bike itself features a precision magnetic motor and 32 levels of resistance.
Special Features of Echelon Bikes
Immersive workouts from professionals, guests, and celebrities
Adjustable toe cages and competition seat
32 resistance levels
Adjustable console
Ergonomic and competition aero handlebars
Learn more and see Echelon's best prices
3. Treadmill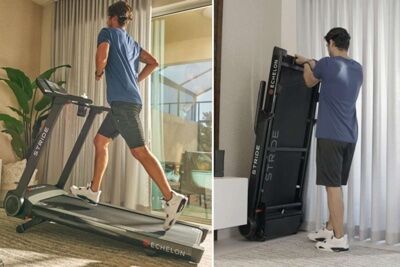 If you want to walk or run towards your target weight, but you don't want to do it in the street, the treadmill has served a valuable purpose for some time now. And many advancements have addressed the issue of "impact". For instance, a quality treadmill will have a belt system with several layers, specifically to absorb impact. Although, there are several other reasons to get a treadmill when you want to lose weight.
RELATED READING: Review of the Echelon Stride Treadmill
Another good feature to look for in a treadmill is the ability to switch incline levels, which activates different muscles and increases the challenge. You can choose to walk as slowly as 0.5mph, or you can run up to 10mph if the treadmill is designed for it. The point is you can burn calories by walking or running in the comfort of your home.
Key Benefits
Effectively burn calories
Exercise in safe surroundings, day or night
Control the pace, surface, and incline level
Our Recommendation
Our suggestion in the treadmill category is the Echelon Stride. It offers a max speed of 12mph, and up to a 10% incline level. This treadmill operates silently and without distractions, while the smart design expands your storage options. As with every other Echelon exercise machine, you can get access to a wide range of workouts via the display screen. And not all these exercises are exclusive to using the treadmill. At the same time, you get to see your progress
Special Features of the Echelon Stride
Speed up to 12mph
10% incline
Extensive live and on-demand workouts
Easy to store
Compact and portable
4. Smart Home Gym Mirror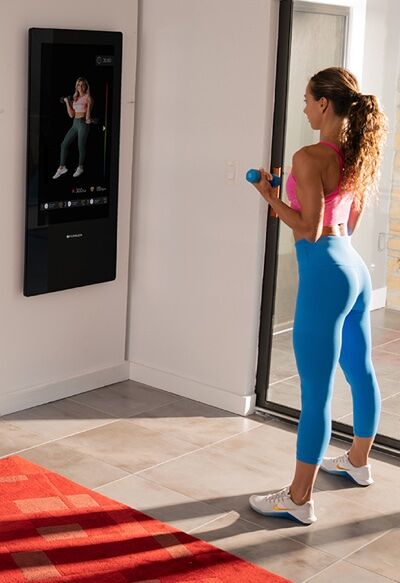 Not all exercise equipment can be spotted across the room. In some cases, it could be in the shape of a sleek mirror. And when it doesn't do the typical job of reflecting, it turns into a personal trainer. Yes, smart home gym mirrors are known for taking up very little space while offering the workouts of a lifetime.
Some examples of popular home gym mirrors include the Echelon Reflect and The MIRROR. Both will see you standing in front of the mirror as you follow instructions from expert trainers. And there is no lack of choices. Everything from HIIT and cardio to strength and resistance training is at your fingertips. Yes, even exercises like pilates and yoga can be accessed.
At first, it might feel a little strange to see yourself as well as the trainer. But you quickly realize what an inspiring experience it can be. And this could be just what you need to keep coming back to that mirror in order to reach your target weight.
Key Benefits
Place the mirror anywhere you will comfortable working out
It doubles as a mirror when not in use
The overall experience is incredibly fun, especially if you use the right mirror and app
Our Recommendation
The Echelon Reflect (review) is our favorite, mainly because it offers the best range of live and on-demand workouts. You also get to choose between two mirror sizes, 40 and 50 inches. Both look great no matter where you put them, and they offer an overall great experience. Personalize your weight loss training, listen to the experts, and track how you burn those calories.
Special Features of The Echelon Reflect
Personalize your workouts according to your weight loss goals
The mirror does not take up space
Become part of the Echelon community
Sleek design that fits in anywhere
See Echleon Reflect best price
5. Total Gym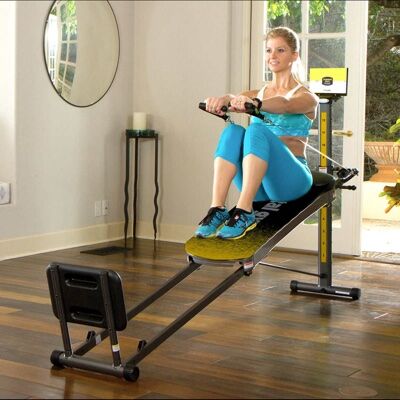 For those who like to mix things up on a single piece of equipment, we recommend browsing the range at Total Gym. The machines they offer allow you to perform a multitude of exercises without switching to another one. And this is great if you want to focus on specific sections of your body. You can row, do pull-ups, jumps, and even strengthen your core with a Total Gym machine.
But Total Gym has more than just exercise equipment. The brand also boasts some of the most effective training sessions on the market. In fact, many of their sessions are implemented for physical recovery and rehabilitation purposes. Over the years, the brand established a big community due to its expertise in the field of fitness.
The great thing about a Total Gym machine is the compactness and ease of use. It is almost effortless to make the transition to a different exercise, and the ability to switch can motivate many individuals to stick to their routine. Combine the machine with the workouts and you will understand what burning carbs are all about.
Key Benefits
Perform multiple exercises on a single machine
Access workouts from a leading brand in fitness
Compact machines that are easy to store
Learn more and get Total Gym best price
Summary: Which Option Is Best For You?
Whatever choice you make, you should be excited about it. Because if you are determined to lose weight, motivation is a key aspect. And this is why you invest in home gym equipment that inspires you to challenge yourself over and over. For example, did any of the above-mentioned machines stand out? Does one sound more interesting than the other?
A good way to help you decide is to ask four basic questions. They are:
How big is my budget?
How much space do I have?
What are my unique fitness goals?
Will the machine motivate me to work out?
Our advice – if you are having some trouble deciding – is the Hydrow rower. And we make the suggestion based on two main reasons.
Firstly, you get a full-body workout with one propelling motion, which is something to consider if you want to lose weight sooner rather than later.
The second reason involves the amazing selection of workouts that are available. Even if you don't feel like using the rowing machine, you can still work out.
This does not mean the other choices are not beneficial. On the contrary, we have confidence in all the suggestions that were made. But if we had to break it down to a single winner, the Hydrow rowing machine is the best exercise machine for losing weight, is our first choice…