We may earn a commission from the companies mentioned in this post.
It's perhaps no surprise that exercise bikes and spin classes are very popular right now. Exercise bikes have become the most popular way to work out these days – they are not only more portable compared to other options, but also offer a low-impact and enjoyable way to burn some calories and strengthen your heart.
Plus, some of us don't want to spend a few hours working out in a loud, dark room surrounded by sweat-drenched strangers.
The high cost of attendance mixed with overeager instructors, blaring music, and leaderboard drama is just not a good fit for those who prefer solitary exercising – especially when you consider the time commitment for attending the classes on a strict schedule.
Exercise bikes make it easy to pedal towards a fitter you within the convenience and comfort of your home. The idea of pedaling away in front of your own TV is certainly attractive to many, and the new generation of smart indoor exercise bikes are so covetable.
Many can be linked to fitness and training apps like iFit, which ideally uses Google Maps to simulate a real route; or Zwift which is a virtual reality training program.
Unfortunately, most of these exercise bikes are quite inaccessible thanks to their hefty price tags.
If you are in the market for an affordable exercise bike without compromising on the high-quality build and features of the more expensive options, the Bowflex C6 is one of the most compelling options around. Stick around for our full Bowflex bike review, where we'll share everything about its specifications, features, pros and cons, and pricing.
In case you're wondering, Bowflex's mother company has been around for a long time, and have already successful products in the market such as the TreadClimber Treadmill Hybrid Machine and the Max Trainer Elliptical.
It's only natural for them to try their luck in the burgeoning spin bike market, and the C6 is their first offering.
What is the Bowflex Bike?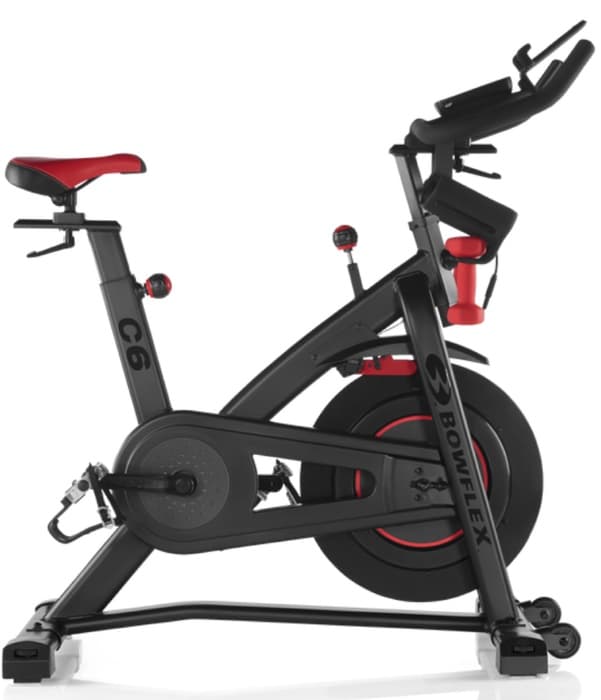 The Bowflex C6 is the first offering from Bowflex in the already hot exercise bike market. As usual for the company, Bowflex is stepping into the ring with the C6 and going directly against arguably the most popular bikes in the industry – the Peloton.
The C6 comes with all the technology and features that you'd expect from a high-end spin bike but at a fraction of the price of not only the Peloton, but also much of the competition.
It's also designed to let you stream live workout classes from a smartphone or tablet, and can sync up with your device via Bluetooth.
It also gives you a strong cycling base, along with the ability to connect to popular third-party apps, which lets you stream on-demand classes online, even those from Peloton.
It also allows you to sync your resistance levels along with vital stats to whatever app you're using, to help create a seamless riding experience.
How Does the Bowflex C6 Exercise Bike Work?
For those that have never used a spin bike before, you can expect to have a lot of fun with them. They are generally the best low-impact alternative to using treadmills, and when you factor in the availability of live classes or pre-recorded workout videos, it makes exercising much more fun.
The C6 works like any other spin bike, with the ability to stream a live workout class from your tablet. This means that you need a tablet or smartphone to download one of the compatible apps, and a reliable internet connection to stream the workouts.
You also need to have a subscription to the fitness or workout app of your choice.
Currently, Bowflex recommends using the C6 with the Peloton app, which comes with a huge library of pre-recorded workouts along with world-famous live workout classes.
During the live and recorded classes, you have the ability to compete against other riders, while professionally trained spin instructors guide you during the ride. This is the perfect way to not only have fun while exercising, but also get an amazing workout while at it.
Speaking of having fun, the bike's "Explore the World" function enables you to virtually ride through exotic places from all over the world with real-world maps and HD videos of these locations displayed on the screen.
New routes are added regularly. Moreover, the bike itself isn't app dependent, meaning that you can cancel your subscription to the apps and still have access to the goal-based program for your workouts.
The Bowflex C6 comes with an electromagnetic resistance system featuring an intuitive resistance knob with 100+ micro-adjustable resistance levers. With all these features, the C6 is quite a game-change in the indoor cycling space, and with its relatively compact size, you can fit it in almost any room of your house.
Features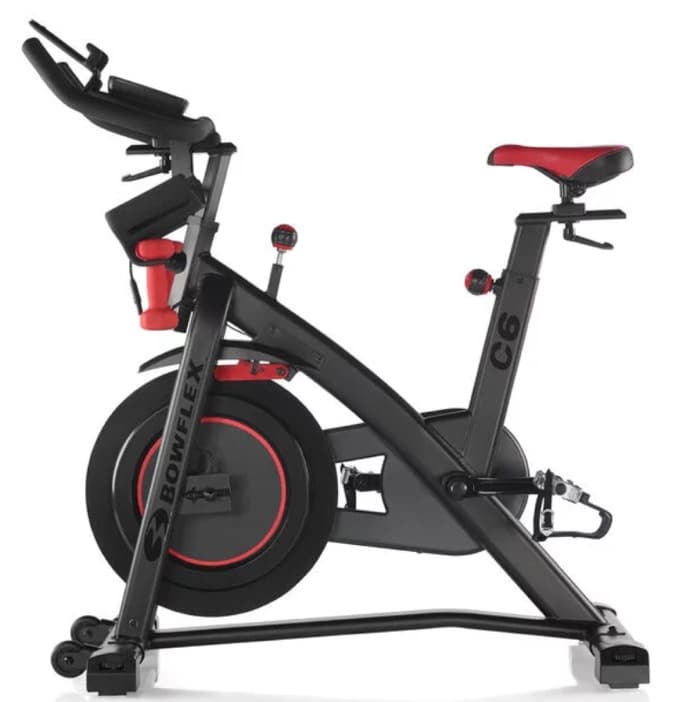 The Bowflex C6 comes packed with high-tech options and features that you'd expect from an expensive exercise bike, which ideally makes it a great choice for anyone shopping for a premium and durable spin bike.
Here are some of the features that make it worth considering:
Ability to connect seamlessly with the Peloton App, Zwift App, and other third-party apps
It comes with an intuitive resistance knob and 100 micro-adjustable resistance levels to suit the needs of every user
The magnetic resistance delivers an exceptionally quiet and smooth ride
A high density, race-style foam seat that provides incredible comfort for long rides
Flexible handlebars and seat that can be adjusted both vertically and horizontally for optimal versatility
Backlit LCD Metric console display that shows all the workout data you need. It's easy to read and provides you with constant details about your workout including time, distance, heart rate, etc.
A wireless heart rate arm band with the ability to sync with the display and your apps as you ride
A slim and compact footprint, which makes the bike easy to fit in almost any room of your house
Dual link pedals with in-built cages, so that you can optionally use the standard toe cages of SPD clips
Integrated tablet or smartphone holder for placing your tablet device while streaming workouts. It's also Bluetooth ready, allowing users to track calories, time, cadence, and distance.
Additional custom features like easy-to-reach cradles, dual water bottle holders, and that very purchase comes with a pair of 3 lb. dumbbells. This way, all users have instant access to a full body workout.
Specs / Dimensions
Dimensions: 48.7″L x 21.2″W x 51.8″H
User capacity: 330 pounds
LCD Backlit Display
Media Rack with USB Port
Minimum Ceiling Height Needed: Rider's Height Plus 15″
AC Adapter Used for Power Source
Total Bike Weight: 106 lbs.
Warranty: 10 years for the frame, 3 years for parts, 1 year for labor
Does the Bowflex C6 Work With Peloton?
What makes the C6 unique is its ability to connect and work with a number of workout and fitness apps, which is something that you don't typically find on other indoor cycling bikes.
As of the time of writing, you can connect your Bowflex C6 with apps such as Zwift App, the Peloton App, and their proprietary app:
Explore the World, which all work to provide an immersive riding experience. Other apps that we tested successfully on the C6 include:
Peloton
Rouvy
FulGaz
TrainerRoad
Strava
Tacx
Sufferfest
Apple Health
Under Armour Record
Google Fit
MyFitnessPal
In short, the Bowflex C6 has got you covered when it comes to fitness apps, to provide you with everything you need to get the most out of your sessions and have fun at the same time.
Bowflex C6 Pros & Cons
Pros
Sturdy and well-built construction, with little dependency on plastic
Well thought-out, functional and compact design that makes it great for limited spaces
Affordable pricing in comparison to much of the competition
Access to a wealth of scenic rides and large library of recorded workouts which makes working out a lot more fun
Allows you to stream live classes
Works with a variety of apps and doesn't tie you to one specific riding application or require one to use it
Integrated tablet, smartphone, and water bottle holders
Delivers a quiet, smooth ride through its electronic magnetic resistance system
Relatively straightforward to assemble
A practical 2-tone LCD console and a nice forearm heartbeat monitor
Awesome customer service
Financing is available where you can pay as little as $50 a month
Cons
The assembly instructions are too concise
The levers and the pedals don't seem to be of similar quality to the rest of the bike
The customer service isn't available on weekends, though you can chat with them online
Streaming workouts will require you to have a reliable internet connection
Requires a tablet to sync with the workout app of your choice
Most of the compatible apps will require a subscription to enjoy the service well
The C6 just hit the market, meaning there isn't a large number of reviews or feedback to find out what customers in the real world are saying about the product
While you will be saving money by getting your own apps, you should account for the price of getting a new tablet for streaming if you don't have one already.
C6 Price: How Much Does it Cost?
The Bowflex C6 is currently available from Bowflex's website for $949. That's over $1,200 less than the price of a Peloton exercise bike. For the price, you get a stable, adjustable indoor training bike with the option to sync or stream the apps of your choice using your phone or tablet attached above the console.
Currently, the C6 is only available from the manufacturer's website, which is great because buying directly from the manufacturer is more convenient in case you run into warranty issues.
More purchase locations are bound to become available over time, and we'll update this section of the article accordingly.
Learn more and check latest Bowflex Bike prices.
C6 Review Summary: Where to Buy
If you have been on the market for an affordable indoor exercise bike with access to live and on-demand studio biking experience, the all new Bowflex C6 is a compelling option worth considering. The C6 comes with the top-of-the-line features you'd expect from a premium machine.
We liked that Bowflex recognizes that most customers want the freedom to customize their workouts to their liking, and integrated an open platform on the C6 to ensure that users can use the digital training platforms they prefer. This way, users can ideally tap into unlimited workout sessions, train and compete with other users, and ride from virtually any destination in the world.
You can also adjust the resistance of the bike on the go to 100 different levels, which is more than you'll typically find in most spin bikes. We like that the ride is exceptionally smooth and quiet, and you can adjust the handlebars and riding position to your desired position.
You also get free dumbbells with every purchase, which is a nice little perk.
Where to Buy the Bowflex C6
Ready to put the Bowflex bike to work for you? The best place to buy the Bowflex C6 is directly from their website:
More Info