We may earn a commission from the companies mentioned in this post.
Bowflex is always at the forefront of cutting-edge workout equipment and it's time to look at what their latest advancements are all about. The company continues to set new trends in the world of fitness and it often stems from their gym equipment.
In this case, the focus goes on the new series of treadmills that have been launched by the company.
The Bowflex Treadmill 10 and Bowflex Treadmill 22 are stated to be the newest addition of treadmills that are being sold by the brand. It is important to analyze what both treadmills are all about, how they work, and whether or not you are going to find a good fit for your home gym.
This comparison will take a deeper look at which treadmill is best for your needs.
Bowflex 22 vs 10 Series Treads: Which One is Best?
Bowflex 10 Top Features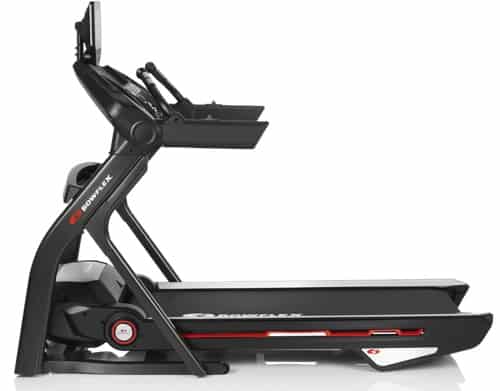 It starts with the comfort tech cushioning, which is designed to act as a suspension when you are running on the top surface.
This is key because a lot of runners complain of ankle or knee pain when they are running. By having the extra support, it is possible to find relief even when running a long distance on the new treadmill.
This is something Bowflex has taken the time to focus on and has made sure to emphasize in its latest design improvements. The new cushioning is robust, refined, and offers the type of protection needed for modern users.
This is one of the biggest advancements that has been seen with the new line of treadmills by Bowflex.
The company is looking to follow in the footsteps of the Peloton, which has taken the market by storm due to how immersive it is. Users want to enjoy their time while working out and being able to enjoy an immersive solution is a must.
The benefits include:
Constant Updates
Easy to Use
Fun and Entertaining
This includes being able to toggle through trainer-led videos and/or go running through unique locations that are pre-loaded into the app.
This is a great way to have fun and that is why the pre-installed JRNY app is a major plus.
Bowflex 22 Top Features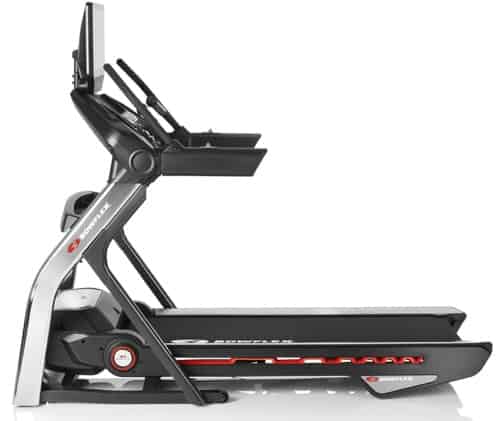 The 22 is Bowflex's flagship treadmill, so it includes everything you can find in the 10, plus some other high end features, including:
It is important to focus on a core feature that has become important in this series of treadmills by Bowflex.
The new concept involves real-time auto-adjusting, which means the treadmill understands how to optimize your running experience based on how you are performing. This is high-level stuff for those who are still adapting to their running experience and want to ensure it is in line with what they require.
The benefits include:
Safer
Ideal for the Body
Perfect for All Types of Users
Just having a solution that adjusts on its own provides peace of mind and comfort. It is a great way to feel confident in how you are moving.
Imagine you are setting up the treadmill in an apartment and want to put it away after a long workout session. Bowflex understands this and has been perfecting the foldable system for years. This is seen with the new line of treadmills.
The SoftDrop Folding System is a world-class feature that is going to make these treadmills fun to use for those in tighter spaces.
Compare the 10 and 22 at the Bowflex website
Bowflex 22 vs 10: Key Differences Between These Two Treadmills
22″ HD Touchscreen vs 10″ HD Touchscreen
It all starts with the touchscreen as that is what the names imply.
If you are going with the Treadmill 22, you are going to get the robust 22″ touchscreen. However, if you end up going with the Treadmill, you are going to get the smaller 10″ touchscreen.
It is important to note both are beautiful to the eyes and will be a joy to behold as soon as you hop on. These are screens that have been made in a way to stay compatible with the JRNY app at all times and will be great during a workout session.
The incline is another difference that is noted as soon as you hop on.
For those who are going to want to have as many options up their sleeve as possible, it is often necessary to maximize the incline settings.
For advanced users, the ability to go to a 20% incline is a major difference. This is only possible with the Treadmill 22 because Treadmill 10 only goes up to an incline of 15%. This is a key detail to keep in mind if it matters to you.
Otherwise, both machines are packed with great features and offer real value.
Here's a quick video comparison of the 22 and 10 series treadmills, to give you a better idea of what they offer:
On Demand Treadmill Workout Options: Using the Treadmills with the Bowflex JRNY App
With the JRNY app, the main advantage is going to be seen through the adaptable workouts. This means the information that is being pumped into the machine during your workouts will help tailor how the workouts end up unfolding.
This is powerful stuff because you are going to have the opportunity to work out the right way each time.
Instead of guessing and/or making manual changes, the JRNY app is going to have all of the necessary information to customize your workout sessions. This is far better than hoping for the best and getting injured along the way.
It is the trainer-led videos that are powerful for those who are just getting started with running on a treadmill.
Having the ability to see what needs to be done and how to go about your running session is game-changing. You are going to learn a lot with the help of the trainers and they are fully qualified to assist along the way.
The benefits include:
Maximizes Performance
Efficient Caloric Burn
Safer
It is something as simple as this that can make a real difference.
You can continue to look at what the trainer is doing and learn more about how your body works. This is empowering and comforting while running.
A lot of people don't realize the beauty of being able to see the world around you while running.
Of course, you are not going to be running outdoors, so why not bring the outdoors to you? This is what the JRNY app is all about.
You are going to get the opportunity to go through a long list of outdoor locations that are going to unfold in front of your eyes as you run. The more you run, the more you are going to get to see.
This is a major plus because it can be a great way to encourage yourself as well.
What We Love About the New Bowflex Treadmills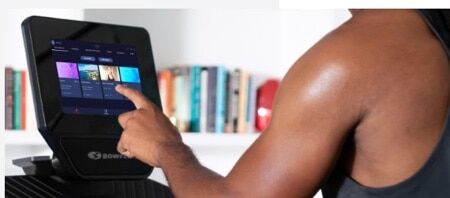 One of the main benefits that come along with the new treadmills by Bowflex would involve how immersive they are compared to other options on the open market.
The JRNY app is mind-blowing and is as in-depth as you want it to be.
Just take the time to toggle through the various settings, customizing each detail, and go through the perfect workout session every single time.
Being able to go through the various worldly locations is always entertaining. You are going to fall in love with the process whenever you hop onto the new treadmill.
Using a treadmill is always going to come down to the simple things and that includes the overall quality. Due to the comfort cushion support, you are going to have a little bit of a cozy landing as you are running.
This starts to play a significant role in how your ankles/knees feel at the end of a session.
Most people start to get sloppy as the workout continues and that is not a problem here.
The benefits include:
Ideal for the Joints
Great for Beginners and Advanced Users
Easy to Set Up
If you are someone that is all about running on a smooth surface, this is one of the best in the business.
Bowflex has taken the time to make sure it does a great job at all times whether you are sprinting or walking.
The touchscreen is the heartbeat of what this machine has to offer.
If you are taking the time to go with the Treadmill 22, you are going to get a robust 22″ HD touchscreen that is quite impactful in its presence. Even the 10″ HD Touchscreen with the Treadmill 10 is quite the sight.
It is all about enjoying the adjustability that you are going to find with both Bowflex treadmills.
You will know they are going to look good and you can fully tailor the angle at which you are looking at them. This is good for those who are shorter or taller.
Are There Any Cons?
The only negative associated with these treadmills comes down to the warranty program.
You are not going to enjoy only having two years of protection, while other machines on the open market provide a much lengthier warranty setup.
The reason for this is only known to Bowflex but they tend to make high-quality treadmills that are rarely going to disappoint. In general, you should be good to go, but it is a key detail to think about when you are investing in one of these treadmills.
RELATED READING: Echelon Treadmill Review
Tips for Deciding If the 10 or 22 is the Better Bowflex Treadmill for You
It all starts with the screen size because this is the most noticeable difference between the two Bowflex treadmills.
If you are someone that wants the biggest possible screen then it is time to go with the Treadmill 22. However, if you don't mind a smaller 10″ screen then it is okay to go with the more affordable Treadmill 10.
It is all about what you are after as the user and what your eyes want to see during a run. This will depend from user to user.
Beginner vs Advanced User
The average user isn't going to want to use all of the features that come along with the Bowflex Treadmill 22 such as the extra 5″ incline.
You may not care about something as small as that but it does matter to an advanced user.
The key factors include:
Intensity of Your Workouts
Constant Changing of Settings
Desire for Increased Incline Settings
If you are someone that is passionate about having as much flexibility during a workout as possible then it is better to go with the high-powered Treadmill 22.
It simply offers more and you are going to know it will fully adjust to what you are after on the treadmill.
Each individual is going to have a budget and it is important to keep this in mind.
The prices are:
This difference might be enough for you to think twice about which one to go with. Take the time to set a budget and then move forward with one of these treadmills.
Please note, both are great investments and do offer a long list of high-grade features that make them a worthwhile long-term investment.
The handlebar grip is a factor that you are not going to think about but it might matter a lot in terms of overall comfort.
The Treadmill 22 comes with a longer handlebar that is easier to grip from the sides. You are going to have more space to hold onto in case your hand slips.
If that is key to you at higher speeds, it makes sense to go with the Treadmill 22. Otherwise, you will be fine with the smaller handlebars associated with the Treadmill 10.
Summary
In the end, both of these new treadmills by Bowflex are powerful, easy to use, and immersive.
You are going to love the integration of the JRNY app and how beautiful these treadmills look. They are the real deal and it comes down to what you prefer as a user.
Whether it is the larger screen of the Treadmill 22 or the budget-friendly pricing of the Treadmill 10, you can't go wrong with either option.