We may earn a commission from the companies mentioned in this post.
Working out from from home has become more popular than ever, and there are few companies that are taking home-based workouts to the next level.
Bowflex is one those fitness companies that has been leading the charge, with fitness options that allow for streaming live and on demand workouts, scenic rides, and adaptive workout technology with their JRNY App.
Now, they've taken that experience up another level with the release of the Bowflex VeloCore Bike, the latest in their long line of impressive workout options.
In this Bowflex VeloCore review, we'll detail exactly what this latest release brings to the table, and explain why it's going to be one of the hottest bikes in fitness this year.
What is the Bowflex VeloCore?
The Bowflex VeloCore is an exercise bike, that features "leaning mode" that create an amazing immersive riding experience.
This is the first bike that we've seen that offers a lean option, but if you get bored with indoor fitness, you won't any more! With the VeloCore, those scenic rides you can stream will suddenly feel real. Plus, it works with popular fitness apps like Peloton and Zwift, so you can still stream awesome live and on demand workouts as well.
Here's a look at the VeloCore in action:
Ready to take your indoor biking experience to the next level?
How Does it Work?
While the VeloCore bike was engineered to be able to lean, which takes your biking experience to the next level, you also have the option to lock it into stationary mode if you prefer a traditional indoor bike ride.
That means you can sprint to your heart's desire, or go into leaning mode. When you dial in the lean mode, you can move and flex your way through scene rides and workouts, giving you even more opportunities to engage your core, glutes, and arms.
Whichever mode you choose or prefer – you're in control of your workout and experience.
Features and Specs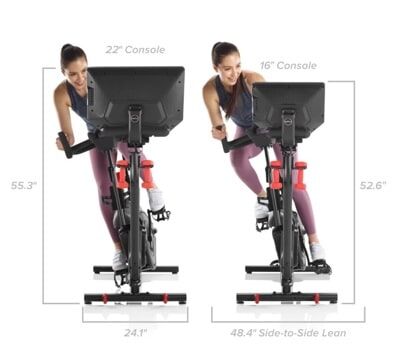 The VeloCore brings a lot to the table in terms of quality and design, plus it's designed to be compact and take up minimal space.
It also features a beautiful touchscreen console for streaming your workouts and/or accessing the Bowflex JRNY app.
Here's quick breakdown of some of the key features that come with the VeloCore:
Ride in Leaning or Stationary Mode
Choose from a 16 or 22 Inch Touchscreen Console
Adjustable HD Touchscreen Included (Connects to WiFi)
Compatible with Bowflex JRNY App
100 Levels of Resistance
Bluetooth Heart Rate Monitor Included
3 Pound Dumbbells and Rack Included
Track Your Metrics: Time, Interval, Distance, Calories, Burn Rate, Lean, Etc.
Adjustable Seat
Dual Link Pedals
Adjustable Handlebars
Bluetooth Speakers
Dimensions: 59.8″ L x 24.1″ W x 55.3″ H
Max User Weight: 325 LBS.
See all features and specs at the Bowflex website.
Does it Work with Peloton and Other Apps?
Much like their C6 Bike, the VeloCore has been designed to be compatible with the Peloton App, as well as others. Here's a brief list of the apps the VeloCore works with:
Peloton
Bowflex JRNY
Zwift
and more
Does it Work with Netflix and Hulu?
Yes!
Prefer watching your favorite movie or documentary while you ride? The VeloCore can make that happen.
With your Bowflex JRNY subscription you'll the ability to stream the most popular apps, including:
Netflix
Hulu
Disney+
Prime Video
Verified Customer Testimonials: What Are Real Riders Saying?
The VeloCore is still quite new, but the reviews are already coming in and far they're overwhelmingly positive. I think the biggest question for me, was would people like VeloCore's lean mode, or is that a feature you can live without.
Turns out, Lean Mode is a hit:
I love the lean feature. I leave it on when I ride through the streets of Amsterdam (and other fun places I can "ride" on my Velocore screen) so that it feels like I'm really on a bike, while also engaging my core!
Other riders appreciated the bike's quality, and the variety of workout options:
With limited gym access and winter coming, I wanted to have an indoor exercise option. I researched a bunch of bike options. I liked the velocore because the subscription plan is significantly cheaper than competitors, it has a broad set of exercise programming options (programs, instructor led, and explore the world), it natively supports several leading streaming options for entertainment, and is supports connectivity to other fitness apps like zwift and peloton. If it had just been me, I might have been more tempted to go with a wahoo kicker trainer, but this bike is much simpler for the rest of the family to use as well. All of us are using the bike multiple times a week, so that's perhaps the best recommendation…
Being able to take part in instructor-led workouts from home, was another reason customers loved their VeloCore:
My wife and I are long time gym rats… in addition, she is a fitness instructor. Due to the ongoing pandemic, we opted to terminate our gym memberships and invest in quality home fitness equipment. The first item we purchased was the new Bowflex Velo-Core bike. It arrived in a timely manner and was extremely easy to put together. The hardware associated with this bike is first rate and the bike is sturdy and totally fun to ride. Given the travel limitations imposed by the pandemic, we have found the JRNY software that is featured on the bike's viewing screen the perfect antidote for frustrated would be travelers. So many choices of places to visit on the screen – choose your destination and start pedaling. What a ride!! Absolutely love it and would not hesitate to buy again or refer a friend interested in a quality home gym product.
VeloCore Price: How Much Does it Cost?
The Bowflex VeloCore has two different pricing points, depending on which screen option you choose. Here's a look at the latest VeloCore pricing options:
VeloCore Bike with 16 inch Display Console: $1,699
VeloCore Bike with 22 inch Display Console: $2,199
Prices Current at time of publication – See latest VeloCore prices at their website (financing available).
Does the VeloCore Come with a Warranty?
Yes, Bowflex offers a generous warranty if you decide to purchase a VeloCore. Warranty options are as follows:
2 Years Mechanical
2 Years Electric
1 Year Labor
Is Assembly Required?
When you purchase from Bowflex, you have the option of assembling the equipment yourself, or you can pay extra and have a professional do it for you.
If you decide to assemble your VeloCore yourself, they do their best to make the process as easy as possible, and even offer videos that guide you through the process.
Once they've release the assembly video, we'll share it at the end of this review.
Review Summary: Is the VeloCore For You?
The Bowflex VeloCore is the first exercise bike of its kind – it offers an interactive riding experience, that allows you to lean from side to side. This takes your home biking workout to another level, engages your core and upper body, and makes your workouts a lot more fun.
If you've been looking for a bike that offers live and on demand workouts (VeloCore works with Peloton app), tracks all of your key stats and metrics, and offers a total body workouts, then your search is over.
The Bowflex VeloCore may just be the perfect bike for you, but is it our top-rated exercise bike of the year?
Find out who took the top spot below:
Resources