We may earn a commission from the companies mentioned in this post.
Many people are recognizing the benefits that working out at home offers. Because of this, sales of at-home exercise equipment are increasing by the day.
With the likes of companies like Peloton and Bowflex creating connected workout experiences, the line between an at-home workout experience and a gym/studio experience is becoming increasingly blurred.
These two companies are competing for head to head in the connected workout space and each has its own premium indoor cycling products. It can be very difficult to choose between each.
The key is knowing and understanding what each offers and figuring out which one offers the kind of experience you are looking for in a connected bike.
Bowflex VeloCore vs Peloton: Features Comparison
Bowflex VeloCore Features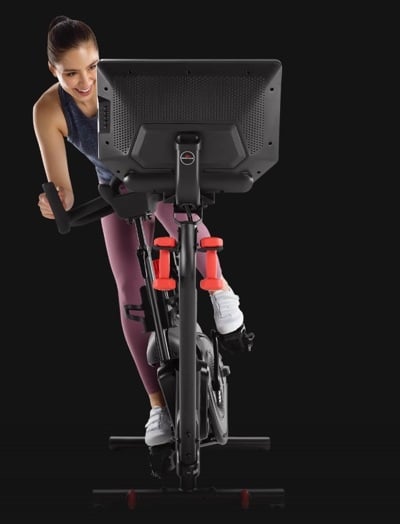 1. 100 Resistance Levels
The VeloCore (see our Bowflex VeloCore review) comes with 100 different magnetic resistance levels. Due to the bike having magnetic resistance, you will have a smooth and near-silent operation.
2. Multiple Riding Styles
This is where the VeloCore shines. Bowflex managed to create one of the most immersive riding experiences with this bike. Instead of creating another boring stationary bike, they sought out to create a much more natural riding experience.
This bike features two distinct riding modes. One mode is the ordinary stationary setting that you are accustomed to.
The other is something they call Lean Mode. This is a mode that creates much greater immersion because the bike will have you leaning, rocking, and swaying during your workout. This not only creates a much more immersive experience, but it also helps to activate even more muscles including your core and arms for an even more effective all-around workout.
3. Adjustability
Having a bike that is fully adjustable is key to getting proper ergonomics with your workouts. This bike comes with all of the adjustable features that you would need. For one, it features an adjustable seat which can help you situate yourself properly on the bike to ease the stress on your bike.
Likewise, it comes with fully adjustable handlebars to ensure that you have optimal posture during your workouts.
4. Built-In 16-Inch or 22-Inch Display with Touchscreen
Depending on the model you end up getting, you will get either a 16-inch or a 22-inch high definition screen with it. The screen is incredibly immersive and you will be able to stream from your favorite subscription streaming services as your leisure.
No more excuses for not getting in your next workout because you need to catch up on your Netflix binging.
Best of all, the bike features integrated Bluetooth speakers to ensure that you are able to hear your favorite shows or your trainers during the course of your workouts.
5. Compatibility With Popular Exercise Apps
One of the standout features of the Bowflex VeloCore is its compatibility with several different and popular fitness apps.
Because Bowflex is more brand agnostic, you don't have to be worried about being locked in a walled garden for apps. Instead, you get a choice of several apps or you can use multiple apps at a time.
In fact, with the VeloCore, you can connect and use the app along with your Bowflex bike. Likewise, you can use other popular fitness apps including Zwift and even Bowflex's very own JRNY app.
6. JRNY Experience
A JRNY subscription will help you get even more out of the Bowflex VeloCore. You will end up gaining access to adaptive workouts, friendly virtual coaching, trainer-led workouts, and immersive destinations through the Explore the World experience.
Peloton Bike Features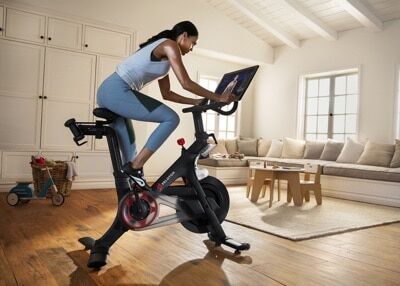 1. Adjustability
The Peloton bike comes with the requisite adjustable features you will need to ensure that you are riding comfortably and with the appropriate posture. You will be able to adjust everything from the handlebars to the seat to the screen.
2. 100 Resistance Levels
The Peloton bike offers 100 resistance levels with near-silent operation due to it utilizing magnetic resistance.
3. 22-Inch High Definition Display
The Peltonn bike comes with an extremely immersive 22-inch high definition display that can have you feeling as though you are face to face with your instructor right in their studio.
This is one of the reasons the Peloton bike has gained so much traction because it provides such an immersive experience.
4. Live and On-Demand Classes
Another standout feature that Peloton offers is both live and on-demand classes. This means you will be able to take advantage of live instruction from some of the leading instructors in the world.
You will also be able to choose from a diverse range of classes with different themes, difficulty levels, and even music genres.
5. Leaderboard
You will be able to take advantage of Peloton's extremely motivating leaderboard and two-way communication features with the Peloton bike. Bikes that aren't made by Peloton will lack these features due to not having complete integration.
Being able to see yourself progressing on the leaderboard can be extremely motivating and it can incentivize you to keep up with your workout and to go harder than ever.
6. New Plus Model Combines Best of Cardio and Strength
Peloton recently released a new line of bikes and treads – the cycle is called the Bike+. This new bike takes your workouts to another level with a screen that can turn. This means you can follow along with strength building workouts, without being your bike. It's pretty cool, and the total package!
Workout Comparison: Which Bike is More Complete?
Bowflex VeloCore Workout Experience
The Bowflex VeloCore offers just about everything you can get with the Peloton bike and more. This is due to the compatibility that the VeloCore has with the Peloton app.
Because you can use and leverage the majority of the features of the Peloton app even with the VeloCore, you will be able to get a similar experience.
However, because it enjoys more compatibility with other popular fitness apps like Zwift, Explore the World, and JRNY, you will be able to get even more out of your connected bike.
See all VeloCore workout options at their website.
Peloton Workout Experience
Peloton is the leader when it comes to both live and on-demand workouts. However, with Peloton, you are limited to using the Peloton app. Therefore, you won't necessarily get as much out of your workout experience as you would with the Bowflex.
That being said, you will get the full benefits of having a Peloton bike that includes being able to leverage the leaderboards.
Which Bike is More Interactive?
There is no doubt that the Peloton is the leader in both live and on-demand workouts. Their new + model bikes have also made their experience more immersive, and takes your workouts beyond just cardio.
Bowflex is very interactive as well, and the VeloCore works a variety of different fitness apps, creating a very well-rounded experience. They also took things up a notch, with a new feature only found on their VeloCore bike…
With the introduction of the innovative Lean Mode, riders are able to experience what it is really like riding through their favorite environments with connected app experiences. This alone makes it a more interactive bike.
However, for those looking to have a much more traditional indoor cycling experience, the Peloton may hold the edge.
Pricing Comparison: Which Bike is Cheaper?
Bowflex VeloCore Bike – 16" = $1,699.00
Bowflex VeloCore Bike – 22" = $2,199.00
Peloton Standard Exercise Bike = $1,495
Peloton+ Exercise Bike= $2,495
Summary: Deciding if VeloCore or Peloton is Best for You
There is a lot to like about each bike. The Peloton bike provides a seamless experience combined with its industry-leading app.
However, because the VeloCore introduces such an innovative new Lean Mode and because Bowflex offers compatibility with some of the leading fitness apps in the marketplace, the experience you are able to get from it is magnified. Along with this, with Bowflex, you have two different models to choose from. You can choose to go for the model with a smaller screen for big savings.
Regardless, you cannot go wrong with either brand as they both offer an incredible workout experience.
You should get the Bowflex VeloCore if…
You want the most immersive riding experience possible
You want the freedom to use various leading connected fitness apps
You like the idea of VeloCore's Lean Mode
You should get the Peloton if…
You want the full Peloton experience
You want one of the best exercise bikes on the planet
You can afford their new + line of bikes or treads