We may earn a commission from the companies mentioned in this post.
As an increasing number of fitness enthusiasts look to bring their training home with them, home fitness equipment is selling faster than suppliers are able to produce it. The home fitness industry has been disrupted by the integration of streaming services and virtual trainers.
That being said, as home fitness brands continue to innovate and pack in new features, the price has been increasing alongside the adoption rate. This has priced a lot of consumers out of the market for some of the higher quality home fitness equipment that is available.
Luckily, brands like Bowflex and Sunny Health and Fitness have made a concerted effort to produce high-quality budget-friendly fitness equipment that offers a lot of the same features you will find in the higher-priced alternatives.
By the end of this comparison, you should be in a good position to pick and choose which brand offers you the most value for your money and which fits best with your respective fitness goals and preferences.
Bowflex vs Sunny Health and Fitness: Equipment Overview
Bowflex Equipment Overview
1. Max Trainer
Bowflex has been and continues to be well known for producing some of the more innovative strength training and cardio machines available in the marketplace. The Max Trainer is one of the most versatile cardio machines you will be able to find as it combines the motions of both an elliptical and a stepper into a single workout.
It helps users leverage the power of interval training at the push of a button. This machine combines virtually everything you would want in a modern at-home cardio machine. It is versatile and it provides custom guided workouts.
It features a built-in touchscreen for an immersive experience. It has workouts that adjust to your fitness level and goals. It offers 20 levels of resistance and built-in Wi-Fi and Bluetooth connectivity.
Best of all, it offers virtual coaching which can make sticking to your workouts a breeze.
2. Bike
Bowflex also offers an indoor cycling bike at a very affordable price. Bowflex's bike compares well to even some of the heavyweights within the industry like Peloton. In fact, they made the bike fully compatible with the official Peloton App.
Therefore, you will be able to leverage the features of the app which includes the ability to stream both on-demand and live classes. The bike also features compatibility with popular apps like Zwift and Explore the World. Explore the World allows you to experience virtual courses for very immersive riding experiences.
While the bike doesn't come with a built-in display, you can hook up your own tablet or smartphone to it in order to use these apps.
The bike features 100 micro-adjustable levels of magnetic resistance, a fully backlit LCD metric console for tracking your stats, and very ergonomic and smooth operation.
3. Home Gyms
Bowflex is well-known for producing some of the most feature-packed home gyms on the marketplace. Bowflex offers two models of their home gym including the Bowflex Xtreme 2 SE Home Gym and the Bowflex Revolution Home Gym.
These home gyms feature over 70 and 100 possible exercises respectively. Each gym offers upgradable resistance levels if needed.
4. Treadmills
Bowflex offers its very own treadmill series. You can choose from the Bowflex BXT116 or the Bowflex BXT216. Each of these treadmills offers a lot of the major features that you would likely want to find in a modern treadmill. Each features a full-color backlit LCD.
Likewise, they are both fully compatible with Bowflex's very own JRNY premium subscription app which allows you to gain access to custom workouts and coaching. Each treadmill offers as much as a 15% incline and has a built-in fan for comfortable workouts.
They also feature comfortable walking/running areas with the smaller of the two measures in at (20" x 60") and the larger at (22" x 60").
5. TreadClimber
Bowflex's TreadClimber is another one of the innovative exercise machines that Bowflex offers. The TreadClimber is such a unique machine because it not only offers a low impact exercise, but it offers you the benefits of 3 different workouts in 1.
It combines the motion that you would normally go through on a treadmill, a stepper, and an elliptical. Therefore, it can help you achieve a much faster pace workout with more muscle activation which can allow you to burn up to two and a half times the calories at the same speed [1].
The TreadClimber comes with its very own application that will allow you to set goals, track your performance, win awards, and journal your success. The machine's innovative workout targets a lot of different muscle groups including; triceps, back, abs, glutes, legs, and calves.
6. SelectTech
Bowflex also offers its popular SelectTech series which includes a lot of adjustable free-weight products. This includes adjustable dumbbells, an adjustable barbell, and even adjustable kettle-bells.
This can make filling out your home with plenty of different sized free weights for a complete home gym that can offer you a lot of versatility with your exercises.
Sunny Health and Fitness Equipment Overview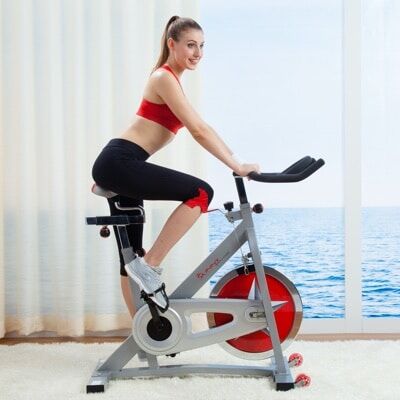 1. Bikes
Sunny Health and Fitness is a brand that offers a lot of different bikes. Their lineup includes cycle bikes, upright bikes, recumbent bikes, mini bikes, and desk series bikes.
To compare with Bowflex, we will be going over their direct competing cycle bikes. The SF-B1002 model is one of the bikes that Sunny offers that directly compares with the Bowflex C6 bike. This bike features a 49 LB flywheel which offers very smooth performance.
The bike offers micro-adjustable resistance to ensure that you are able to optimize your riding sessions for a customized workout and for gradual results. Sunny does a good job packing in a lot of ergonomic features which includes the bike having a 4-way adjustable seat to help you achieve an optimal seated position during your workouts.
To turn it into a connected exercise bike, all you need to do is get a tablet attachment, hook up a compatible device, and stream classes right from the Peloton App.
2. Ellipticals
Sunny Health and Fitness also offer a range of different ellipticals that you can choose from. They have 27 ellipticals in total. They offer a range of different types of ellipticals including ellipticals that are 2 in 1 which combine elements of an upright bike and an elliptical, machines that use flywheels for resistance, and machines that utilize magnetic resistance.
They even offer airwalk gliders that you can use for an even more low impact workout.
3. Treadmills
Sunny Health and Fitness offer as many as 35 different treadmill products. They offer very innovative treadmill products including treadmills that combined with a desk for productive workouts. They also offer a range of smart treadmills with Bluetooth connectivity and other technology that can keep you connected throughout your workouts.
The good thing about Sunny's line-up is the versatility in the treadmills they offer.
They have premium treadmills, manual treadmills for savings, and even space-saving treadmills for those who don't have the requisite spacing for a full-sized treadmill.
4. Rowers
Sunny Health and Fitness also offer 27 different models of rowing machines. Rowing machines have become very popular due to their effectiveness in providing a comprehensive workout that activates a lot of muscles at a time.
They offer a range of different rowers at varying price points. They offer water rowing machines, magnetic resistance rowing machines, air magnetic rowing machines, and even space-efficient rowing machines.
Therefore, you should be able to find a suitable model for your respective use-case and fitness goals.
5. Steppers
Sunny also happens to offer 11 different stepper products. However, they don't only have stepper machines with the normal stepper function. In fact, they have twist steppers that combine stepping with a twist-action for more muscle activation from your mid-section.
Best of all, they offer steppers in compact forms and full size so you can choose which one will suit your use-case the best.
6. Strength Products
Sunny offers a range of 32 different strength products which can prove to be useful for anyone looking to round out their home gym.
They offer adjustable benches for free weight workouts, power racks for high-intensity rack workouts, normal free-weights, kettle-bells, and more.
See all Sunny fitness options at Amazon.
Workout Options: Do Bowflex or Sunny Have their Own App?
Bowflex App Options
Bowflex has its very own feature-rich mobile application that works with a range of their products. Bowflex's app is called the Bowflex JRNY App. It is designed to be fully compatible with the Max Trainer and the Treadmills that they sell. The app is capable of assessing your fitness level and it offers up daily personalized workouts that you can use to help you gradually achieve your fitness goals.
The app offers good incentives including rewards and celebrations for achieving milestones and it offers trainer-led workouts along with virtual coaching that can guide you during your workouts.
The Bowflex C6 was designed to be an alternative to the expensive Peloton bike and it works seamlessly with the Peloton App. Therefore, you can get yourself a Peloton experience at nearly half the price.
Learn more about Bowflex apps at their website.
Sunny Health and Fitness App Options
Sunny Health and Fitness does have their own app but it doesn't include the type of features you may be expecting. The app tracks your workout goals and it can help you track your fitness progress. It isn't going to offer you advanced features that you may expect.
Sunny's bikes are compatible with the Peloton app as long as you have a compatible tablet or smartphone that you can use along with it.
Price Comparison: Is Bowflex or Sunny More Affordable?
1. Bikes
Bowflex: $999.00
Sunny: $549.99-599.99
2. Cardio Machines
Bowflex Max Trainer: $1,699.00 – $2,799.00
Bowflex TreadClimber: $1,599.00 – $1,999.00
Sunny Elliptical: $179 – 899.00
Sunny Stepper: $77.00 – $605.00
Sunny Rower: $122.76 – $1,389.98
3. Treadmills
Bowflex: $1,599.00 – $1,899.00
Sunny: $199.99 – $2,699.99
Summary: Is Bowflex or Sunny Better for You?
Each of these brands has its strengths and weaknesses. While Sunny does offer a lot more variance in pricing and models for consumers, Bowflex really has a streamlined and more well-rounded lineup of fitness equipment.
Why Bowflex is Our Preferred Choice…
Because of this, Bowflex is likely a better value for most consumers. After all, they have done a good job of creating their own fitness app that helps you get more out of their own equipment. Likewise, they have the Bowflex C6 which has seamless integration with the Peloton App.
They have a lot more innovative fitness equipment that can help you maximize the effectiveness and efficiency of your workouts.
All of this combined with their industry-leading warranty on their fitness equipment makes Bowflex the recommended budget-friendly brand to purchase equipment from.
References