We may earn a commission from the companies mentioned in this post.
Modern innovations in the fitness industry have made real stuff of off science fiction. There are fitness trackers that track your workouts and sleep, mirrors that bring personal training right into your living room, and even workout machines designed to adapt to your routines and preferences. Now, there's an AI powered spin bike that promises to give you the benefits of a 40-minute workout in just 8 minutes and 40 seconds, with only 40 seconds of hard work.
CAR.O.L., which stands for CARdiovascular Optimization Logic, is designed to put the user through a form of High Intensity Interval Training (HIIT) called REHIT (reduced-exertion high-intensity training). By guiding you through a few short sprints, the workout is able to squeeze the benefits of a long HIIT session into a much shorter time-frame.
This all sounds too good to be true. Interestingly though, the workout is actually supported by several peer-reviewed studies. The machine works on a principle of exercise called minimum effective dose, which researchers believe to be two 20-second sprints at very high intensity. It works by quickly depleting the glycogen stored in your muscles, which in theory makes your body more sensitive to insulin and therefore more effective at burning fats to produce energy.
As fitness enthusiasts who spend a lot of time testing out and reviewing fitness equipment, we were excited to try out the AI-powered CAROL exercise bike. We tested out CAR.O.L. for 2 months, and in this review, we'll share everything you need to know about the bike.
What is CAR.O.L.?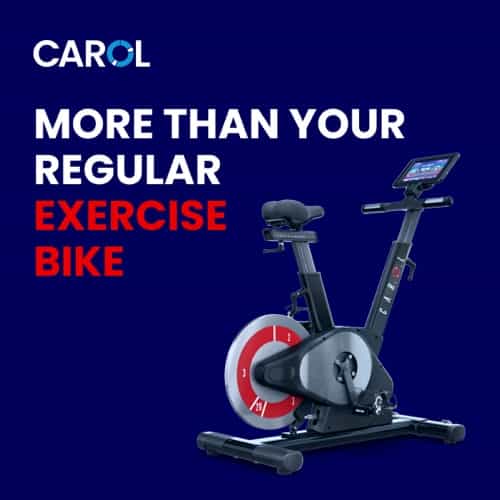 CAROL has been in the market for a while, though it was previously known as High Octane Ride. The idea behind it is taking high-intensity interval training to the next level. The bike itself is powered by AI, and the company claims that it can get you 132% healthier in 98% less time.
AI is integrated into the system to help personalize your workouts based on your ability and physiology. You could think of CAROL as a personal trainer, or as an indoor cycling studio that gives you challenging cardio workouts.
When setting up your workout profile for the first time, the bike will ask you for your personal information, including your weight, age, and height. Based on these metrics, biometric data from the built-in sensors, and the over 50 years of empirical evidence surrounding the REHIT workout method, CAROL will constantly assess your performance and make the necessary adjustments with its 1,000 resistance settings.
In other words, each time you mount the bike, you will get a personalized workout that should improve your fitness and overall health. What sets CAR.O.L apart is the fact that the bike is able to replicate the exact lab protocols used in the real world. REHIT is fundamentally a scientific exercise, which cannot be done on a regular bike due to the supra-maximal (science for "all-out") resistance needed to do it. It also needs to be tailored to match the user's physiology.
Here's a look at the CAROL in action…
Ready to learn more?
How Does CAROL Work?
As a high-octane bike, CAROL has often been praised as the future of exercise. You only need to do three sessions a week with only two 20-seconds sessions of intense sprints. These sprints are sandwiched between eight minutes of slow pedaling, meaning that in a little under 9 minutes, the whole workout session is over. But it will push you much further than any personal training or spin class session. Since the sprints are super short, you won't get hot enough to sweat, and there's no need to shower or change.
CAR.O.L. essentially works by pushing your body to the limit to deplete your sugar (glycogen) stores, which triggers other processes. Such a rapid glycogen depletion makes the body react as if you're being chased by a tiger – your thighs will quickly use up their glycogen stores to produce the energy needed to get away from the danger as fast as possible.
The used up stores need to be restocked, and the body will begin mobilizing sugar stores from other parts of the body towards the thighs. This is a process that requires insulin, which is a hormone responsible for transporting sugars and blocking fat. As your body becomes more insulin sensitive, it will be better at using fat for energy, and more effective at processing sugar.
What is the CAROL 8-Minute Workout Like?
As mentioned earlier, CAR.O.L. essentially guides you through shorter sprints that require supra-maximal effort, which lets you enjoy the benefits of a long HIIT workout in just a short time frame.
The goal here is to minimize the amount of time needed for workout and maximize your effort for optimal results. The 8 minute 40 seconds workout session is broken down as follows:
2-minute warm up
20-second sprint
3 minutes of recovery
20-second sprint
3-minute cool down
CAR.O.L. recommends that you workout for three times a week to improve your health, performance, and fitness. In order to maintain your fitness level, you may reduce your workouts to two sessions a week. If you don't want to limit your workouts to just the 8 minutes, CAR.O.L. comes with multiple pre-programmed plan options where you can do your daily exercises without going all out for 8 minutes.
Are the 8-Minute Workouts Really Effective?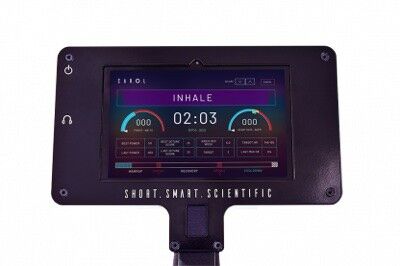 To get a good idea of just how working out on CAR.O.L. is, the following are some numbers from a study published in February 2019 in the International Journal of Environmental Research and Public Health. The numbers show how much better using CAR.O.L. is compared to joggers in the study:
Cardiovascular Fitness: 78% better
Risk of developing metabolic diseases – 62% better
Blood Pressure: 196% better
Triglycerides Levels: 78% better
HDL cholesterol: 71% better
Blood sugar: 48% better
In another study conducted in 2011, the researchers found out that REHIT increased sensitivity to insulin in the male participants by 28%, which lowers the risk of Type 2 diabetes.
Is Their App Easy to Use?
When you power up the bike for the first time, you'll notice that the software used in CAR.O.L. is an application running on an Android powered tablet. This makes it quite straightforward to use and interact with the app, unless you've never used a tablet or smartphone before.
Before you get to your first ride, you need to create a rider account with CAR.O.L. You can access this account later on via a smartphone app or a web browser from your computer. Of course, you will need to create a password for the app to protect your account from unauthorized access. Unfortunately, you may have to enter your username and password every time you ride on the bike.
The reason behind it is that the bike will use your personal biometric data in its AI processes, as that's how it makes sure that you always have the appropriate challenging cardio workout based on your fitness level and strength. In case other people used your account, it would undermine the effectiveness of the program.
What We Love About CAROL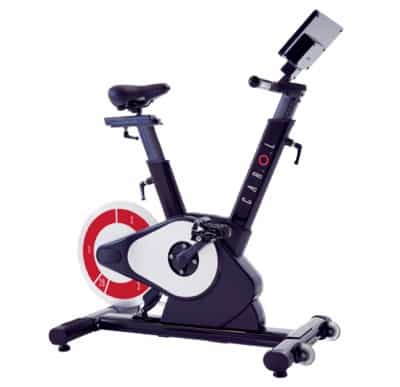 Diverse workout modes
CAR.O.L. provides you with seven workout modes to choose from, including a free ride mode.
Intense: This is the default program with the 8 minutes and 40 seconds workout session.
Energizer: This is the shortened version of the Intense program that consists of two 10-second sprints. It's ideal for days when you don't want to push yourself too hard, or on days where you are already engaged in other exercises.
Fat Burn 30 and Fat Burn 60: Both are excellent workouts in case your fitness goals include losing weight or burning fat. They consist of a 2-minute warmup, 30 or 60 sprints of 8 seconds, with 12 seconds of rest in between, and 3 minutes of cool down.
Constant Power Mode: In this program, CAR.O.L. automatically adjusts the resistance levels to maintain the selected power option.
Continuous Ramp Up: This is a testing protocol that can be used to measure your VO2max. CAR.O.L. will automatically increase the resistance during the test by about 3 watts for every 3 seconds until you're totally fatigued.
Free Ride: This lets you use the bike as a traditional ergometer. You freely set parameters such as the resistance and ride for as long as you like.
2. Easy to follow exercises
Exercising on CAR.O.L. is quite straightforward, as you just need to follow the on-screen instructions of the workouts you choose. You even have the option of picking spoken instructions or music depending on the type of workout.
When you complete the workout, you will be presented with a score and an indication of whether you improved upon your previous scores. You will also be asked how you feel after the session, and choose whether to save or discard your score.
3. Backed by science
REHIT exercises are designed to force your body to use up its glycogen stores in the muscles much faster than traditional exercises. Each session will burn 20% to 30% of your sugar stores within 20 seconds, compared to the 30 minutes or more it would take traditional exercise.
This form of exercise also increases mitochondria, which are the power plants of cells. This means your body is able to burn even more fat, not only when exercising, but also in the hours that follow. Your body essentially revs up and becomes more efficient in its metabolism.
We also liked the fact that CAR.O.L. also has an ACE in the hole. The bike got tested by the American Council on Exercise (ACE), the main governing body for fitness instructors in the country. The research was published in February 2019.
The study compared what would happen when people used CAR.O.L. for three times a week to people doing aerobic exercises five times a week for 30 minutes. The results confirmed that CAR.O.L. did increase fitness more significantly. Participants who used CAR.O.L. also saw a bigger reduction in waist circumference, cholesterol levels, blood pressure, and other fats.
4. Improved Heart Health
CAR.O.L. will tell you how fit you are by calculating your Octane Score, using your heart rate and power output. As you get fitter, you increase your Octane Score, meaning your heart will be stronger and it will be pumping out more oxygenated blood per beat.
Regular sessions with CAR.O.L. will also encourage new capillaries to develop within muscle tissues, which further increase the oxygen supply to the body. In addition, CAR.O.L. will help to increase your "lactate threshold", which is the point at which the buildup of lactate causes you to feel the burn and compels you to give up.
5. Sense of Community
Each time you do a workout session on CAR.O.L., you can save the ride and compare how you perform with other worldwide users on a weekly leaderboard. This kind of connection to a community makes working out fun. Instead of competing against your personal best, which can be quite tedious even for the most dedicated riders, it's fun to play against other great athletes.
6. Great Design and Build Quality
The overall design of the bike is sleek, understated, and minimalist. The tablet-sized console looks impressive, and its user-friendly, clear graphics are pleasing to the eyes, not to mention easy to read and well spaced out.
The bike itself is made from precision-made, high-quality components, which translate into a smooth, solid, and slick operation. From the handlebars containing built-in sensors to the rock solid steel frame to the comfortable pedals and seat, the bike has a great build quality and design that reflects Zen-chic.
Any Cons?
One of the main drawbacks with CAR.O.L. is perhaps what makes it so effective – the intensity. It requires quite a high level of motivation to push through the high-intensity intervals, and some users will find it too fast-paced. While the bike saves you time and lets you enjoy the health benefits of much longer sessions, some users will prefer a long run or an hour-long training class. The fact that you only need to be on the bike for less than 9 minutes isn't exactly appealing to some users.
Another major drawback is the price. CAR.O.L. isn't exactly a cheap bike, costing around $3,000. This makes it inaccessible for a great number of users.
RELATED READING: Best Peloton Competitors
Assembly: Is It Easy to Set Up?
CAR.O.L. bikes are shipped via a parcel service from one of two warehouses, based on where you live. The package comes wrapped in a large cardboard box. The bike itself features a strong stainless steel frame construction and a large, heavy flywheel. The weight is needed for stability reasons.
Fortunately, assembling the bike is rather straightforward, even for people with no prior "handyman" experience. Most users should generally be able to assemble it in less than 30 minutes. The provided instructions are easy to follow, save for once exception – attaching the straps to the pedals. Instructions for the same aren't properly documented, and this might be a problem to those who've never used similar ones before.
Pricing Options: How Much Does CAROL Cost?
For consumers, CAR.O.L. will cost you $2,995, plus a monthly subscription fee of $12 per household. Corporate users, including gyms, will pay a heftier $3,995, which also comes with a host of extra benefits.
*These prices were current at the time of publication – see latest prices at their website.
Who Should Buy the CAR.O.L. Exercise Bike?
The bike is a good fit for anyone looking to improve their overall health and fitness without spending countless hours working out in the gym. As an indoor exercise bike, CAR.O.L. is also ideal for those who find themselves having a difficult time sticking to a fitness routine. Further, the bike is quite useful for people who have a demanding daily schedule that leaves them little time to workout out.
CAR.O.L. can also work great for serious athletes looking for ways to improve their cardiovascular capacity and strength, and complement their primary workout routine.
Review Summary
Health and fitness are now more important than ever, as we now understand the benefits of keeping fit and staying active. However, for millions of people, the exercise options they have are neither interesting nor time efficient. If you're looking to look great and stay fit but don't have the time or even the inclination to do lengthy workout sessions, you probably need a CAR.O.L. in your life.
CAR.O.L. manages to turn exercise into something as easy as taking a pill – easy, quick, and relatively painless – without compromising on delivering the minimum amount of exercise known to boost cardiovascular health. And while it generally doesn't do much for the upper body muscle groups or the core, it still provides an incredible exercise that is remarkably effective for cardiovascular health and your legs.
If you're looking for an interactive bike for your home that provides a different approach to working out from what's currently available on the market, you can trust that CAR.O.L. delivers. It's a great option for people who lack the time or motivation to exercise. However, it's still unlikely to add much additional value to people who already like working out and are already fit in multiple exercises every week.
The main drawback with CAR.O.L. is the price. With prices starting at $2,995, this bike is more expensive than a peloton. And for this kind of money, it's perhaps wise to test it out before you buy.