We may earn a commission from the companies mentioned in this post.
Attending regular fitness classes at a local gym is not easy these days because of the coronavirus pandemic. Many people have turned to at-home workouts to overcome a possible sedentary lifestyle and keep their bodies fit and healthy. Not everyone has the space or finances to build a personal in-home gym, but investing in a well-rounded exercise machine such as an Echelon bike can completely transform an in-home exercise regimen.
Before the pandemic, spin classes were incredibly popular, and their hype hasn't gone away. Major brands such as Peloton have a substantial corner of the home spin bike market, but their price tag is far too steep, even within the fitness world.
We tried out an Echelon Connect bike, a Peloton bike competitor, to determine if it was a worthwhile alternative.
Echelon Bike Overview and Setup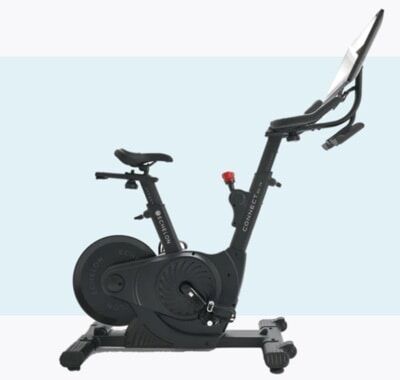 The Echelon Connect series includes four bikes, and we tested the Connect EX-5s, which looks similar to the high-end Peloton bike once you unpack it from its box. Unfortunately, Echelon doesn't offer a setup service with its delivery like Peloton, so you'll have to assemble the bike yourself.
The box weighs about 100 pounds, so you might need help moving it to your chosen setup location at home. Setting up the bike is relatively simple, thanks to the easy-to-read instruction manual that comes with the machine. Everything you need to begin your at-home cycling classes are inside one box, including the tools you'd need to attach all the components, like the seat, handlebar, and pedals.
It can take about 45 minutes to assemble the bike, and you can do most of it yourself. Still, you may need assistance mounting the included 21.5-inch touchscreen tablet that comes with this Echelon model and displays their live and on-demand fitness classes and exercise stats. To mount the screen, you'd have to unscrew a panel and attach a cable, but the visual instructions didn't match the written directions in the manual, so it took us a few tries.
The overall design of the Echelon is sleek and modern with a majority black and red color scheme. It's small enough to set up in the corner of your living room or bedroom without being too much of a visual distraction.
The height and depth of the handlebar and seat are fully adjustable. The exercise bike has handles that turn counterclockwise to make necessary adjustments forward, backward, up, and down to ensure that you are comfortable working out. Echelon bikes have a height minimum of four feet, 10 inches, and a height maximum of six feet, five inches, so be sure you fall within those parameters to maximize your workout experience.
Once you determine which setting works best for your comfort and posture, turn the handle until it's tight. Unlike Peloton, Echelon doesn't require its users to purchase specific cycling shoes for their exercise bikes. Instead, they feature adjustable toe cages on one side of both pedals that will fit all sneakers and cycling shoes.
The toe cages are a standout feature. Even during an intense cycling session, your toes will be secure, and they won't feel like they're going to fall out. However, if you prefer to use spin shoes with the bike, the other side of the pedal is SPD compatible.
Like the Peloton bike, Echelon exercise bikes feature adjustable magnetic resistance levels, enabling a quiet, comfortable, and smooth ride. Even the flywheel is more silent than other in-home bikes, so you don't have to worry about bothering your neighbors or family with the whirring of the wheel or disrupting the audio from your tablet or headphones as you workout.
Here's a quick look at what Echelon's bikes bring to the table:
Ready to learn more?
What Their Live and On-Demand Workout Classes Are Like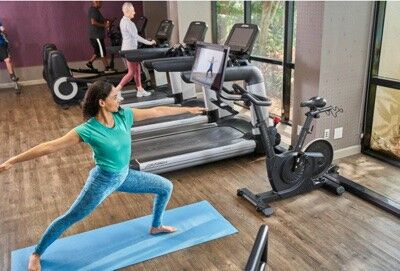 Peloton and Echelon offer live and on-demand studio classes for users to follow along through the app on their featured tablets. After participating in a 20-minute introductory course, you can join live classes with highly energetic instructors who work out of the company's studios in Miami and Chattanooga. With live classes, Echelon instructors will motivate attendees and call them out by name, enhancing the class experience.
This added benefit sets Echelon live classes apart from typical in-person courses. Seldom would you hear your name shouted out among the other class members, but with Echelon live classes, you feel like you're a part of something, which can motivate you to work harder. Peloton classes can have hundreds of attendees, but Echelon averages about 50 cyclists per class, so the chances of receiving personal recognition from an instructor is significantly higher.
The classes range from beginners to advanced riders. The streaming camera stays focused on the engaging instructor, which is great for people prone to dizziness or motion sickness. You won't have to worry about the camera angles frequently changing, so you can expect your rides to be smooth and comfortable.
RELATED READING: Best Peloton Alternatives
If you don't want to participate in a live spin class, you can select the on-demand classes and choose whatever you want to try at any time. Echelon's streaming classes are so varied that you can find one to fit nearly any mood or vibe.
For instance, you can attend a spin class with an Emo or Hip Hop music theme or one that features a live DJ. Echelon even offers virtual bike tours if you prefer to skip classes and go straight into the outdoors via their HD touchscreen tablet.
When you access the Echelon tablet to view its offerings, you will see a listing of live classes streamed directly to the Echelon Fit app near the top of the home screen. There is also a tab on the home screen for dozens of on-demand classes, which you can filter by music genre, workout type, class length, and instructor.
People enjoy riding the original Peloton bike because its app provides other exercise classes besides cycling, such as cardio, meditation, and walking courses. When it comes to versatility, though, Peloton isn't too far ahead.
Through Echelon's FitPass membership, you can participate in a wide array of classes to give you a more well-rounded fitness experience and further improve your overall health. Some of the courses you can subscribe to are:
Zumba
High-intensity intermediate training (HIIT)
Barre
Cardio
Meditation
Boxing
Pilates
Post-workout stretches
Floor workouts
Yoga
Both Peloton and Echelon offer exceptional cycling classes through their apps, but the variety Echelon offers with its monthly FitPass class subscription is worth the price tag.
What Workout Metrics Does the App Track?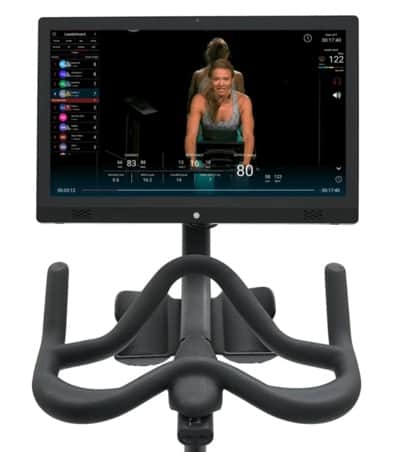 Though Peloton offers a standalone app costing $12.99 per month for users who want an advanced workout, Echelon offers a free app for their exercise classes. When you join an Echelon class through their app, you'll see a leaderboard on the left side featuring the class participants' stats, and on the bottom of the screen, you'll find your metrics for that workout. While the leaderboard doesn't update in real-time, the workout metrics do.
Echelon and Peloton can monitor your bodily stats with heart-rate monitors that connect to their apps. Workouts with an exercise bike are excellent for getting your heart pumping and strengthening your cardiovascular health, so the Echelon's ability to connect to a heart rate monitor and display the stats on the screen are a welcomed bonus.
Other metrics Echelon bikes can track through the app include:
How many miles you biked
Your riding cadence and resistance level
Biking speed
How many calories you burn per session
Your power output
The leaderboard and workout metrics aren't too obstructive, but if you want a clear view of the class, you can merely tap the screen and hide whatever blocks your view. If you're new to using an interactive exercise bike, the leaderboard can be a distraction. Still, once you get used to the bike and develop a routine, you can use the leaderboard to give your workouts a competitive edge.
When you finish your class, the tablet will display all the metrics it tracked during your workout. The company's app tracks your progress through the profile you create when you first join the program and sign up for the Echelon Fit app. With this feature, you can always go back to review your stats so that you can take pride in your progress.
RELATED READING: Echelon vs Schwinn
When you select the Profile tab on the screen, you can see everything from the instructors you've biked with to how many classes you've participated in with Echelon. As a bonus, Echelon will send a post-class review to the email address attached to your app profile.
What I Love About My Echelon
Working out on the EX-5s bike is a joy. Every time I get on the bike, I work up a sweat, and I don't have to leave the comfort of my home to know that the bike is pushing me to my physical limits. The bike is compact enough to fit inside my house without making my room look cluttered, yet the live classes help me feel like I'm part of the spinning community.
The Echelon exceeds my expectations as an alternative to the ever-popular Peloton bike, but that's not to say the EX-5s is perfect. Here are my pros and cons for this exercise bike.
Pros
High-definition touch screen monitor with rotating capabilities
Flywheel offers 32 resistance levels to promote challenging yourself
On-demand and live classes with motivating instructors
Stats tracking on the monitor
Excellent precision motor
Comfortable seating with six-inch lever adjustment
Diverse pedals
Cons
Price is high though it isn't as expensive as a Peloton bike
No entertainment apps like Spotify or Netflix on the included monitor
Which Echelon Bike Is Best: EX1 vs EX3 vs EX5 vs EX7s
As we mentioned previously, the Echelon Connect bike series includes four exercise bikes:
Connect EX-1 LE: With this bike, Echelon includes the most basic features, such as ergonomic handlebars and a decent seat. It also has a console for you to mount your personal tablet to the bike, which you can use to stream classes.
Connect EX-3: This model also doesn't have an integrated screen, but it does have a more comfortable seat as well as a weight rack on both sides of the bike, and an indexing magnetic resistance adjustment that goes to zero after you use it.
Connect EX-5: With its upgraded Aero handlebars and built-in 21-inch HD touchscreen rotatable tablet, the EX-5 is hands-down the bestselling Echelon product. The screen flips 180 degrees, allowing you to conduct floor exercises while following along with your class. The bike also has two bottle holders on the handlebar and a dumbbell rack behind the seat.
Connect EX-5s: This model is virtually the same as the EX-5, but its tablet is 21.5 -inches, still half an inch shy of the Peloton 22-inch monitor. The EX-5s also includes power ports near the front and back of the bike to charge your phone.
Connect EX-7s: This the latest and greatest bike from Echleon. It's the toughest bike ever, and has all the bells and whistles that you'd expect from a top-of-the-line exercise bike. Looking for the best Echelon experience? Then the EX-7s is where it's at.
All of the bikes in the Echelon Connect series function the same. The Echelon bike price and monitor will likely be the determining factors that help you decide which one is right for you. The price steadily rises from the EX-1 to the EX-5s, which is the difference between spending $1000 to several thousand dollars, once you add up delivery fees, extra accessories, and subscriptions.
RELATED READING: Echelon vs Peloton
The Echelon EX-1 and EX-3 don't come with monitors, but they include consoles to hold a tablet you already own. If you're a bit budget conscious and have a tablet at home, these options will work for you. If you don't own a tablet, want a decent-sized monitor for your workouts, or want exercise equipment on par with a Peloton bike, the Echelon EX-5 and EX-5s are the best models to buy.
Learn more and compare all Echelon Models:
How Much Do They Cost?
If you're still debating Echelon vs. Peloton, their respective prices will play a significant role in the machine you choose to buy. The most basic Peloton package's starting price is $1,895 with a $39 per month subscription to their on-demand and live courses. The Peloton mid-tier package is $2,145, and the Peloton high-end package is $2,345.
Echelon prices are a fraction of the price you'd pay for a Peloton bike without sacrificing quality and variety.
Connect EX-1: $839.98
Connect EX-3: $1,039.98
Connect EX-5: $1,239.98
Connect EX-5s: $1,639.98
Though Peloton has a flat-rate monthly membership, Echelon has several subscription services based on the kind of fitness package that holds your interest. They include:
FitPass Monthly: For $19.99, you can subscribe to the most basic Echelon exercise app featuring workouts for HIIT, pilates, yoga, and more. This monthly subscription is best for anyone who wants to get fit without an Echelon or Peloton bike.
Echelon United Monthly: At $39.99 per month, this package includes access to riding classes and the FitPass Monthly subscription courses.
Echelon United Yearly: For this one-year subscription, you must pay $399.99 to access Echelon's full range of biking classes and additional courses. The monthly price averages to about $33 per month.
Echelon also offers a two-year subscription, but for that option, you'd need to pay $699.99, which is the price at the time of this writing, or its standard price of $1,031.52. If this price is too steep for you, but you don't want to pay for a subscription every month, the one year option is the one to choose.
In addition to bikes, Echelon also offers products and accessories to complete your exercise regimen, such as weights (starting at $15), Bluetooth headphones ($200), and heart rate monitors ($80).
If you need assistance with your Echelon bike purchase, the company offers financing through Affirm with zero interest one-year terms or 18- and 36-month terms with 10% interest. You will receive a $199.99 charge for the premium delivery fee if you don't pay for your first year of classes upfront. Bikes can come with a two-year warranty to replace damaged components before you complete your financing payments. However, you can purchase an extended warranty for an additional three years for $199.
Despite the high costs of Echelon bikes, subscriptions, and accessories, the price is still lower than most competitors.
Review Summary
The bottom line is that an Echelon Connect bike is an excellent alternative to a Peloton bike. When you choose one of their four products in the Connect series, you can be sure you have heavy-duty exercise equipment that will make you work up a sweat.
Setting up your bike isn't too tricky, and before long, you can start participating in their engaging live classes or choose one of the dozens of on-demand courses the accompanying app has to offer. When you select the EX-5 or EX-5s, you will have access to the built-in monitor that will display all of your classes and workout stats, but you can connect your personal tablet to the EX-1 or EX-3 console and still receive your instructions. In addition to plenty of cycling classes, you can choose a monthly or yearly Echelon subscription to access their other workouts for stretching, boxing, pilates, cardio, and more.
The cost of these products is considerably high, but they're lower than what Peloton offers. The company does offer financing for up to 36 months, so it's worth the investment.