We may earn a commission from the companies mentioned in this post.
In the world of treadmills and rowing machines, there's a wonderful alternative that continues to rise in popularity.
This machine is none other than the exercise bike.
In recent times, the exercise bike has been upgraded from its conventional past. Instead, the contemporary version is part of a larger ecosystem that includes apps and machines to create an all-encompassing home gym.
For those eager to invest in a brand-new exercise bike, it's time to run a comparison between two world-class models. This comparison is going to analyze the Echelon Smart Connect Bike and Bowflex C6 to determine which one is better.
Echelon Smart Connect Overview
The Echelon Smart Connect bike (read our review) is a highly-acclaimed product from a brand that has quickly grown in stature.
This bike is fully integrated into Echelon's ecosystem including the Echelon Fit App.
This is designed to ensure users can keep track of their heart rate, toggle through workouts, and create a complete workout routine with their equipment.
The Echelon Smart Connect Bike comes in 4 distinct models.
These models include:
Each bike is unique and offers a fascinating set of features. For example, the Connect Ex-3 provides a range of features such as console lever-style adjustments, competition seating, and triangular tubing. Users can easily rotate the knob and switch resistance levels without getting up from their seats.
Bowflex C6 Overview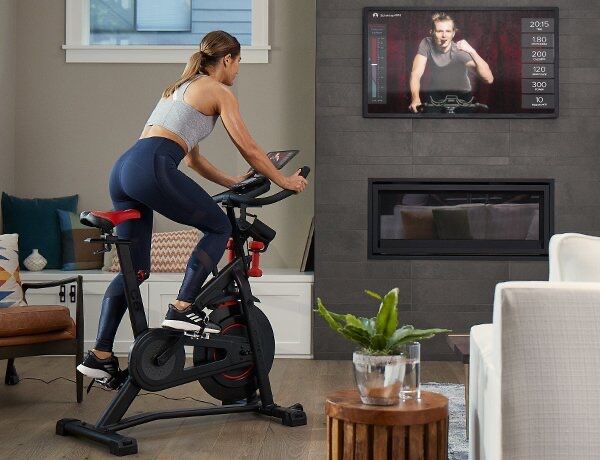 The Bowflex C6 (see our testimonial) is a premium-grade bike produced at an affordable price point for home gyms. This bike is designed as an alternative to bikes such as the Peloton and works by linking to other streaming services.
This allows users to gain access to a multitude of workouts by signing up for those subscription services.
This exercise bike comes with a long list of power-packed features, has a sleek design, and provides up to 100 resistance levels. Bowflex is a reputable company and is critically acclaimed for designing robust machines and this is included in that category.
Price Comparison: Which Bike is Cheaper?
1. Echelon Smart Connect Bike
CONNECT EX-1 BIKE – Bike + Monthly Subscription (839.98) Bike + 1 Year Subscription ($1,199.98), Bike + 2 Year Subscription ($1,399.98)
CONNECT EX-3 BIKE – Bike + Monthly Subscription (1039.98) Bike + 1 Year Subscription ($1,399.98), Bike + 2 Year Subscription ($1,599.98)
CONNECT EX-5 BIKE – Bike + Monthly Subscription (1239.98) Bike + 1 Year Subscription ($1,599.98), Bike + 2 Year Subscription ($1,799.98)
CONNECT EX-5s BIKE – Bike + Monthly Subscription (1639.98) Bike + 1 Year Subscription ($1,999.98), Bike + 2 Year Subscription ($2,199.98)
2. Bowflex C6
The Bowflex C6 comes in at a set price of $949.
For both exercise bikes, it's highly recommended to seek out additional information concerning shipping, returns, and/or assembly. This information will shed light on the product and all that it entails as a buyer.
So Which Bike is Cheaper?
Echelon has several models to choose from, so while their top-of-the-line EX5s is more expensive than the Bowflex C6, the Echelon EX1 is about $200 less than a Bowflex.
This makes Echelon the cheaper option.
Features Comparison
Echelon Smart Connect Bike
1. 32 Levels of Resistance
Resistance is essential when it comes to using an exercise bike and the Echelon Smart Connect Bike doesn't disappoint. It provides 32 levels of resistance allowing users to quickly make adjustments on the go.
This keeps things organized, simple, and easy during an extended workout. Within seconds, users can easily toggle between resistance levels and get more out of their workout sessions.
2. Live Streaming and On-Demand Classes
This is one of the main advantages of Echelon's product line and that has always been the case. This is a company that is committed to creating a full-fledged selection of machines and that includes the exercise bike.
Along with offering a high-quality bike, their app is one of the best in the industry right now. Users can quickly choose live-streamed or on-demand classes regardless of what time it is.
This leads to a long list of benefits for those who want to make the most of their new bike.
These benefits include:
Top-tier Instructors with Experience
Wide Array of Classes to Choose From
User-Friendly Interface
Ideal for Beginners and Experienced Athletes
If the goal is to receive guidance while using the exercise bike than the Echelon Smart Connect Bike is an impressive solution. It has all the perks needed to enjoy different classes throughout the year.
3. Adjustable Console (180-Degrees)
The adjustable console is one of the added benefits for those wanting to make sure their design is flawless. There is nothing more frustrating than not being able to look at the monitor while you pedal away.
This takes care of the concern by offering a 180-degree rotational design that allows users to quickly adjust the monitor's positioning.
4. Competition Seating with Adjustability
Sitting on an exercise bike while pedaling is taxing.
It's not easy to put in an extensive amount of time without feeling like your bottom is bruised. As a result, Echelon has taken the time to invest in high-grade material for its seat and the quality is second to none. This competition seat is easy to adjust, comforting and provides added grip while pedaling harder.
This ensures users don't slip out of their seats when the intensity ramps up a few notches.
Bowflex C6
1. Micro-Adjustable Resistance Levels
Bowflex is well-renowned for going above and beyond when it comes to the finer details. With the Bowflex C6, they take the opportunity to outdo almost every other exercise bike on the market when it comes to resistance settings.
This bike offers 100 resistance levels for users to toggle through while working out. Yes, this is an incredible level allowing users to fine-tune their workout perfectly.
Having this many resistance levels to choose from makes it easier to see better results and progress quickly.
2. Dual-Link Pedals
These dual-link pedals are a major win for Bowflex and something noticeable as soon as you begin to use the exercise bike. Not only do these pedals look the part, but they are also some of the most ergonomically sound components in the industry.
The pedals provide a wonderful set of advantages for users as soon as they sit down.
These advantages include:
Added Control
Ideal for Handling Increases in Resistance
Complete Grip on the Pedals
When it comes to maximizing your time on the bike and gaining leverage while working out, it's these dual-link pedals that are going to stand out. The pedals are comprehensively designed, easy to manage, and offer enough control to regulate your sessions.
3. Backlit LCD Metric Console
It is the console that is going to matter a lot.
This backlit LCD metric console is quite the sight and is one of the more illustrious components associated with the Bowflex C6. The company has taken its time to create a full-fledged console that is easy to read and user-friendly at the same time.
Anyone that wants to enjoy their time on the exercise bike while reading everything on the screen should start here. The text is clear, crisp, and perfect while pushing through an intense session.
4. Bluetooth Enabled Heart Rate Monitor
Being able to keep an eye on your heart rate is essential when it comes time to work out. There is nothing worse than overworking earlier in a workout and then finding it hard to bring the heart rate down.
This happens all the time but not with the Bowflex C6.
The design team has taken the time to engineer a seamless Bluetooth setup that makes it easier than ever before to track your heart rate. Within seconds, you are going to gain access to a stream of information when it comes to working out and how your heart is doing.
Users can take advantage of this information and make the most of it as soon as possible.
App & Workout Comparison
It's time to analyze the apps as they play an integral role.
In general, the Echelon app is a part of its overarching ecosystem. This allows users to seamlessly transition between different Echelon-branded machines without missing a beat.
The Echelon Smart Connect Bike is an integral part of that ecosystem and works just as well while streaming live or on-demand classes.
The app is filled with high-value content and allows users to feel in control of their fitness goals from day one.
The Bowflex C6 is reliant on external apps such as Zwift and Peloton's versions. These apps can be seamlessly integrated into your workout routine without missing a beat. While it is not as specialized as Bowflex's app, the integration is well done and offers value to those willing to pursue this option for their workout needs.
Summary
Both exercise bikes are well-made, backed by a legitimate brand, and offer great features.
It's all about analyzing your options and investing in a machine that's suited to your needs. For those wanting a well-built, easy to use bike then it is best to focus on the Echelon Smart Connect. It is jam-packed with new-age features and is a perfect addition to any modern home gym.
Take your time comparing both exercise bikes and go with the one best suited to your requirements.
If Echelon Sounds like the right fit, you can learn more below:
Think Bowflex sounds like the better fit?