We may earn a commission from the companies mentioned in this post.
Working out in this day and age is not as simple as heading to the gym to lift weights or run on a treadmill. Yes, those options remain available to the average person but it's never a bad idea to bring the gym home with you.
This is where mirror home gyms come into action with their sleek, easy-going designs.
You can set the mirror home gym up in the comfort of your home and workout without interference or having to wait around for others to finish.
This new-age piece of equipment looks like a mirror when it is turned off but becomes an all-in-one home gym as soon as it is turned on.
In this segment of the fitness industry, there are two leading options – Echelon Reflect and Mirror.
This detailed comparison is going to analyze what each option has to offer, their prices, and which one is the right option for your home.
Echelon Reflect vs. MIRROR: Features Comparison
1. Echelon Reflect
Touchscreen Capability
Spin Bike + FitPass Compatibility
Bluetooth Enabled
Live Fitness Classes
Patented "Heart-Track" Heart Rate Tracking System
Weight: 26 lbs.
2. MIRROR
iOS and Android Compatibility
Thousands of Fitness Workouts
40″ Display (1080p)
Front-Facing Camera (5 Megapixels)
10-Watt Speakers (2)
Dimensions: 52″ x 22″ x 1.4″
Weight: 70 lbs.
See full MIRROR features overview at their website.
Which One Has a Touchscreen?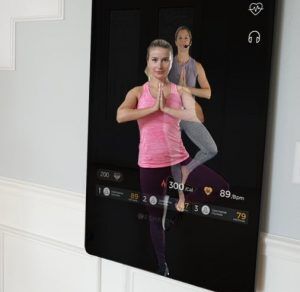 Get the full details about the Echelon Reflect Touch Below:
The Echelon Reflect series has two versions available and their flagship (Reflect 50 Touch) comes with a powerful touchscreen.
This world-class touchscreen is ideal for toggling through settings and ensures users don't have to fiddle around with an additional controller while trying to work out.
While the MIRROR is a wonderful home gym and has a sleek design, it doesn't come with a touchscreen. This can get in the way of a workout and does bother people as they start sweating and don't want to reach for a separate controller.
In comparison, the Reflect Echelon 50 is a breeze to use and the touchscreen is well-equipped for modern workouts. It is responsive, unique, and works well with the 50″ display.
Along with a touchscreen, the Echelon Reflect also allows users to go through some of the built-in settings that make it easier to customize the home gym based on their requirements.
The same doesn't apply to the MIRROR where everything has to be run through a pre-designed app for the system to function properly.
This can become bothersome for those simply want to head to the mirror and work out. It's an important detail to keep in mind with the MIRROR home gym.
Workout Comparison
1. Echelon Reflect
Core
Meditation
Pilates
Stretching
Boxing
Barre
Yoga
Strength Training
Cardio
Tone
Zumba
And More
See all workout options at Echelon website.
2. MIRROR
Dance Cardio
Arms + Abs
Competitive
Kettlebell
Cardio
Barre
Boxing
Prenatal Training
Kickboxing
Yoga
Sculpt
Yoga Flow
And More
See all MIRROR workouts at their website.
Both the Echelon Reflect and MIRROR offer an all-encompassing list of workouts.
For those paying the monthly subscription, you are also going to gain access to several specialized fitness classes and access to certified instructors, which goes a long way with the Echelon Reflect.
Even the MIRROR offers a beautiful list of workouts that are ideal for those who want to customize their routine as much as possible.
Rather than settling for less, there is something for everyone when it comes to using these mirror home gyms and making the most of them.
This alone is something that makes them an intriguing option for those who still want to get a good workout in when it is time to sweat at home.
Price: What's the Better Deal?
1. Echelon Reflect
Reflect 40 Inch:
40″ Echelon Reflect Mirror + Subscription (Monthly) = $1,039.98 + Shipping ($99)
40″ Echelon Reflect Mirror + Subscription (Yearly) = $1,399.98 + Free Shipping
40″ Echelon Reflect Mirror + Subscription (Two Years) = $1,599.98 + Free Shipping
Reflect 50 Touch
50″ Echelon Reflect Mirror + Subscription (Monthly) = $1,639.98 + Shipping ($99)
50″ Echelon Reflect Mirror + Subscription (Yearly) = $1,999.98 + Free Shipping
50″ Echelon Reflect Mirror + Subscription (Two Years) = $2,199.98 + Free Shipping
See all Reflect pricing options at their website.
2. MIRROR
MIRROR Home Gym + Installation + Delivery + Class Subscriptions (Monthly) = $1,784
Starter Bundle with Heart Rate Monitor + Fitness Packs = $100
Mirror Cleaning Cap with Lens for Camera = $19.95
In general, both of these come in at a fair price point and are relatively close to each other but the Echelon Reflect does stand out due to its features.
The Reflect 50 Touch is ahead of the game due to its impressive touchscreen capability, which is essential as you are looking to get in a strong workout without having to fiddle around with controls.
Along with having a world-class touchscreen for the 50″ model, it's also well-equipped with a long list of workouts through the FitPass and spin bike programs.
When factoring all of these details in, it becomes apparent, the Echelon Reflect gets the edge as the better deal in comparison to the MIRROR, but both are packed full of features and have plenty of reasons to buy.
Check current MIRROR pricing at their website.
Average Customer Rating
1. Echelon Reflect
The one thing people love about the Echelon Reflect is how easy it is to set up and how effectively it delivers a touchscreen solution.
Everything about the mirror home gym is immersive and that's what separates it from the rest of the industry.
Otherwise, mirror home gyms can become cumbersome to manage and/or boring after a while but that's not the case here. It simply does a good job and offers real-time value.
As for potential concerns, the only worry users have is the instructor can't see you when it comes to the live classes. This does get in the way of your workout routine and is a small negative.
2. MIRROR
This is a well-appreciated mirror home gym because of its sleek appearance and gorgeous display.
It provides a long list of workouts, remains easy to use, and works well in all types of situations due to how it is designed.
If it is time to work out, this is a good investment because of how easily it transitions into your living space.
Bottom Line: Which One is Better?
Both the Echelon Reflect and MIRROR offer a wonderful selection of features. They're power-packed with high-end benefits that will make a noticeable difference in your workout routine and how you lead a healthy lifestyle.
However, there is one home gym that simply has a little bit extra to offer between the two and that's the Echelon Reflect.
My Favorite?
The Echelon Reflect stands out mostly because they have two pricing points to pick from, including the Reflect 50, which features their touchscreen.
Along with having one of the finest touchscreens in the fitness industry, this fascinating product also comes with the ability to intertwine the FitPass and their other exercise equipment, including bikes, rowers, and a treadmill.
For those looking to build a full-fledged home gym, this can go a long way in making workouts fun and affordable at the same time.
It's also important to note the Echelon Reflect comes in at a slightly lower starting pricing point, so if budget is a factor, that's another thing to consider with the Echelon.
While both are wonderful products and have lots of benefits, our preferred starting point is the Echelon Reflect:
What are Smart Mirror Home Gyms?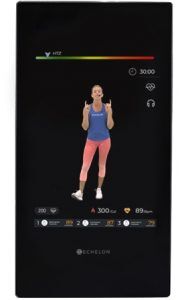 Mirror home gyms are a fascinating addition to the fitness industry and offer a new way to workout at home.
The premise behind a mirror home gym is to have a screen set up on the wall that looks like a traditional mirror (when turned off). When it is time to work out, simply press the power button and it will engage immediately.
The mirror is immediately going to look like a traditional screen that is set up on the wall similar to a Smart TV.
These mirror home gyms are not simple screens that are hung on the wall. They are power-packed with high-value software that ensures users can quickly toggle through different workouts and put in the work necessary to build a great body.
Whether it is losing weight, yoga, or any other type of routine, these mirrors are filled with key workouts that allow users to customize their experience.
The way these mirror home gyms make money is by selling separate monthly subscriptions for live and/or pre-recorded workouts.
This allows users to quickly join in at any time of the day and put in a workout that is going to feel great. Each mirror home gym offers something unique whether it is a touchscreen, specific workouts, or live fitness classes, which is why the market is continuing to grow with each passing day.
This uniqueness is drawing people in as they look to workout at home without missing out on potential health gains.