We may earn a commission from the companies mentioned in this post.
With the average person spending most of their time at home, the fitness industry has cultivated its latest releases around this premise. As a result, more and more people are starting to seek high-grade smart home gym machines to add value to their living space.
In this regard, two names continue to stand out – NordicTrack Vault and the Echelon Reflect.
For those who are thinking about choosing one, it's important to know what both offer. There are an intriguing set of features on both sides and that's what leads to great results.
Here is a detailed comparison of the two machines to see which one is best.
Features Comparison: What the Vault and Reflect Have to Offer
1. Echelon Reflect Features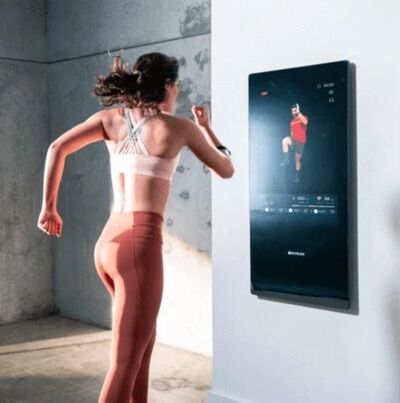 32″ HD Touchscreen Display
This machine offers an aesthetically pleasing 32″ HD touchscreen display on both models. You are not going to regret having something as sleek as this by your side.
When it is put up in the room, the display is going to radiate and it's going to look beautiful. This is the attention to detail that has become synonymous with Echelon over the years.
Whether you go with the Echelon 40 or Echelon 50, both do a good job in this regard. You are not going to be disappointed with how the touchscreen responds to your touch whether you're sweating or not.
The heart rate monitoring element associated with Echelon's machines has always been tremendous. It is one of their biggest selling points because they focus on the nitty-gritty details that matter when working out and monitoring your heart rate.
If you are serious about these metrics, Echelon does an exceptional job with its built-in heart track technology.
The engineers have taken the time to make sure the technology is responsive, engaging, and perfect for elongated workout sessions throughout the year. You can easily collect this data and get a better read on your physical fitness heading into the future.
This is powerful information and it all stems from the machine's responsive heart track technology.
RELATED: Review of the Echelon Reflect
One of the main selling points that is used for the Echelon Reflect models would have to do with the membership program.
When you go through the Echelon App, you are going to realize how advantageous the workouts are. Whether it's going through a session of yoga or cardio, you will know it is going to be a boatload of fun and will be fine-tuned for your personal needs.
It is these details that go a long way when working out and trying to get better.
Just knowing you are going to have the ability to learn from some of the best instructors on the planet makes a difference.
Echelon prides itself on these details and it shows. Their instructors are great and the new workout classes are regularly updated to make sure you are satisfied.
2. NordicTrack Vault Features
Starting with the new-age design, NordicTrack has taken the time to focus on usability. This means that as soon as the mirror gym is set up, it will become easy to adjust on the fly.
Let's assume you start swaying to one side of the room while working out, the mirror can easily be re-adjusted to face your new position. This has to do with the built-in 360-degree rotation that is on offer through the machine's build quality.
Just having the ability to do this is a game-changer and makes it easier to work out. You are not going to be left wondering why the screen is difficult to read in the middle of the workout!
This is appealing to those who get lost in their workouts and don't want to have to think about it all the time.
Whenever you sway to the side, just rotate the mirror gym and know it's going to be exactly where you want it to be.
The build quality is more than just rotational components because you also have to think about the general structural integrity of the mirror gym.
In this regard, the brand has taken the time to focus on what works and what doesn't. This means they have used state-of-the-art carbon steel for the framing.
With the help of steel, it ensures the machine doesn't rattle, look out of place, or get in the way of your living space. Remember, if you are going to be putting this in the middle of a room, it shouldn't stand out like a sore thumb.
In this way, the NordicTrack Vault offers a sleek, aesthetic profile that's easy to enjoy.
The touchscreen is interactive, fun-filled, and perfect for beginners. You are not going to have a lot of trouble toggling through the different settings and customizing everything down to the last detail.
Being able to get through all of this easily is a game-changer. It makes life easier and is going to ensure you can build up a sweat and not have to think about how the workout is going.
As long as the screen is in front of you, it will be bright, beautiful, and easy to toggle through.
RELATED: All Features in our NordicTrack Vault Reviews
Workout Comparison: iFit vs. Echelon App
1. NordicTrack Vault Workout Overview
The workouts include:
Beginner Yoga
Strength Training
Interval Training
Sculpt + Tone
And More
2. Echelon Reflect Workout Overview
The workouts include:
Meditation
Pilates
Boxing
Strength
Core
Cardio
Yoga
And More
See all Echelon workout options at their website.
When comparing the two membership programs, you will enjoy a large selection of classes to choose from. The only difference is seen with Echelon's live content, which is far more advanced than what iFit has to offer to its users.
On the other hand, iFit has an extensive on-demand library that is appealing to those who want something modern and easy to toggle through.
In their own way, both machines are packed with good features and do offer a good range of workouts to choose from throughout the year.
Price Comparison: Is Vault or Reflect More Affordable?
1. NordicTrack Vault Pricing Options
Complete Vault: $2,999
Standalone Vault: $1,999
iFit Membership (1 Year Plan): $468/Year
2. Echelon Reflect Pricing Options
Echelon Reflect 40: $1,039.98
Echelon Reflect 50: $1,639.98
Echelon App Membership (1 Year Plan): $399.99
Prices were current at the time of this writing, but may change at any time – see current prices here.
When it comes to affordability, there is a clear winner with the Echelon Reflect offering a more budget-friendly solution. However, it's important to note, the NordicTrack Vault offers access to a selection of equipment options that are stored inside the machine.
This is a major difference-maker for those who are going to want to work out through different routines.
Summary: Deciding Which is Best for You
In the end, both machines are world-class, well-made, and work the right way when put to use. You can't go wrong with either, but it's certainly possible to choose one that's better suited to your specific requirements at home.
So, which one should you go for?
Consider the Reflect if…
If you are someone that is heavily into live-streamed classes, wants an affordable solution, and may not care about strength training then it's best to choose the Echelon Reflect. Space is also something to consider with the Echelon Reflect, as it can be mounted on a wall, and takes up virtually zero space in your home.
If you live in a smaller space, then the Reflect may be the better choice.
Consider the Vault if…
However, if you are someone that is more about getting a well-rounded experience and money isn't a big problem then you should look towards the NordicTrack Vault. It's perfect for those who love lifting weights as everything is stored inside the machine.
As you can see, it all comes down to your preferences when working out. Each person is unique, but both machines live up to the hype and deliver great value at home.