We may earn a commission from the companies mentioned in this post.
The rowing machine isn't just a practice tool for college athletes. It's an effective, low-impact exercise machine that can work wonders for people of all ages.
It simultaneously works multiple large muscle groups throughout the body. You'll notice gradual toning in the upper body and the lower body.
Overall, a rowing machine can provide superior aerobic exercise that can build muscle and melt fat.
What if you're stuck trying to choose between a stepper and a rower? Or perhaps you're weighing your options against something more traditional like a treadmill.
Can the rower stand up to the competition?
It absolutely can.
Many people consider a rower a superior workout machine because of its ability to work multiple muscle groups in the body.
It has a few other benefits as well.
Unlike many other exercise machines, the rower will improve your physique, your strength, and your endurance.
In general, a rowing machine is a very affordable exercise machine. But that doesn't mean you should jump the gun and buy the cheapest model that you can find.
If you want to get the most from your workouts, then you need to get the best piece of equipment on the market. It needs to have a few modern features, be built to last, comfortable to use, and it needs to deliver the results.
There's a lot of competition in the home fitness market, but Echelon has managed to pull away from the competition in more ways than one.
You may already be familiar with their home mirror fitness system. They've shown that they can deliver high-end, high-quality exercise equipment at a better price than their competitors. The same applies to their selection of rowing machines.
Their current flagship model is the Echelon Smart Rower and it's arguably the best rowing machine on the market today.
What is the Echelon Smart Rower?
The Smart Rower is Echelon's latest move to modernize home fitness equipment. They've taken the model of the traditional mechanical rowing machine and improved it in just about every way possible. The "Smart" part of the name comes from the various added features, gadgets, and digital aspects.
Most notably is the machine's ability to connect to live instructor-led classes or to play videos of classes on-demand.
This ability to integrate classroom instruction with at-home workout equipment is the major attraction of similar devices from Echelon, like their Smart Bike, their Home Mirror gym, and their treadmill.
It's a feature that completely changes the at-home workout experience for the better. But we'll discuss that later in the review.
For now, it's important to know that these videos and live classes are viewed through an attached 21.5-inch touchscreen or your personal tablet attached to the mount.
Features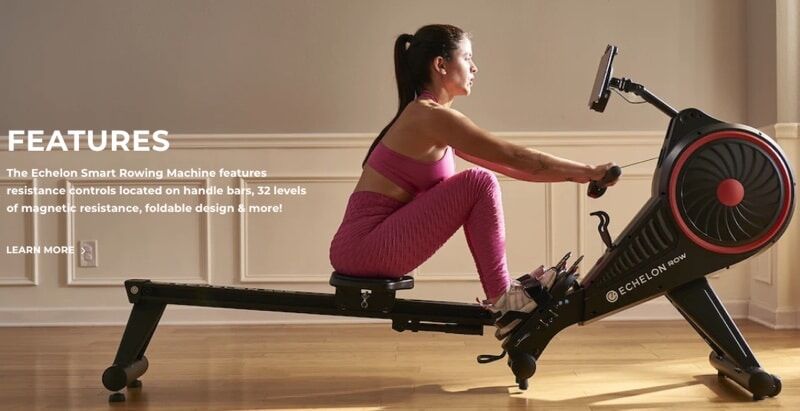 The Echelon Smart Rower is packed with features. Some of these features are purely digital while others improve the rowing experience with some mechanical tweaks.
For example, Echelon has added a pair of buttons on the handle that allows you to adjust the resistance as you row.
It's a seemingly simple feature, yet it dramatically improves the rowing experience.
The adjustable resistance allows for 32 different settings that can be chosen on the fly. There's no need to awkwardly change positions or stop rowing entirely to adjust resistance.
The end result is a more flexible, fulfilling, and effective workout.
There are two different models available. One model is the headless version, which does include any display of its own.
Instead, there is a tablet mount where you can place your Android or Apple device. The second option comes with a 21.5-inch touchscreen.
Overall, the model with the touchscreen is preferable because you are able to easily reorient the screen during a workout. The screen can switch between rower mode and can also flip away from the rower for floor classes.
The standard tablet mount cannot do this.
The Smart Rower was also designed with storage in mind. You don't need a fully dedicated home gym to enjoy this machinery. The easy fold design makes storage extremely simple. You can even leave the body of the rowing machine in place and pull the track upwards into a vertical position for storage.
It takes up very little space and doesn't require moving the machine or using any special tools.
Its ability to connect with the Echelon Home Mirror Gym and the related fitness streaming services is another important feature.
Echelon is making a move to connect as many devices as they can and that move seems to be working out. You can track your experience with the Smart Rower and keep that data available alongside the data from the Smart Connect Bike and the Home Mirror to get a better snapshot of your overall physical health.
Finally, the small features implemented to improve the comfort of the experience are worth mentioning. The seat itself has thick cushioning and feels great. The machine uses magnetic resistance to provide a very smooth rowing experience.
By making it a more comfortable experience you can burn significantly more calories before you're ready to get up and walk away.
Specs
Rail Angle: 1.7 degrees
Dimensions: 86" x 21" x 48"
Foldable: Yes
Screen Size: 21.5-inch
As you can see, the Smart Rower is a fairly compact machine as-is. The fact that it easily folds away makes it a great worker tool for homes with limited space and even apartment buildings.
You could easily fit this rowing machine in a room with a few extra pieces of workout equipment to deliver a full gym experience from the comfort of your home.
These specifications apply to the model with the included touchscreen. The dimensions of the model without the screen will be slightly smaller because it is headless.
However, the difference in size is barely noticeable and it certainly doesn't impact its compact design.
Echelon Rowing Machine Pros & Cons
Pros
Ergonomic controls allow you to choose between 32 levels of resistance on the go.
Compact design and foldability make it excellent for small living spaces.
Able to efficiently exercise the upper and lower half of the body.
Can connect to live streaming fitness classes or on-demand workout videos.
High-quality materials and a durable design guarantee plenty of use.
Cons
Not the cheapest rowing machine on the market.
As with any exercise machine, results will take plenty of time and hard work.
Live and On-Demand Rowing Workouts: Does it Work without a Subscription?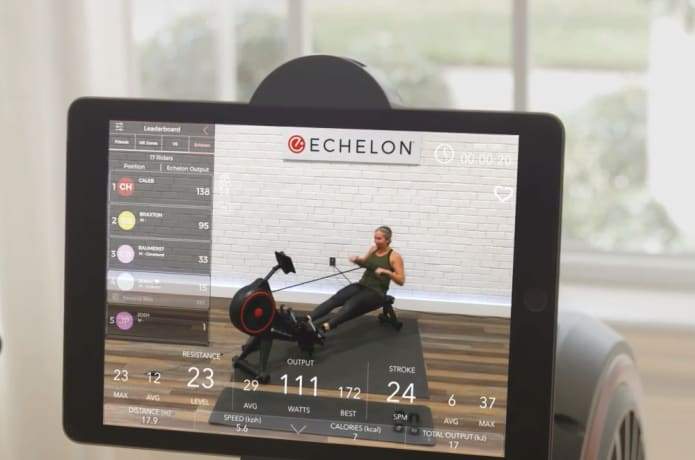 The biggest attraction on the Smart Rower is its ability to connect to live-streaming classes and to access a growing library of on-demand training videos.
It's a familiar tactic to Echelon and a few other competing brands that offer similar services.
Regardless of the brand, it's obvious that these live-streaming classes are a big deal. They attract a lot of new customers to specific devices. But why are they such a game changer?
Instructor-led classes were one of the few remaining reasons people might visit a gym instead of setting up their own home workout area.
They could buy all of the equipment found at the gym but they could never replicate the experience of participating in a class with an instructor. The live streaming services available from Echelon have completely changed that notion.
Now you can enjoy a full and effective exercise course taught by a professional without leaving your bedroom.
The on-demand training videos provide a similar benefit, but with the added ability to be able to pause the class whenever needed.
This is a great feature if you're a parent or anyone who lives a busy life. Sometimes you need to get off of the rowing machine to answer a phone call or deal with a pet.
On-demand training courses let you pause your class, take care of your business, and then return to where you were at without interrupting the other students.
You can use the Smart Rower with a subscription to the Echelon app, but to take advantage of all benefits we definitely recommend at least giving their live and on demand rowing workouts a try.
Echleon Rower Price: How Much Does it Cost?
As of this writing, the prices of the Echelon rowers were as follows:
Standard Echelon Rower (without built-in screen): $1,039.98
Echelon Row-S (with HD monitor):$1,639.98
These prices are subject to change at any time – hit the button below to check current prices:
Rowing Machine Workout Benefits: Top Reason to Buy
Works the upper body and lower body at the same time.
It has a very low impact on the joints.
Builds muscle while also burning fat.
An excellent workout for increasing endurance.
Review Summary: Where to Buy
Rowing machine workouts are clearly one of the best options from a fitness perspective and that makes the Echelon Smart Rower the best of the best.
It brings you all of the benefits of a rowing machine plus a few more than you never knew you needed.
It's compact, fairly lightweight, and can easily fold out of the way when you need more space. The live streaming service does require a monthly subscription, but it adds a lot of value to the final product.
Overall, this is a great tool for getting in shape without leaving your house.
Where to Buy the Smart Rower
The best place to buy the Smart Rower is at Echelon's website:
Additional Info