We may earn a commission from the companies mentioned in this post.
"Smart" fitness equipment is all the rage these days, and that's because many people want an option for taking part in instructor-led classes without leaving their homes.
Echelon has become an industry in the smart fitness space, with their hugely popular Reflect smart mirror, and line of connected bikes and rowers.
Now, they've added to their fleet with the release of the new Echelon Stride, a smart treadmill.
As a fitness expert myself, I have been looking for a chance to put a new smart treadmill to the test – I already own the Reflect and their Smart Connect Bike, and in this review we'll be doing just that.
Find out if this new smart treadmill is for you, in this detailed Echelon Stride review.
What is Stride: Does Echelon Really Have a Treadmill?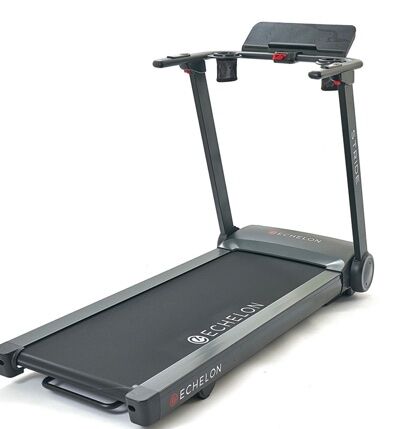 The Echelon Stride is a treadmill, with a twist – you can now take part in live and on demand running and walking workouts from the comfort of your own home.
This puts in the class of other connected treadmills like the Peloton Tread and Tread+, and NordicTrack's line of treadmills that feature their iFit workout platform.
With the Echelon stride, all you need is a tablet or device for streaming, and you'll be set to start taking part in their workout classes, led by world-class instructors.
Learn more about the Stride at the Echelon website.
Live & On Demand Treadmill Workouts?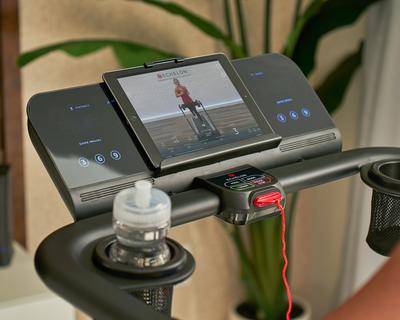 Yep, you read that right…With the Echelon Stride you can take part in Echelon's live classes, or access their huge library of on demand workouts as well.
These workouts are led by Echelon's team of elite instructors, who keep things fun, entertaining, and intense.
You can also compete with your family and friends to see who can truly go the extra mile.
The Echelon Community has become tight knit, especially after the year we've had, and they're there to keep you inspired, motivated, and on track to reach your foals.
Echelon App Works with Stride + All Other Equipment
When you become a member of the Echelon app, you have access to all workouts, for all of their equipment. That means if you have the bike, and decide to buy a Stride, Rower, or Reflect, you won't have to pay extra to access those workouts as well.
It's one app, for all fitness needs and abilities.
Can You Use the Echelon Stride without a Subscription?
Yes, should you choose to do so, you can use the Stride without their app. It's still a great machine, even without the live and on demand workouts, but we're pretty confident you'll enjoy their workouts so much, you won't want to use it as a standalone treadmill. That choice will ultimately be up to you though.
Stride Storage Options: Does Auto-Fold Make Storing Easy?
Not all of us are lucky enough to have a huge space for our home gyms, and Echelon recognizes that fact.
That is why their Echelon Stride features auto-fold technology, which makes storing or accessing your Stride a lot easier than many other treadmills out there.
On top of that, once it's folded it's only 10 inches deep, so it can be tucked discreetly away as you see fit.
What is the Max User Weight?
The Echelon Stride features a maximum user weight of 300 pounds.
How Much Does it Weigh?
How Big is the Stride?
Running Surface: 55″ x 20″
Features compact and sleek design, so it fits easily in most spaces
What is the Top Speed?
The Echelon Stride maxes out at 12 MPH
It has a minimum speed of 0.5 MPH
How Many Incline Levels?
The Stride features 12 levels of incline, with a max incline of 10%
What I Love About The Stride: The Best Features
As we've detailed above, the Stride is a connected treadmill, which we'd say is probably our favorite feature. That means that you can take part in instructor-led running or walking workouts from the comfort of your own home.
Hop on and join a live class, or utilize their huge library of on demand recorded workouts as well.
Beyond that here's a list of some the features that we think make the Stride worth buying:
Stream Live and On Demand Workouts
Easy Fold Design for Easy Access and Storage
Safety Stop Lanyard Included
Connects with Amazing Echelon Fitness Community
Compete with Your Family or Friends
Sleek and Eye Catching Design
Comfortable and Sturdy Running Deck
KEEP READING: Echelon Stride Compare vs Peloton Tread
Price: How Much Does the Stride Cost?
Echelon runs a lot of different promotions and sales, depending on the time of year, so the price listed here for the Stride may be subject to change at any time. Here's how much it cost as of this writing:
$1,338.99 with free shipping
Do They Offer Financing?
Echelon does offer financing options for qualified buyers. At last check you could lock in financing for the Stride, that put the cost at $62 per month.
Where to Buy the Stride
If you want to buy the Stride, we recommend starting at the Echelon website. They usually offer the best pricing, and you'll have the chance to lock in additional promos that they're running as well.
Check current Stride prices at Echelon's website.
Summary: Is the Stride a Must-Buy?
The Echelon Stride is the latest fitness innovation from Echelon, and adds to their already-impressive lineup of highly-rated equipment.
It features a sleek and sturdy design, and comfortable running deck, and can easily be stored with their auto-fold technology.
On top of all that, it can be used with their Echelon Fit app, which allows you take part in amazing instructor-led running workouts from the comfort of your own home.
We'd definitely rate the Stride Treadmill as a must-buy, if you're looking for all of the features we've outlined above, at a fraction of the price of some of their competitors.
Learn more about this awesome treadmill at the Echelon website: