We may earn a commission from the companies mentioned in this post.
When it comes to working out from home, having an option for streaming instructor-led workouts is a must-have feature for a lot of people these days.
Fortunately, there are several great options for streaming live and on demand treadmill workouts from the comfort of home, two of those being the Echelon Stride and Peloton Tread.
Both of these connected treadmills are packed full of features, offer their workout experiences, and start at different pricing points. This means, while the Peloton Tread may be the perfect fit for one person. the Echelon stride may be the better fit for the next.
In the article, we'll be comparing the Echelon Stride to the Peloton Tread, so you can get a better idea about which one might work best for you.
As an experienced runner myself, and as the proud owner of an Echelon Reflect and EX3 bike, I've been anxiously waiting for them to release a treadmill option, and I'm excited about the prospects having another affordable connected workout option.
Let's see how both of these treadmills stack up when compared head-to-head.
Echelon Stride vs Peloton Tread: Features Comparison
While both these treadmills have a ton to offer, each one is very different when compared to the other so it's important to know the features they both offer, before deciding which one will work best for you.
Let's break them both down:
Echelon Stride Features
You can learn much more about the Stride in our detailed review, but here are some of the highlights that this new treadmill from Echelon offers:
Sleek, Compact Design
Auto-Fold Technology Makes it Extremely Easy to Store (Just 10 Inches Deep When Folded)
Small Footprint Makes it Ideal for Small and Large Spaces
Lightweight Design, and Built-in Wheels Make it Very Easy to Move
Take Part in Live Classes
Workout with World Class Instructors
Compete with Your Family & Friends
Top Speed of 12 MPH
Powered by a 1.75 Horsepower Motor
Financing Available
Echelon released an updated Stride model, that is larger and more comparable to the Peloton Tread – the Echleon Stride 5S. It's larger than the original Stride and features a HD touchscreen that can swivel, so be sure to check that out as well.
As you can see the Stride brings a lot to the table, with the compact design, easy storage options, and access to live and on demand workouts being the key highlights, I'd say.
Peloton Tread Features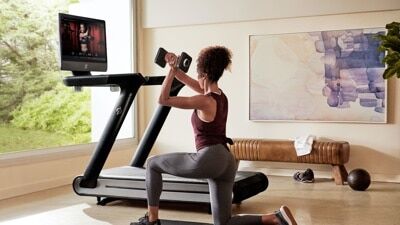 The Peloton Tread has been the leader of the pack when it comes to a connected treadmill experience. They were the first to offer a connected tread as far as I know, and as they've done time and time again, they've executed it flawlessly.
The Peloton Tread is a beautiful, high-quality, and sturdy machine that is considered by many to be the best of the best when it comes to a connected running experience.
Here are just a few things that their tread has to offer:
Tread Features Huge 32″ HD Screen, Making it Perfect for Cardio and Strength Training
Powerful 20 W Soundbar
Peloton App Features Celebrity Trainers
Shock Absorbing Belt for Comfortable Running Surface
Variety of Training Programs and Challenges via Peloton App
Try it at Home Worry Free for 30 Days
Tread Footprint: 68″ L x 33″ W, Tread+ Footprint: 72.5″ L x 36.5″ W
Financing Available
Learn more about the Peloton Tread at OnePeloton.com
App & Workout Experience Comparison
Again, Peloton pioneered the connected workout experience, and as such, they're considered the standard bearer when it comes to the best workout experience.
That said, the Echelon experience is pretty solid in their own right and features plenty of great workouts, instructors, and progress tracking as well.
Here's a brief overview about each app and the workouts they offer:
Echelon App Experience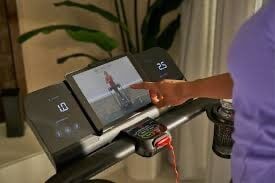 Stream Live Studio Fitness from Home
Variety of Workout Options: Biking, Running, Rowing
Reflect Offers Strength Training, Yoga, Etc.
Daily Live Classes
Huge Library of On Demand Workouts
Track Progress by Linking Fitbit and/or Strava Accounts
Compete with Friends and Family
One Subscription Gets You Access to All Echelon Workouts: Reflect, Biking, Treadmill, Rowing, and More.
Learn more about the Echelon app experience at their website.
Peloton App Experience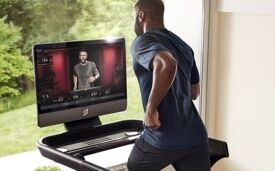 Thousands of Classes Available
10+ Workout Types to Pick From: Strength, Yoga, Running, Cycling, Bootcamp, and More.
Access the App as a Bike or Tread Owner, or a Peloton Digital Member
One Membership Gets You Access to Full Peloton Experience
Track Your Progress via In-App Metrics
Outdoor Running Options via Peloton App
Try it Free for 30 Days
Pricing Comparison: Is Stride of Peloton Tread More Affordable?
In terms of just affordability, the Stride is quite a bit cheaper. Peloton did recently lower the price for their standard treadmill, however, which has made it more adorable.
Here's a quick look at what each of their treadmills cost at the time of this writing:
Echelon Stride Pricing
Echelon Stride: $1,338.99
Echleon Stride 5S: Starts at $2499.99 at last check (Price Subject to Change – Check Current Price Here)
Peloton Tread Pricing
Pelton Tread: Starts at $2,495 (prices subject to change)
As you can see, regular Echelon Stride is the cheaper treadmill in this head-to-head battle, but their 5S model is pretty comparable to Peloton when it comes to price. If price is the biggest factor for you, then the original Stride will probably be at the top of your list, but if you're open to spending a few more bucks, then you'll want to weigh all of the pros and cons before picking the perfect connected tread for you.
Summary: Tips for Deciding if Stride or the Peloton Tread is Best for You
We've compared features, connected workout options, and pricing between these two treadmills, so which one is the best choice?
Well, it really is going to come down to what you're looking for in your connected treadmill, the space you have in your house or apartment, and how much money you want to spend.
In the end, these are both great treadmills, and you honestly can't go wrong with either option. Here are a few final tips for helping you decide if the Pelton Tread or Echelon Stride will work best for you:
You Should Buy an Echelon Stride if…
You want a compact tread that has auto-fold technology for easy storage
You want a high-end option with a swivel HD screen
You don't have a ton of room for workout equipment, or you want to be able to tuck it out of the way easliy
You want an amazing connected workout experience across a variety of workout platforms: biking, running, strength training, rowing, and more.
You want a connected tread that is very affordable
You Should Buy a Peloton Tread if…
You have the budget for it
Space isn't an issue – they have a larger footprint than the original Stride and don't fold up for easy storage
You want an amazing well-rounded connected workout experience
You want to take classes from world-class, celebrity instructors