We may earn a commission from the companies mentioned in this post.
Long gone are the days when we needed to crowd into a small room in the back of a gym to enjoy a cycling class. We've now got the equipment and the technology to enjoy these same classes at home with similar or even better results. And this couldn't come at a better time as coronavirus spreads across the globe and large gatherings become a bad idea.
There are several brands breaking into the market for at-home fitness classes, but only two brands really stand out when it comes to cycling.
These brands manufacture the best stationary bikes available and they have access to some of the best on-demand workout classes to boost the effectiveness of those cycles. And those two brands are Echelon and NordicTrack with the following:
Echelon Smart Connect Cycle
Nordictrack Commercial iFit Studio Cycle
These two brands are dominating the industry right now. They both have some strong advantages and some minor advantages – let's see how they compare head-to-head so you can make the right buying decision for you.
Echelon Smart Connect: An Overview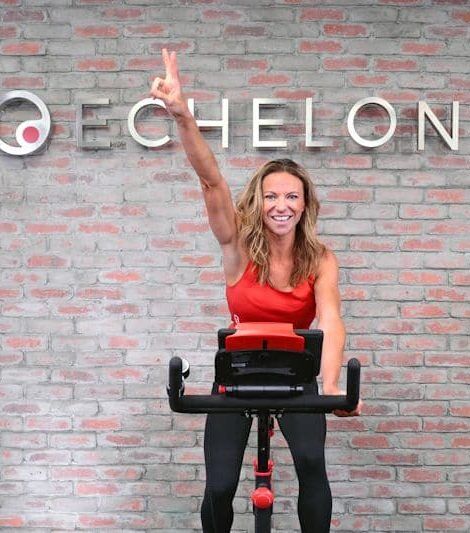 First, let's take a look at the Echelon Smart Connect Bike EX3 Max. This model can be considered the middle ground between the EX1 and the EX5. All three are excellent bikes, but the EX5 has the perfect combination of price, durability, and features.
Echelon is smart enough to understand that as incredible as their app might be, that it won't matter at all if their bike is trash. Luckily, the EX5 is stylish and well-designed. It's not trash at all.
The strong, steel frame lets you know that the body is going to last for a long time. Although, this does make it a bit too heavy to move around too frequently. A large flywheel adds to the weight but it also helps create an incredibly smooth ride. You can choose from 32 different levels of resistance to guarantee you burn just as many calories as you're aiming for.
This model has a couple of upgrades from the EX1, such as the larger, more comfortable seat. It's a small change that makes a big difference after twenty minutes on the bike. It's missing the dedicated console found on the EX5, but it does include a mounting bracket for your tablet.
You'll want to put that bracket to use while streaming the Echelon live or on-demand fitness classes.
Models
There are currently 5 models of the Echelon Smart Connect Bike on the market. They are as follows:
Echelon GT+
EX5
EX5S
EX7S
EX-PRO
Each model costs a little more than the one before and brings a little more to the table. GT+ is definitely enough to help you achieve your fitness goals at home. It's still a great piece of equipment and it can still be used alongside the Echelon on-demand workout videos. The major differences are in terms of design features.
Features
The more expensive models have upgraded handlebars, larger seats, upgraded consoles (some with included screens), upgraded motors, and a few small features like mounted water bottle holder. These extra features will make life easier while you exercise but they aren't mandatory. If you're shopping on a smaller budget, then there's nothing wrong with investing in the Smart Connect GT+.
The resistance system is a great example of the subtle feature upgrades that happen with each model. The GT+ has access to the same 32 levels of magnetic resistance as the other models.
However, the EX5 and later models introduce an indexing resistance adjustment knob that makes changing resistance much smoother and faster.
The GT+ has a standard adjustable console that can flip 180 degrees. By the time you reach the EX5S, the bike has its own dedicated 21.5 inch HD touchscreen that can also flip 180 degrees. It looks great, though it's not entirely necessary if you have your own tablet.
There is one major feature that all of these models in common. That's the ability to work with the Echelon FitPass app.
Live & On-Demand Workouts
The live and on-demand workouts are available as part of the Echelon FitPass app. In truth, this app can be used without the smart connect bike.
It's loaded with on-demand classes led by instructors. There are hundreds of workout videos available in many categories that target specific fitness goals.
The beauty of this diversity is that you can enjoy many intense workout sessions on your smart connect bike but you can also step off of the bike and partake in other classes to improve additional muscle groups, flexibility, strength training and more.
These live and on-demand classes are available around the clock. You can enjoy the full gym experience at home even it's 1 o'clock in the morning. Even with a 24-hour gym you're probably not going to have access to instructor-led classes at that time at night.
It's perfect for people with busy schedules who are serious about staying fit.
As mentioned, you can use the app without the Smart Connect bike. However, the bike from Echelon has the ability to sync with the app and compare a variety of stats. You can measure your performance against the instructor, other participants, and your own personal benchmarks.
Where to Buy
If you're looking for the best deal on the Echelon Bike, we recommend starting at their website. From there you can compare all of the models, get more in-depth details about each bike, and learn about their generous financing package.
NordicTrack Commercial Studio Cycles: An Overview
Next on the list is the Commercial iFit Studio Cycle from NordicTrack. The bike is smaller and more lightweight, but still not small enough to be considered portable. Once you set this bike up you won't want to move it again until it's mandatory.
But that's not a bad thing because it means it's built from strong, durable materials and is going to last a long time.
Models
There are two Studio Cycle models on the market today. They are:
S15i Studio Cycle
S22i Studio Cycle
Similar to Echelon, the second model is more expensive than the first. It's about a $400 jump from the S15i to the S22i. There are some differences between the two models, but they are mostly quality of life upgrades.
That means you can still get the same powerful workout with the S15i.
The two big differences between the two models are the screen size and the available resistance levels. The S22i has a slightly larger screen attached and it has two additional resistance levels. If those are important features to you, then we recommend sticking with the S15i and spending that excess on the training programs or even additional exercise equipment.
Features
Both of these models are fairly expensive compared to the Echelon, but they do come with some great features. For example, both models include an HD touchscreen console. The S15i has a 14-inch screen and the S22i has a 22-inch screen. The S15i console also has a few physical buttons taking up space while the S22i is entirely touchscreen.
Both models use magnetic resistance, though the available resistance levels jumps from 22 to 24 with the upgrade. They both have built-in speakers, 3-lb dumbbells, incline and decline function, google maps, and even water bottle holders.
Live and On-Demand Workouts
Both the Echelon and the NordicTrack are designed to work with their corresponding apps that have access to on-demand workouts. One of the advantages of the Studio Cycle is that it comes with a 1-year membership to the iFit app.
This app is comparable to the Echelon FitPass app, and offers plenty of awesome live and on demand workout options.
The iFit app is a great fitness tool and it's designed to work with a variety of equipment sold by NordicTrack.
The app currently has more than 14,000 on-demand workout videos and the number is growing.
Where to Buy
A number of retailers sell the Nordictrack Studio Cycles, but we recommend checking Amazon first. At last check you could get a year's subscription to the iFit app with the purchase of an s15i or s22i:
Price Comparison: Which Bike Is Cheaper?
Both bikes are going to cost a pretty penny, but the Echelon is definitely the more affordable option. The price range for Echelon models is as follows:
Meanwhile, at last check the prices for the NordicTrack are:
S15i – $1,799
S22i – $1,999
Workout Comparison: Live & On-Demand
When it comes to comparing the workout apps, both brands bring something strong to the table. We can honestly say you can't go wrong with either – both the Echelon and iFit apps have plenty to offer in terms of great workout options, top notch instructors, and creating a fun and engaging experience.
Summary: Our Winner Is?
Let's start by pointing out that both of these are excellent workout bikes. You could easily achieve your fitness goals with either model. But at the end of the day, if we had to opt for one, we'd probably start with Echelon as they have the more affordable entry point, with the GT+ bike coming in at well under a thousand dollars.
Learn more and check out Echelon's full line of equipment below: