We may earn a commission from the companies mentioned in this post.
A growing number of people want to be able to enjoy the benefits of studio workouts without having to make a trip to the gym. That's why there's been a surge of interest in workout equipment that allows people to stream live and on-demand classes.
With the right equipment, you can track your fitness and take a class with a world-class instructor.
While many types of workout equipment allow users to stream workouts, exercise bikes are the most popular option.
If you're looking for something more affordable, the Echelon Smart Connect and Schwinn IC Bikes are reasonably priced bikes with a lot of impressive benefits.
Echelon Smart Connect Bikes: An Overview
Echelon's Smart Connect bikes (learn more) are sturdy, steel frame bikes with large padded seats and flywheel magnetic resistance.
There are currently four models available: EX-1, EX-3, EX-5, and EX-5S. All bikes are compatible with Apple and Android devices. Although the bikes come equipped with built-in speakers, you can also connect to Bluetooth speakers.
When you have an Echelon bike, you'll also have access to classes taught by more than 30 instructors. The variety of classes is impressive, with options like:
Scenic rides
Spin classes
Pre-and post-workout sessions
Zumba
Meditation
Kickboxing
Cardio
Pilates
Core
Yoga
Stretching
Both live and on-demand workouts are available, with as many as 30 live classes per day.
Because Echelon offers such a wide range of classes, virtually all users can find a class that's right for them, whether they're a novice or someone that's spent years in spin classes.
Some classes feature a leaderboard, allowing users to compete against people that are participating in the same class. This can be highly motivating for a lot of users, especially when it's combined with feedback and instruction from fitness experts.
The Echelon EX-1, EX-3, and EX-5 models include an adjustable console that can easily hold a tablet. The console can be rotated 180 degrees so that users can enjoy workouts on and off the bike.
The EX-5S comes equipped with its own 21.5″ HD touchscreen.
All Echelon models offer 32 levels of magnetic resistance, allowing users to find a resistance level that's appropriate for them. Models also include a precision resistance motor and SPD compatible pedals with adjustable toe cages.
Some models include additional features, such as a weight rack for dumbbells and back and front power ports.
Echelon's common in several color options, including royal blue, black, red, and white. Since this cycle can be difficult to fold away and store, you may want to opt for a color that compliments the decor in your home.
Echelon offers a 30-day return policy as well as a 1-year warranty. If consumers aren't happy with their Echelon bike, they can receive a replacement or a refund within the first month of use.
Schwinn IC Bikes: An Overview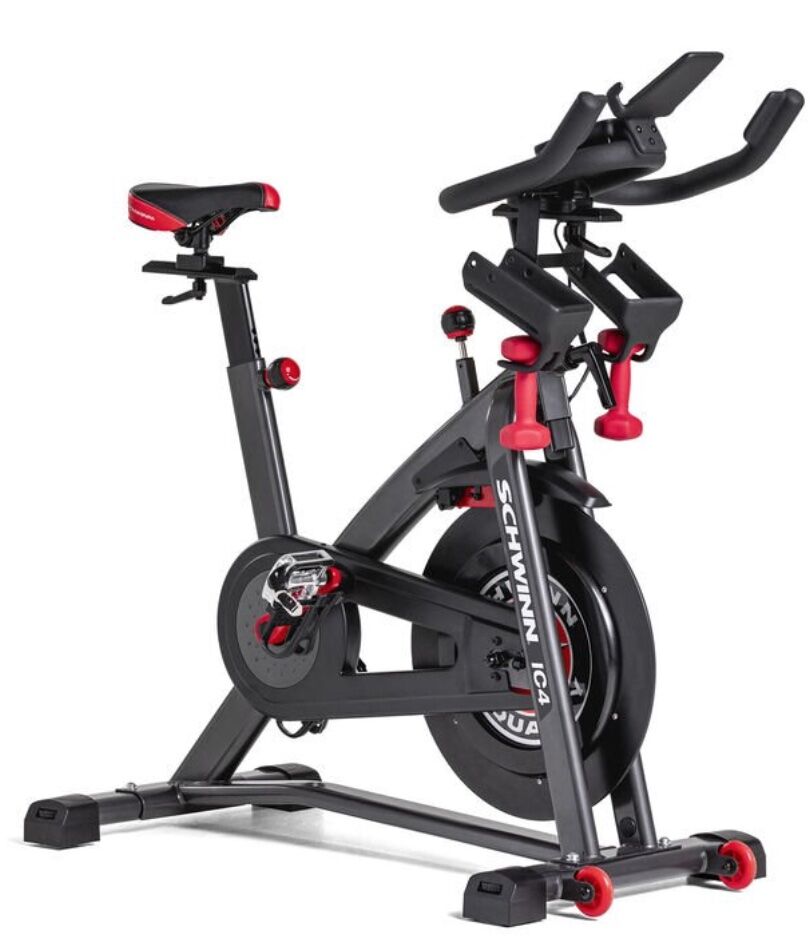 Schwinn IC bikes (see our review of the Schwinn IC4) are quiet, lightweight indoor cycling bikes. Schwinn offers several different models, including the IC2, IC3, IC4, IC Classic, and IC Pro.
Costs and features vary based on the model chosen. The bikes are made from galvanized zinc and powder-coated steel, making them highly durable.
In addition to being sturdy, Schwinn's bikes are designed with comfort in mind. The seat is fully adjustable and provides plenty of cushions, making it a good choice for longer and more intense workouts.
The resistance wheel has 100 or more variations, depending on the model chosen, and uses a 31 lb flywheel drive system.
Unlike the Echelon, Schwinn bikes don't have their own app. Instead, users can mount a tablet to the device and follow along with fitness classes of their choosing.
The IC bikes are designed to be compatible with the Peloton app but can be used with many other fitness apps that offer live and on-demand classes, such as:
Zwift
CycleCast
Studio Sweat
Aaptiv
Trainer Road
The Sufferfest
All models come with a built-in LCD screen that displays speed, distance, time, RPM, and estimated calories burned.
If riders want to track their progress, however, they'll need to use an additional app. The compatibility between Schwinn bikes and fitness apps varies.
While you may be able to use your favorite app with a Schwinn bike, you may not have access to certain features.
Schwinn's cheapest models include a mounted holder for a tablet, but do not offer any sort of connectivity. This means you can follow along with workout classes, but you won't receive the kind of on-screen feedback you would normally receive from a cycling app.
Price Comparison: Is One Cheaper?
Echelon Pricing
The cheapest Echelon model, the EX-1, starts at $839.98. To access the fitness app, users will need to pay an additional $39 monthly fee.
Users can also purchase a bundle that includes the bike and a year's subscription for $1,199.98.
The most expensive Echelon model, the EX-5S, starts at $1,639.98.
Echelon offers no money down financing with payments as low as $56 per month for $24 months. The subscription fee will not be included in the financing plan unless the user chooses to purchase a bundle.
Because Echelon offers a no-risk 30-day trial, it's possible for consumers to test out the bike without paying a thing.
Schwinn Pricing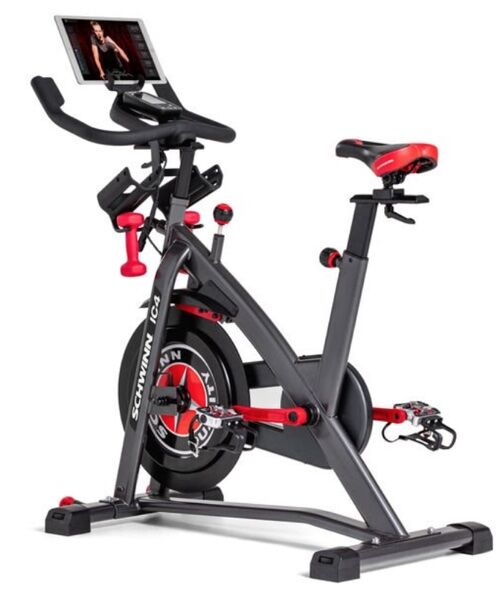 Schwinn's least expensive model is the IC2 bike, which is priced at just $299. However, this bike does not offer training app connectivity.
The cheapest model that can be used with apps like Peloton is the IC4, which is priced at $799. Users will also have to cover the subscription costs of the fitness app they choose.
Schwinn also offers easy financing for their bikes, with no interest paid if you manage to pay for your bike in full within 18 months. In-home assembly is available, but it will cost you extra. It's priced at $129. Other accessories, like a bike mat, will also require you to pay more.
While the IC4 is slightly more affordable than the Echelon EX-1, you may find that the EX-1 gives you more for your money. These are both very reasonably priced options, especially when compared against other indoor cycles that offer live and on-demand classes.
Financing options make the bikes even more affordable.
Features Comparison
Both Echelon and Schwinn offer multiple indoor cycle models, which vary in pricing and features. Below, we'll compare the features of some of the most popular models.
EX features include
Ergonomic handlebars
Adjustable tablet holder
Mounted dumbbell holders
Bluetooth connectivity
32 levels of magnetic resistance
Precision resistance motor
SPD compatible pedals
Access to FitPass trainer-led workouts
See more features at Echelon's website.
IC4 features include:
Bluetooth connectivity
Built-in USB charging port
Heart rate monitor
100 levels of micro-adjustment
Full-Color LCD display
Adjustable seat
Tablet holder
See more features at Schwinn's website.
While both bikes have similar features, only the Echelon features a precision resistance motor and has a proprietary app. Users that are interested in additional features, like a built-in touchscreen may want to consider other models, like the Echelon EX-5s.
Before purchasing either an Echelon or Schwinn bike, it's a good idea to compare different models so that you can find the option that's best suited to your needs.
Live & On-Demand Workout Comparison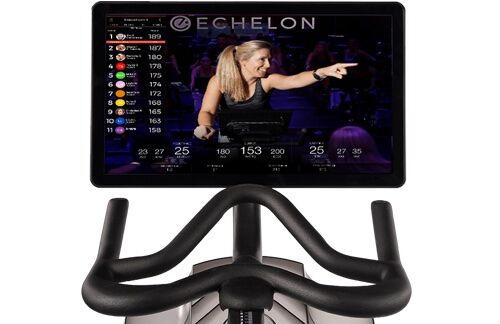 As mentioned above, Echelon offers an incredible range of classes, many of which were specifically designed for the Echelon connect bikes.
With more 1,000 on-demand classes available and new live classes added every day, users will always be able to find a class that's right for them.
Schwinn doesn't provide access to any classes, but the bike can be used alongside other fitness apps that allow you to stream classes.
However, it's important to remember that Schwinn bikes may not be compatible with all of the features an app offers.
Schwinn's indoor cycles may be a good choice for people that already have a fitness app that they love.
With that said, if you're looking for a more complete experience, an Echelon Connect bike is your clear choice. Because Echelon's bikes were designed around their live and on-demand classes, you'll be able to enjoy the full studio experience.
Summary: How to Pick the Right Bike for You
Schwinn has some of the most affordable indoor cycles on the market. However, their cheapest models weren't designed to be used alongside fitness apps. While the Schwinn IC4 can be used with popular apps like Peloton, you may miss out on some of the features that the app offers.
Why We Prefer Echelon…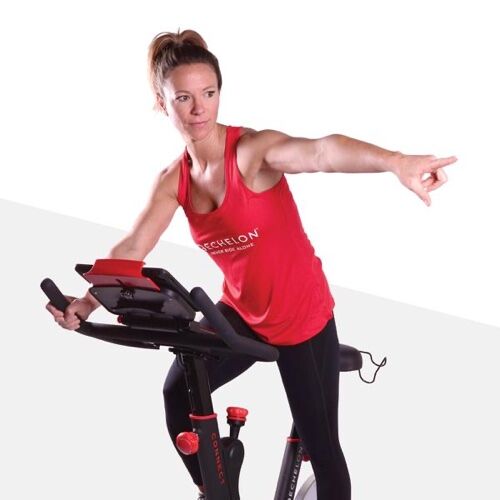 Echelon Connect bikes are a little more expensive than Schwinn's products, but they're still very reasonably priced. The price point of the Connect makes more sense when you consider that you're getting a complete option. When you invest in an Echelon bike, you won't have to rely on other tools or apps.
You'll be able to get everything you need from one piece of equipment.
Since Echelon offers no money down financing and a 30-day trial, it's also easier to try out their indoor cycles to see if they're a good fit for your needs.
If you're on a tight budget, but you still want to enjoy studio cycling classes, Echelon Connect bikes are a fantastic choice.