We may earn a commission from the companies mentioned in this post.
Connected workout experiences are currently the hottest trend when it comes to home fitness and two of the leading brands in this space are Peloton and NordicTrack, which manufacture highly interactive at-home workout equipment.
Not to be left behind, numerous startups have been tinkering with smart bike and treadmill concepts since these exercise machines are rising in popularity each day. Today, the goal is to create the next amazing innovative piece of at-home workout equipment, which is where Ergatta comes in.
Ergatta took a different approach by innovating on something a bit more traditional – the at home rowing machine. It makes a lot of sense to focus on rowing since it is a highly effective cardio and strength building workout that not only works out the entire body but also burns up to 800 calories an hour.
What is Ergatta?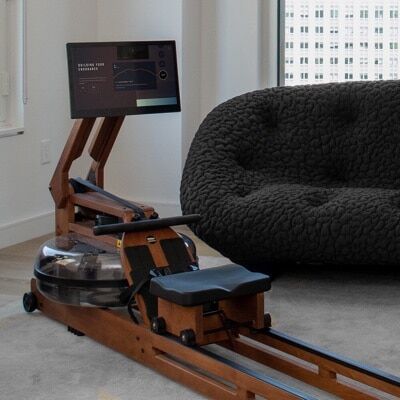 Rowing might be an effective workout, but it is also grueling, and incredibly monotonous. The equipment used for rowing is also not very good looking. The Ergatta Rower is designed to address both of those concerned with a machine that's inspired by gaming.
The Ergatta Connected Rower is the perfect blend of the rush associated with video games racing and the fitness benefits associated with a whole-body workout to deliver one of the most interactive rowing machines currently in existence.
Ergatta is essentially a smart rower that connect you to a virtual gym. It uses your physical movements to detect your personal performance. It then translates that into a virtual display that subsequently delivers visual results, which means that you're able to literally see your performance while rowing.
The Ergatta Connected Rower's hardware is made by WaterRower, which is one of the leading rowing machine brands in the world. However, Ergatta does not specify the specific WaterRower model is used to make its smart rower.
Think the Ergatta looks like the perfect rower for you?
The Ergatta Experience: Connected Rowing at Its Best?
A virtual gym environment is great for most people. It allows you to work out on your own or join online classes from the comfort of your home without having to worry about other people staring at you. The Ergatta Connected Rower is another great addition to the growing list of smart home-based workout equipment by leading brands such as Peloton and NordicTrack.
Just like similar smart workout equipment from brands like NordicTrack and Peloton, the Ergatta Rower uses a massive 17.3-inch screen to display its on-demand exercises and workouts. However, unlike Peloton and NordicTrack workouts, they aren't led by an instructor but are rather video-game inspired routines that can be just as motivating as those high-energy workouts.
The Ergatta Connected Rower essentially pits user against machine for its interval workouts and goal-based plans, whiles still letting you compete against other Ergatta users in simulated races. The software delivers an impressive experience that pushes you to do better continuously.
Just as fitness trackers found a way to gamify everyday fitness, the Ergatta Connected Rower follows a similar path.
The Design: Why Ergatta Stands Above the Rest
The Ergatta Connected rower is made of cherrywood that's sourced from the United States. It is also built in the United States. Almost the entire rower is made from cherrywood and while its design might not necessarily be revolutionary, it still looks great.
The Ergatta Connected Rower was clearly intended to be more than just a means to get fit – it was also meant to be pleasing in terms of its look and feel. In fact, founders of the company Alessandra Gotbaum and Tom Aulet have attested to the fact that the Ergatta was designed to resemble furniture.
The Ergatta Connected rower is a tank-based water rower, which means that it comes with a donut-shaped container at the bottom. The great thing about tank-based rowers is that they more closely simulate rowing in actual water thus making for a smoother rowing experience. The tank also adds to the looks of the machines, which makes it an excellent conversation piece.
Here's some more information about the water rower and why it is the preferred type of rower for many people:
The water rower is one of the newer innovations in rowing machine technology that creates resistance using real water and paddles. While air rowers are preferred by most competitive rowers, many at-home rowers prefer the quieter, smoother action of the water rower.
Users of water rowers claim that the rowing action on these machines more closely resembles the feeling of rowing on actual water and is smoother with a constant resistance throughout the complete stroke. Water rowers, unlike some air rowers, don't have a 'flat spot' where there's a drop in resistance during the stroke cycle.
The other reason why many people love water rowers such as the Ergatta Connected Rower is that they often come with wooden frames and elegant designs. While that might not necessarily be the first option for most competitive rowers, they are perfect for at-home rowers since they are stylish, quiet, and require very little care.
Storage Options: Is it Easy to Store?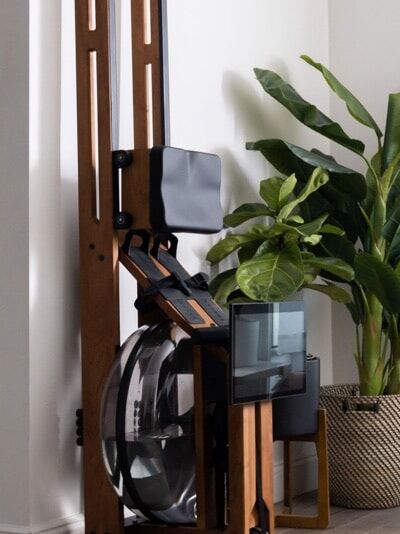 One thing that you should always remember is that rowing machines by definition tend to take up space and the Ergatta Connected Rower is not an exception. Fortunately, it is easy to store the Ergatta. When you are done with your workouts for the day, you can fold it up vertically to help save on space just as is the case with other rowers, which makes it perfect for apartments or houses with limited storage space.
Real Ergatta Customer Feedback
The comments left by real customers of the Ergatta Connected Rower regarding their experience are overwhelmingly positive. Here are just a few of the comments that actual customers of the product have shared after using it:
One user says that they would recommend the Ergatta Connected Rower to just about anybody. The user says that the rower is not only more comfortable but also more visually appealing than other rowing machines. The user also adds that workouts are fun, stimulating, and highly entertaining.
It Provides a Fun and Amazing Workout
Another user says that they love their Ergatta, which they refer to as 'beautiful' and say delivers a more realistic rowing experience than rowing machines found in most gyms. The user also loves the variety of workouts that Ergatta provides, which they say inspires them to reach their targets without fail.
It is a Fantastic Workout
A different user says that they always believed that rowing was boring and too hard before they bought the Ergatta. Now they have changed their opinion and believe that it makes rowing fun and ensures that you get an amazing workout without burning out too fast.
It's Great for Weight Loss
Yet another user says that he had tried out dozens of things for over a decade trying to get himself in shape without much success. He had never rowed before he got his Ergatta, but had read that it was a highly efficient way to build muscle while simultaneously cutting fat.
He then watched a handful of rowing videos of YouTube and quickly got the hang of it. He was already feeling confident and stronger after 2 to 3 sessions on the machine. He also loved the fact the rower's screen has workouts geared towards helping new rowers work on nailing their technique. He says that the Ergatta helped him cut down his body fat level from 29 percent to 15 percent in just 4 months.
The Ergatta Connected Rower is still a very new workout machine, which means that there will be much more feedback in the future and there's no guarantee that it will all be positive. However, it doesn't have to be all positive since users will always have varied opinions.
Still, the overwhelmingly positive comments that actual users of the product have left proves that it is definitely a good product that anyone looking for a good at-home workout machine should consider buying.
Price: How Much Does the Ergatta Cost?
The Ergatta Connected Rower does not come cheap. It costs $2,199, and an additional $199 for shipping and installation. To make the price more manageable, you can finance your Ergatta Connected Rower starting at $102 a month for 24 months. You will also have to pay extra to access the library of on-demand workout classes, which costs $29 per month or $290 annually.
Summary: Is the Ergatta Connected Rower Right for You?
Interactive treadmills and stationary bikes don't offer a workout that's as dynamic as that offered by a row machine and are basically priced the same if not more than the Ergatta Connected Rower.
The Ergatta Connected Rower offers exactly what the majority of people want when it comes to at-home workout equipment. It pushes you to push harder, it has a clean design that doesn't stick out like a sore thumb, and provides an effective workout for the entire body.
If you are looking for an at-home workout machine that delivers a full-body workout disguised as an interactive gaming experience and have the space and can afford the investment, then you should definitely buy the Ergatta Connected Rower.
Resources