We may earn a commission from the companies mentioned in this post.
These days, boxing and kickboxing are more than spectator sports. They're effective full-body workouts that allow you to stay active, build strength, and improve flexibility. Taking fitness classes at a local gym is intimidating to some people, especially those at the beginning of their health journey.
As an alternative option, FightCamp brings quality boxing workouts directly to your home for an affordable price.
If you're ready to use boxing to improve your health and take control of your life without leaving your house, here's everything you need to know about FightCamp and its products.
What is FightCamp?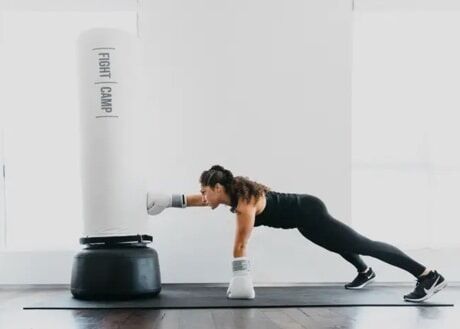 FightCamp brings boxing sessions right into your home, and its design allows people of varying fitness levels to participate in an engaging workout that will undoubtedly get your heart pumping and sweat flowing. FightCamp provides all the boxing equipment you need for a successful workout, including a gym-grade punching bag, a workout mat, boxing gloves, and hand wraps.
The FightCamp program also includes a FightCamp App, giving you on-demand access to plenty of high-quality instructional boxing classes led by motivating trainers.
What sets FightCamp apart from other home boxing programs are punch trackers. The hand wraps contain the trackers, so users can record their strike performance and receive real-time statistics thanks to this innovative technology. This information helps them understand their boxing level while giving them goals to strive for while in the comfort of their living room.
When you join FightCamp at any level, you will receive two punch trackers, one for each hand. They are incredibly accurate in keeping track of how many punches you throw, your punch speed, and your striking technique, giving you your total output for each workout. The trackers are Bluetooth-enabled, and the data they collect will push you up or down on your workout's leaderboard so that each activity will have a competitive edge.
Here's a good look at what FightCamp is really all about…
How it Works: Setup & Getting Started
Setting up your equipment to begin your boxing training with FightCamp will take some work on your part. If you own a punching bag, you can set it up near a TV, select one of the classes on the app, put on your hand wraps, and get moving. If you purchase a bag from FightCamp, the setup will be a little different.
First, you should set up your workout mat, which takes up a considerable amount of space. They consist of eight pieces of two-by-two-foot interconnecting tiles that create a mat measuring eight-by-four feet. If you don't have enough space in your room, you can eliminate some tiles to reduce the mat's size to four-by-four feet, but it should be big enough to allow for stretching and executing planks and burpees comfortably.
Next, you'll have to set up your freestanding bag, which is relatively narrow and short. Its base is two feet wide and weighs close to 17 pounds, and its body is five-feet-five inches high and weighs around 13 pounds. You will need to fill the bag with either sand or water.
To fill the bag, untwist the cap at the bottom and fill it with water or sand or both. When it's full, attach the bag to its base and seal the connection using the included latch system and velcro hook. The final weight of the bag can range from 270 to 350 pounds.
Position your equipment where you can see your classes on your TV. You can watch your courses with any iOS device, but to transmit footage to a television, you must connect an HDMI cord to an iPad or iPhone.
Once you set up your bag and mat, you'll need to prepare your punch trackers. These devices come with charging cradles with a standard USB connection. They will have a full charge when they arrive, but you'll need to "wake" them by plugging them into the charging cradles for a short while.
After a minute or two, double-tap both punch trackers until the LED readouts on them blink red and blue, one color for each hand. Your phone will receive a request to connect the trackers to your device via Bluetooth. To complete their setup, put a tracker into each of your hand wraps, red for the right and blue for the left.
Now all you need to do is put on your boxing gloves and get to work. When you finish, you can leave your equipment in place because it doesn't take up much room, and the black and white design can blend into almost any decor. If you prefer to store it somewhere else, tip the bag on its base and roll it wherever you want.
RELATED READING: FightCamp vs LiteBoxer
FightCamp App
One drawback about the app is that it works solely with iOS devices, meaning you can only download it onto Apple products. However, it has an intuitive, easy-to-learn interface with a sleek, modern design that will prepare you for your home workouts, regardless of your fitness level or boxing experience. It contains all of your classes, and it keeps track of the stats from your punch trackers.
You can download the app from the App Store, and when you open it, you will see a Home icon, which includes features like recently added classes, quick workouts, and more.
The app's Workouts tab is where you can find hundreds of workout videos, starting with the most up-to-date releases. Each week, at least three new courses upload to the app, and for each one, you'll find a list with the number of rounds in each class, the instructor's name, and the release date.
You can select a class to view extra details about its boxing level, punch goal, and duration. The Overview tab will show you each round's combinations and moves. The app also lets you preview a workout or filter them by trainers, experience level, and rounds.
FightCamp Workouts: Can They Teach You to Box?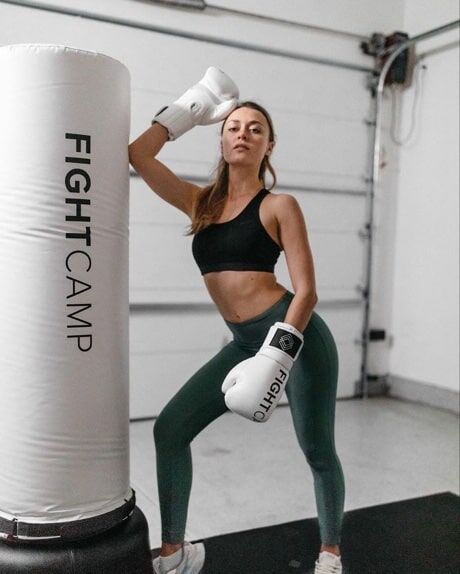 Workouts range from full-body exercises to straight boxing and throwing punches. Each one is intense and designed to train you as a fighter as you reach an exercise milestone or punch goal.
When people take their first in-person boxing class, they often dive in without learning the basics. Without a proper warm-up or knowing how to get into a boxing stance, you could develop a poor technique or severely injure yourself.
FightCamp is for everyone regardless of their experience, but they do break down boxing fundamentals for beginners. FightCamp classes have plenty of tutorials run by pro-level instructors to help anyone starting on their fitness journey. The instructors spend time going over various techniques to ensure that everyone develops a solid foundation before the activities kick into high gear.
Beginners can start with The Prospect Path, a 12-week course that teaches you how to excel at FightCamp workouts. With The Prospect Path, you will learn about various kicks and punches like hooks, jabs, and uppercuts and execute them safely and effectively. You'll also learn about proper stances, the punch number system and participate in Boxing Base workouts that include tutorials in each round to acclimate you to each class's format.
Once you get the hang of the boxing fundamentals, you can delve deeper into all FightCamp workouts created by real fighters to create an authentic training experience without stepping into a boxing gym.
The workouts consist of high-intensity interval training (HIIT) to give you an efficient workout using short bursts of intense activity with rests. This training type keeps the body from hitting the fitness plateau too early by working muscles fast and hard in a safe manner.
Boxing is inherently a HIIT sport whether you're training or fighting in a ring. FightCamp workouts follow the sport's rule of rounds lasting for three minutes with a minute for recovery between each one. For each round, you have a new goal or challenge, but with plenty of practice and their fighters' expert instruction, you'll come out on top.
FightCamp workouts also include a combination of bodyweight exercises and boxing, which will help you improve your strength and stamina through cardio. Cardio will get your heart pumping, but it's not enough. If you want a well-rounded fitness routine to improve your speed, power, flexibility, and endurance, you need to balance strength training and cardio, both of which FightCamp provides through their home boxing program.
Can You Lose Weight With FightCamp?
It's possible to lose weight in the comfort of your living room with FightCamp. Their classes last for 15 minutes, but they're high-intensity and will force you to use your entire body, depending on the workout you select for your Apple device. An hour-long session at a boxing gym can burn up to 1,000 calories to put it in perspective.
FightCamp workouts use frequent quick movements for cardio, which is integral in burning calories. Instead of continuously making the same movements as you would with other cardio exercises like running or biking, boxing movements aren't repetitive or dull. They also help you get rid of unwanted inches by training your cardiovascular strength and shedding calories.
Throwing punches and striking your weighted bag is also excellent for developing lean muscle as you shed fat. Boxing engages many muscles at once, even if you're only hitting the bag, but you can target specific areas that you want to improve. The result is a leaner, healthier body with toned muscles and a more flattering appearance.
How Much Does FightCamp Cost?
FightCamp is expensive, but it's worth every penny. You can choose between several program packages, and they all come with free shipping and a warranty offer for up to one year. If the prices are too steep for you to pay at once, you can still enjoy a good workout with FightCamp's financing options, which can last up to 18 months.
The cheapest FightCamp package is FightCamp Connect, which comes in at $400 or $34 per month for 12 months. You won't receive the entire FightCamp boxing set if you choose FightCamp Connect, but you will get quick wraps and trackers to measure your punch output. The option is ideal if you already own a freestanding bag and boxing gloves but want access to FightCamp's vast video library.
The next package is FightCamp's mid-tier subscription called the FightCamp Gym, and it costs $61 per month or $1,095 annually. With it, you get quick wraps, one set of boxing gloves, a freestanding punching bag, punch trackers, and a sturdy workout mat. If you don't have all the necessary equipment at home for boxing workouts, this subscription is the best choice because it'll provide you with everything you need.
If you want to turn your home into a gym for the family, go with the FightCamp Family package at $70 per month or $1,244 annually. It comes with a freestanding bag, a heavy workout mat, punch trackers, two boxing gloves, two quick wraps, and kids' boxing gloves.
With the FightCamp subscription service, which costs an extra $39 per month for all packages, you will have access to hundreds of on-demand instructor-led fitness videos through the FightCamp App. You can stream a video of your choice through any iOS device, such as an Apple TV or computer.
FightCamp Review Summary: Should You Join?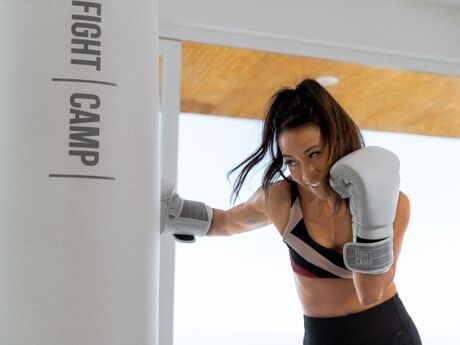 The answer to "Is FightCamp worth it?" is yes. The bottom line: FightCamp is a highly efficient way to turn your home into a boxing gym and work up a sweat throwing punches, kicks, and exercising your entire body. The program includes everything you need for boxing training, from a freestanding bag to quick wraps for your hands.
Someone who doesn't have a large budget for an exercise regimen may balk at FightCamp package prices, but they are worth it. Whether you choose the cheaper FightCamp Connect package or opt for the more expensive FightCamp Family, you can still subscribe to the classes on their app and measure your punch speed with punch trackers.
You don't have to be a skilled boxer to take advantage of the hundreds of on-demand fitness classes through FightCamp's intuitive app. Beginners and professionals can participate in a wide range of authentic boxing routines crafted by experienced FightCamp instructors.