We may earn a commission from the companies mentioned in this post.
Connected workout devices have been gaining popularity at sky-high rates. More people are getting interested in these connected experiences because they have changed the way people get in workouts much like Netflix did for streaming TV shows and movies.
One of the biggest issues a lot of people have is not having enough time to work out or not having access to the equipment. These manufacturers are positioning their connected devices as a gym-like experience that you can use in the comfort of your own home.
Currently, two brands and manufacturers are leading the pack when it comes to providing the best-connected workout experiences; Hydrow and Peloton. In fact, each has really developed a cult following due to the quality of experience each offers.
Below, we will be going over a comparison of the two to help you make a well-informed decision on which one you should purchase.
Workout Comparison: Is Rowing or Biking Better?
The truth is, each brand has a different approach to their products. Hydrow focuses on providing on-demand rowing experiences. Whereas, Peloton provides a comprehensive and digital cycling experience.
Hydrow Rowing Machine Workout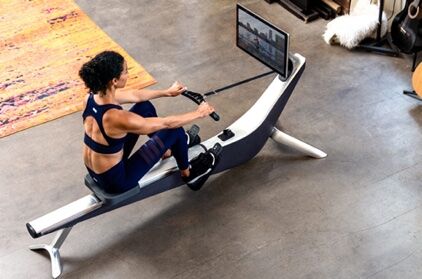 For an all-around workout, there is no competition. A rowing machine is capable of offering a complete workout. After all, it targets not only your lower body but your upper body simultaneously.
Because of this, the Hydrow is capable of delivering a machine that can offer a complete gym-like experience. You will be able to perform a variety of exercises using the Hydrow rowing machine which can deliver a full-body workout.
This is something you simply cannot get with an exercise bike.
Studies have shown that the metabolic requirements of a HIIT-focused rowing workout were similar to the workout MMA fighters get during training[1]. Likewise, another study showed that ergometers were able to deliver a much tougher workout than exercise bikes [2].
Peloton Exercise Bike Workout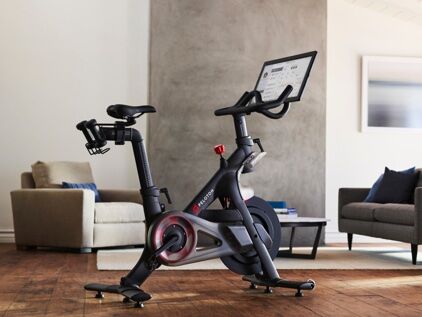 Exercise bikes are very effective at providing a quality lower body workout. Not only do they offer the ability to boost your cardio fitness levels, but they can be very effective at burning fat and strengthening the lower body.
However, they are not effective at providing a comprehensive workout because they won't target your upper body.
Features Comparison
Hydrow
Hydrow offers a lot of the things that you would want and expect in a digital and connected rowing machine. In a lot of ways, it is the Peloton of rowing machines.
1. 22-Inch Touchscreen with Front-Facing Speakers
The Hydrow has a 22-inch touchscreen with front-facing speakers that can really immerse you in your workouts. This alone is enough reason to consider it.
The machine can really make you feel as if you are rowing on water because of the large touchscreen at your disposal.
This, paired with the subscription that places you on the water with video shot from the rower's perspective can immerse you in your workouts to the point where you forget you are in your living room.
2. Live Outdoor Reality
Hydrow features it's very own and innovative Live Outdoor Reality (LOR) technology which can really help you get the professional rowing instruction you need while helping you achieve a totally immersive workout experience.
3. Electromagnetic Resistance
The rowing machine features whisper-quiet electromagnetic rowing which ensures that you are going to be able to get in a very quiet workout with the ability to fine-tune the resistance as it is digital adjustable.
See all of the Hydrow features at their website.
Peloton
1. 22-Inch Digital HD Touchscreen
With Peloton, you are getting a crystal-clear and immersive viewing experience. You will be able to take classes face-to-face with your instructor on a 22-inch touchscreen.
2. Quiet Operation
The Peloton bike features a near-silent belt drive. Therefore, you should be able to get in intense workouts without waking up the entire house.
3. Connected Experience
The bike features Wi-Fi, Bluetooth, and you can ride with other Peloton members both live and on-demand.
Winner: Tie
Pricing Comparison: Is the Hydrow or Peloton Cheaper?
Hydrow Rower
With the Hydrow Rower, the retail price sits at $2,199.00. Along with this, you will need to pay for membership which is $456.00 for 12-months. To effectively store your bike upright, you will need to spend an additional $69.99 for the upright kit.
Peloton Exercise Bike
If you are interested in buying the Peloton, you will have the choice between (3) different pricing packages. The Basics package starts $1.895.
Winner: Peloton
Peloton now has the advantage when it comes to pricing because it has a lower base price.
Summary: How to Choose Between Peloton and Hydrow
Both connected workout machines offer a lot of value for the end-user. The key is finding the type of workout you prefer. They are very equal when you compare the features and the value that you get with their live and on-demand workout experiences.
While the Hydrow certainly offers a much more immerse workout experience, they both compare favorably. Therefore, you aren't necessarily missing out on a lot of features if you choose one over the other.
You really should be asking yourself whether you enjoy biking or if you would rather get a machine that offers a total body workout which only a rowing machine could provide.
Who Should Buy the Peloton?
If you are someone who prefers a low-impact workout and you enjoy cycling a lot, the Peloton might have an advantage. It offers a very good workout experience that is certainly a good value.
Who Should Buy the Hydrow?
If you are someone who wants to get the best all-around workout machine for your money, Hydrow is the clear winner. Not only can it deliver a low-impact workout, but it can deliver a total body workout. This is something you simply cannot get with the Peloton bike.
The Hydrow can deliver a comprehensive workout that can viably replace a lot of necessary home workout equipment if you want to be able to avoid the gym altogether.
Cited Sources
https://www.researchgate.net/publication/338550725_Strength_and_Conditioning_for_Competitive_Rowers
https://www.psu.edu/ur/archives/HealthMed/SportsMedSept.html
Images via onepeloton.com and hydrow.com