We may earn a commission from the companies mentioned in this post.
With Peloton ushering in the new age of connected workout experiences, there have been many brands looking to capitalize on the growing popularity within the marketplace. This has led to the emergence of innovative workout experiences beyond the scope of traditional workout equipment. Brands like LiteBoxer and FightCamp have entered the ring to compete for those seeking a Peloton-like at-home boxing workout experience. The idea for LiteBoxer came about when the co-founder fell in love with boxing with a professional trainer at the gym but failed to replicate the same experience at home [1].
If you are someone who is seeking a similar at-home workout experience with boxing as the core focus, you are likely going to be choosing between these two brands as they are the major players in the space. Choosing between the two can be difficult due to the attractiveness of each platform.
This article comparing FightCamp vs. LiteBoxer should make your decision a little easier.
Feature Comparison: What FightCamp and LiteBoxer Have To Offer
1. LiteBoxer Features Overview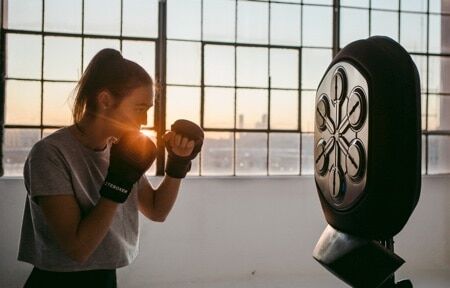 LiteBoxer takes the traditional boxing approach and flips it on its head. It attempts to 'gamify' the boxing experience and it succeeds in doing so. Many people struggle with sticking with traditional boxing workouts because they either get bored or they hit a wall. LiteBoxer gets rid of boredom by immersing you in music and competition. The Rhythm Technology used was designed to sync the light with the beat. Therefore, you are tasked with punching with the rhythm which can make you work out harder, faster, and longer. Best of all, you will be able to listen to your favorite song while you workout or even come up with your playlist to keep you even more immersed and interested in your workouts.
With LiteBoxer, you gain access to professional training. You won't be missing in-person training because you will be able to choose from top boxers to guide you through workouts. You can choose from a variety of trainers and fitness levels.
You aren't limited to basic boxing workouts with this program. LiteBoxer offers you the ability to add strength training and even yoga workouts to your exercise routine. This will help you get a total body workout and it can keep you trending towards your ultimate fitness goals.
LiteBoxer was designed to have a small footprint. This is a big factor for many looking for home workout equipment because not everyone has an entire room they can dedicate to their gym equipment. This system comes with a small footprint at (37.5″ x 55.5″) and it can even be broken down into multiple parts for even better storage potential.
2. FightCamp Features Overview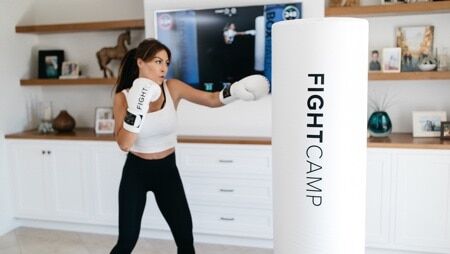 First and foremost, with FightCamp you get access to studio-quality equipment. One of the biggest things that will not only motivate you to continue with your workouts but help you get effective workouts is the quality of your equipment. With FightCamp, you can count on getting equipment that will withstand daily workouts and equipment that will deliver a studio-like experience. With the package, you will get everything you need to get started including punch trackers, a heavy workout mat, quick wraps, a free-standing bag, and premium boxing gloves.
FightCamp will keep you in the ring and working towards your goals by providing you with access to professional trainers that you will love. These trainers will provide you with the requisite training and tailored advice to ensure you can get the most out of every workout. Best of all, you will have 24/7 access to these trainers with various on-demand workouts to choose from.
A subscription to FightCamp will give you the ability to create up to 5 different user profiles. Therefore, you will be able to create a user profile for each member of your family and challenge each other.
Both Cardio and Strength Training Workouts
The workouts are not solely limited to cardio. FightCamp offers comprehensive workouts that are designed to work out your entire body. Not only do you get your heart pumping with boxing workouts, but the workouts feature a combination of boxing and bodyweight exercises. Therefore, you will be able to gain strength and muscle which can improve the results you can get from incorporating it into your fitness routine.
This product was designed to fit virtually anywhere. When you aren't using it, it's small enough to be tossed in the corner or even stored in a closet. It's also well designed that it won't stick out like a sore thumb if you keep it up in your living room.
Workout Head to Head: What Their Training Apps Have to Offer
FightCamp Workouts
With FightCamp, you get both boxing and kickboxing workouts. You will get workouts that consistently force you to engage more muscle groups and to improve your endurance and stamina each time. The workouts are mixed up to keep your body guessing and to help you avoid hitting fitness plateaus.
1. Music
With FightCamp, you will be able to leverage their carefully curated music stations that help to ensure you can stay highly motivated during your workouts and also get your blood pumping as well as possible.
2. Professional Training
As mentioned, your workouts will be conducted by professional trainers. You will have various individual trainers with their unique personalities to choose from. This will help you find someone that meshes well with your personality and workout style which can only improve your performance.
3. Punch Trackers and Other Analytics
FightCamp will give you real-time progress and stats on any iOS device. As long as you have an iOS device, you will be able to take advantage of the advanced analytics you are getting which should help you see what you are getting from your workouts and help you get the most out of them.
4. Leaderboards
Who doesn't love some healthy competition? FightCamp knows how important competition can be to getting the most out of you. Therefore, you will be able to place yourself on the leaderboards which should give you that little bit of extra motivation you need to extend your workouts and to improve every single day. You can even choose to challenge more experienced boxers as you continue to progress to ensure you are always pushing forward.
5. On-Demand Workouts
With FightCamp, you will be able to choose from curated on-demand workouts to get in the best workouts on your schedule.
RELATED READING: FightCamp Review: Can it Help You Lose Weight?
LiteBoxer Workouts
With LiteBoxer, you not only get music integration, but you get a unique approach to music integration. They've developed a trademarked Rhythm Technology that syncs each light to the beat. This can make working out increasingly fun and it can reward you even more for 'mastering' your favorite songs.
1. Music Integration
Unlike FightCamp, LiteBoxer integrates music in a much more unique way. Therefore, you will get something that you cannot get elsewhere. This can encourage you to master your favorite songs and it can help to ramp up your Punches Per Minute (PPM) without even knowing it. If you are someone who routinely gets bored with boxing workouts, this is the ideal solution to cure it.
2. Total Body Workouts
You won't be stuck with boxing workouts with LiteBoxer. Your subscription will come with workouts that include boxing, strength training, and even yoga.
3. On-Demand Workouts
You will be able to work out with professional trainers on-demand. This should give you the added convenience of being able to work out on your schedule.
Price Comparison: FightCamp vs LiteBoxer [2,3]
1. LiteBoxer
2. FightCamp Pricing
Starts at $1,219 or $51 per month with financing.
For FightCamp Connect with just the punch trackers and quick wraps, expect to pay $439.
Monthly Subscription: $39/month.
Summary: Deciding On The Right Boxing System For You
Both of these boxing systems are attractive for those looking for a connected boxing platform. FightCamp offers a comprehensive solution for those who are into both boxing and kickboxing. With LiteBoxing, you will be limited to boxing only. Also, you won't be able to get everything out of FightCamp unless you have an iOS device like an iPad or iPhone. Whereas, LiteBoxer has both an iOS and Android app. If you are not looking to get a heavy bag, your best option would be the Connect bundle that FightCamp offers. For those looking for a comprehensive connected boxing platform, LiteBox might offer more value.
You Should Pick LiteBoxer If…
You want the most innovative connected boxing experience available in the marketplace
You have an Android or Apple phone/tablet that you plan on using for your boxing sessions
You like the idea of boxing to the beat and you need the added gamification to stick with it
You Should Pick FightCamp If…
You have iOS devices that you want to use
You are interested in both boxing and kickboxing
Your entire family wants to use the platform
You just want punch trackers and quick wraps
References: