We may earn a commission from the companies mentioned in this post.
Live and on demand exercise bike workouts are all the rage these days, especially with the surging popularity of bikes like Peloton and Echelon.
And why are they so popular?
They're a great way to get a live workout without ever going to the gym, they help you stay motivated, and they keep things fun and interesting.
The only problem?
These bikes can be expensive! Between the cost of the bike and the monthly expense to access their apps, you're often looking at a price tag of $2,000 or more.
Now, you don't have to pay more than two grand to get an amazing bike and streaming workout experience, though, thanks to the new MYX Fitness line of bikes.
Finally there is an affordable alternative to bikes like Peloton, and MYX Fitness is leading the charge in affordability.
In this MYX II Fitness Bike Review, we'll detail everything you need to know about their new fitness bikes, their features and specs, the pros and cons, and where you can lock in the best deal. So keep reading if you'd like to learn more about this amazing exercise bike:
What is the MYX II Fitness Bike?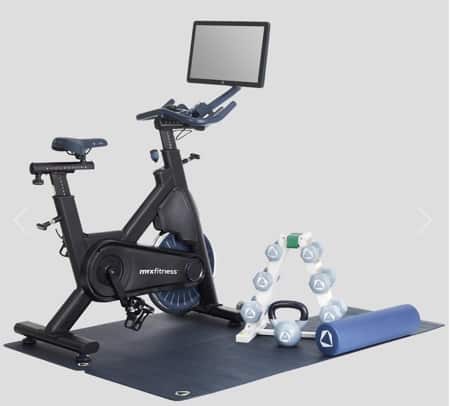 It was sometime during 2017 when MYX Fitness hit the market as a leading brand for high-value fitness solutions such as the exercise bike. At the time, they wanted to design elite home cycling solutions such as the MYX and the MYX Plus. These fitness bikes have become synonymous with the fitness industry in recent times because of their reputation.
The MYX Fitness Bike is all about combining a well-designed bike with a comprehensive membership program that offers expert coaching, on-demand content, and a wide array of workouts in one place.
The brand has always focused on going above and beyond when it comes to a well-rounded workout option. This includes things such as strength training, endurance training, and flexibility options.
There is so much on offer for those who want to mix things up a bit.
This includes exercises such as:
HIIT
Yoga
Barre
Cardio Dance
Cycling
And More!
The brand has always been about mixing things up and trying to offer something unique. This is where the MYX Fitness Bike comes into action as a part of that strategy.
Ready to get started?
MYX II vs MYX II Plus: Key Features and Specs
1. 21.5″ HD Touchscreen With Swivel Design
It all starts with the immaculate 21.5″ HD touchscreen once you sit down. It's immersive, beautiful, and just has a presence that's impossible to ignore.
Toggling through the MYX app using this screen is breathtaking. It adds joy to working out that is difficult to find on the open market.
2. Personalized Heart Rate Monitoring
Monitoring your heart rate is a breeze using the MYX Fitness Bike. Apple devices can be fully integrated into the bike to pick up heart rate metrics during the workout routine.
This makes it easy to track how your body is doing during the intense parts of a session.
3. Bluetooth Integration
Bluetooth integration is an essential component for those who are serious about using their device during the workout session. The MYX Fitness Bike makes this as simple as it needs to be.
Within seconds, your device is going to be ready to go using the Bluetooth feature.
4. Welded Steel Design
The welded steel design is something that stands out as soon as you take a look at the MYX Fitness Bike. The design is beautiful, rugged, and lightweight at the same time.
It's a perfect blend of high-grade materials making it amazing for new-age home gyms.
RELATED READING: MYX Fitness Bike vs NordicTrack
MYX Workouts: Live & On-Demand Streaming Options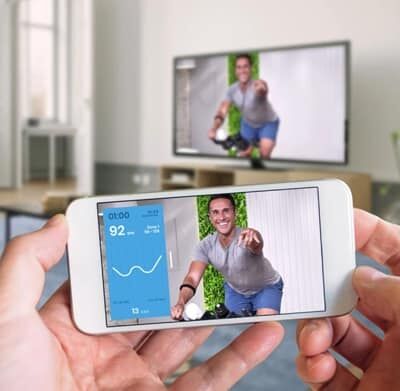 Let's move onto the on-demand content using this fitness bike.
MYX has a comprehensive membership program, which makes it ideal for mixing things up. They have instructors that offer access to on-demand workouts that are fully designed around a person's experience level and time requirements.
Whether you are a newbie or someone that has been riding bikes for years, the MYX Fitness Bike's membership program will have something unique to offer. This is enticing when it comes to having a bit of fun along the way.
The interface is sleek, easy to use, and offers access to great content throughout the year. You can easily sift through different types of workouts including Cross-Training, Bike, Floor, and/or Mindful depending on your workout goals. The interface offers complete descriptions for those wanting to know more about what the workout entails.
This is encouraging as you can filter through coaches, types, levels, durations, and even music. It's the type of personalization that pushes things to the next level for riders.
For the on-demand content, users can easily sift through different durations including 15, 20, 30, and 45-minute workout routines. Choose the one that works best for you and push through a comprehensive workout program built to deliver results.
They also have an all-encompassing scheduling option that allows you to prep for workouts in advance. This means you can flesh out a complete workout routine using the interface.
The MYX app is the real deal and it does offer full integration with Apple devices including the Apple Watch and iPhone.
The only concern would be the lack of live classes. MYX Fitness doesn't offer this type of content, which means you can only toggle through on-demand content that is uploaded to the membership program throughout the year.
Having said that, they do keep this up-to-date as much as possible meaning you always have something unique to go through when it's time to workout.
Who Should Buy an MYX Bike?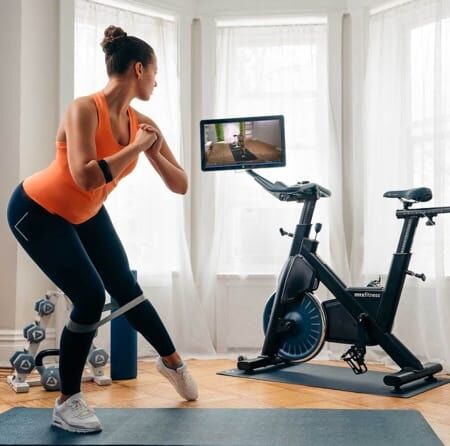 When it comes to an all-encompassing fitness bike such as this one, it's perfect for those wanting an all-out workout. This includes both beginners and/or advanced users that are trying to maximize their effort levels without leaving home.
It's difficult to find a fitness bike that's as rugged and well-built as this one. If it's time to add a new workout bike into your home gym, this is a great starting point due to its natural build quality. The materials are great and it is tremendously comfortable.
The bike has a riveting touchscreen that offers Bluetooth integration making it ideal for those who are tech-savvy. If you are someone that is going to be connecting their device to the MYX Fitness Bike then it's good to start here.
The only people that may be taken aback by this bike are those that prefer competition. This means they want to compete with others in a community whether it comes to effort levels or competitive times. MYX Fitness Bikes don't offer this feature, which can be challenging for those who want a bit of a push throughout the workout session.
It's not a major problem, but it is something to keep a note of before making a purchasing decision.
On the other hand, you are going to get access to some of the world's finest instructors that have been doing this for a while. They are enthusiastic and perfect for anyone that is just getting started. They push you to the limit and make it as efficient as possible without compromising your health.
RELATED: Is MYX Fitness a Top Peloton Competitor?
What We Love About the MYX II Fitness Bike: Pros
1. Gorgeous HD Touchscreen
The HD touchscreen has to be the first thing you think about. It's amazing. The quality, attention to detail, and the general response rate will impress immediately.
You will know it's a beautiful part of the machine and all that it has to offer. It's absolutely perfect from all angles.
2. Great for Beginners
Beginners get scared of new-age fitness bikes and rightly so. This is one of the simpler options and offers a wide array of beginner-friendly features to go through.
Within minutes, you are going to be up and running the way you want to be with this bike.
3. High-Quality Build
The build quality is impressive because of the welded steel. It operates quietly without any of the unnecessary rattling that can be bothersome when working out late in the evening.
All of the components are long-lasting including the well-designed HD touchscreen.
4. Amazing Live and On-Demand Content
The on-demand content through the MYX app is wonderful and adds value to the machine. Whether it's HIIT sessions or general biking workouts, you are going to be fully covered here. The on-demand content is perfect and comes with high-value instructors too.
5. Customized Heart Rate Monitoring
The heart rate monitoring is a plus point, especially with the Apple integration.
Just being able to go through the different data points to track your health-related progress is powerful. This is information other machines don't offer at all.
Are There Any Negatives?
1. Lacks Integration with Fitness Apps/Trackers
While it is a good fitness bike, it doesn't integrate with the FitBit or other similar trackers. This is a concern for those who rely on these trackers to handle their fitness-related data.
2. No Leaderboards
If you are competitive, you want to have leaderboards to pit your skills against. There is no leaderboard here and that is a small knock on the bike.
MYX Fitness Bike Delivery and Assembly Instructions
When you purchase a MYX Fitness Bike, you don't need to worry about assembling yourself – right now they are offering free shipping and professional assembly with the purchase of their bike – learn more at their website.
Pricing Options: How Much Does it Cost?
Review Summary: Final Tips for Deciding if You Should Buy
The MYX Fitness Bike is a powerhouse when it comes to performance, aesthetics, and durability. It provides a wide array of useful features making it a no-brainer for the modern user. Instead of settling for a below-par fitness bike, this is one that stands out for all the right reasons.
It has a sleek build, offers exceptional performance metrics, and works well in all situations.
Whether it's time to go through a HIIT training session or start as a beginner on a new program, it's never a bad option to go with the MYX Fitness Bike.
Learn more below: