We may earn a commission from the companies mentioned in this post.
Buying workout equipment has and will always be an investment in your health. With an increasing number of people recognizing the benefits and convenience of working out at home, more and more people are looking to make significant investments in their home gym setup. This is backed by a survey that showed 63 percent of Americans who exercise regularly would prefer a mix of working out at the gym and home [1].
This is leading to a boom in the marketplace with more brands introducing innovative products. It's easy to say, there has never been a better time to be in the market for home gym equipment. Not only is the equipment more advanced than ever, but it's not too expensive compared to older complete home gyms.
For those looking for a complete home gym, both Tonal and NordicTrack's Fusion CST stand out. By the end of this comparison, you should be in a good place to pick the right home gym equipment to invest in.
Features Compare: What Tonal and Fusion CST Offer
1. NordicTrack Fusion CST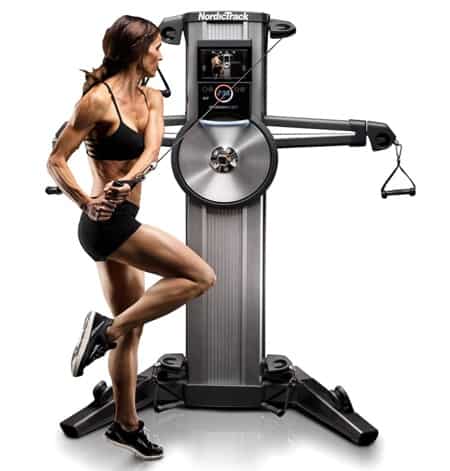 The Fusion CST by NordicTrack is another good option you could consider. Here are some standout features and benefits of the Fusion CST.
The Fusion CST is a 2-in-1 machine. It's designed to be for both strength training and cardio in the form of high-intensity strength training. As far as strength training is concerned, it delivers 20 intense power levels that will help you boost your strength as you continue to use it. Having 20 digital power resistance levels ensures that you won't outgrow the machine and that you will continue to benefit from using it long after you start. The machine uses silent magnetic resistance which means you are getting both silent and smooth operations. This ensures that you don't have something that makes too much noise in your home which is an important aspect among a lot of home gym consumers.
Live Interactive Technology
One of the cool things about the Fusion CST is that it features interactive technology built-in. While you're following along with the workouts, you will be able to get real-time digital adjustments from the expert trainers to ensure that you are always pushing yourself to your limits and so you get the most out of every workout. This is something that a lot of people benefit from by getting personal training at the gym that you don't normally get at home. A personal trainer is likely to push you to uncomfortable levels. Now they can do it virtually with the built-in live interactive technology to ensure you're always pushing yourself to get stronger and reach your fitness goals.
Live or On-Demand Classes
With iFit, you'll be able to take part in new Fusion CST classes. This will allow you to learn directly from fitness professionals. This is a good option for anyone who is looking for more of a traditional studio-like experience as you'll be transported to a studio gym environment.
The Fusion CST comes with an integrated tablet that is 10 inches large. You can use this to watch your live and on-demand classes.
Check current Nordictrack Fusion prices at Amazon
2. Tonal Unique Features and Benefits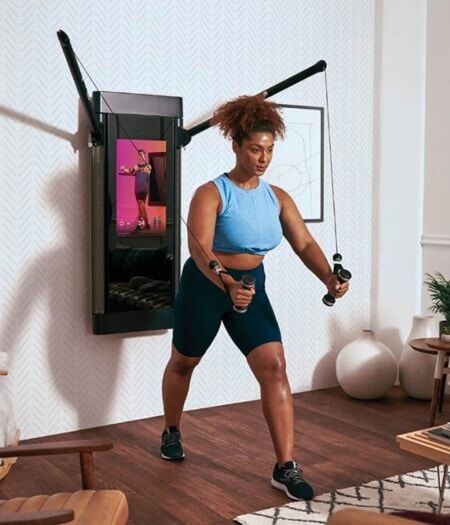 Tonal has a lot to offer someone who is looking for a good all-purpose workout system. Here are some of the key features and benefits of Tonal.
One of the things that you don't notice at first is how comprehensive of a workout Tonal can offer. At first glance, you might assume it's limited in scope to upper body exercises. However, that's not the case. This product delivers both upper body and lower body workouts with its patented digital weight system. This means you'll be able to replace your leg day gym sessions that you normally had to venture out to your nearest gym to get in. With Tonal, you're getting a complete and total body workout that you can count on to progress with you on your fitness journey.
Machine Learning For Personalized Improvements
One of the revolutionary features of the Tonal gym has to be its machine learning integration. One of the biggest issues a lot of people are faced with when it comes to getting effective workouts at home is not knowing where to start, how to design workout plans, and how to execute exercises. Tonal took notes and delivered a workout system that takes the guesswork out of strength training and working out. Powered by artificial intelligence, you'll be able to get real-time adjustments to your strength as you work out. All of this is done automatically without any manual interference. This ensures that your workouts are as effective and as safe as they need to be for you to reach your fitness goals.
One of the things a lot of people enjoy about going to the gym is having access to personal trainers. After all, not many people have the experience needed to know where to begin. No matter what your fitness goals are, you'll be able to find expert-led programs that you can leverage using Tonal. This will enable you to go through programs step by step as you look towards reaching your fitness goals.
This is another major area of concern whenever you are getting started with working out with weights or doing any kind of strength training. After all, a lot of people end up getting hurt for executing exercises with improper form. It's very easy to find yourself compensating for muscle weaknesses or muscle atrophy and using bad form. This is especially true if you don't know what good form is, to begin with. With Tonal, you'll be able to get real-time form feedback. Tonal has 17 different sensors that will both analyze and correct your form. This can keep you from getting injured and ensure that you're always getting everything possible out of your workouts.
YOU MAY ALSO LIKE: Tonal vs MIRROR
Something nearly every consumer wants when they are buying home gym equipment is a small footprint. After all, if you are going to be using the home gym equipment in your home, you don't want it to take up too much space. A lot of the home gym equipment is impractical because it takes up far too much space. Tonal has very few space requirements as it's hung on the wall. Therefore, all you need is a free wall that has two studs and you won't have to worry about taking up floor space. With other equipment, you either have to take up floor space at all times or worry about folding and tucking the equipment somewhere while it's not in use. With Tonal, you don't have to worry about any of this as it's always out of the way.
The Tonal comes with an integrated 24-inch interactive display that you can use to watch your coaches and to track your progress.
Connected Workout Compare
1. Tonal
Hundreds Of Different Workouts Readily Available On-Demand
With Tonal, you'll be able to choose from 100's of workouts that are available on-demand. The library of workouts you can choose from is exhausting. You'll be able to do workouts dedicated to training for a triathlon, high-intensity workouts, pre or postnatal workouts, recovery workouts, and more. There is no limit to the variety you'll find in the Tonal on-demand section which means you'll never get bored of working out with it.
As mentioned, with Tonal, you have the benefit of having guided workouts throughout every session. This is crucial for someone who is looking for more handholding during their workouts to improve the effectiveness of it and even the safety of it. Tonal's built-in artificial intelligence will keep you from having to worry about counting reps, setting the right weights for different exercises, and more. All you need to do is show up and work out, much like you would at the gym.
In-Person Partner Workouts
With Tonal, you can grab your partner or a friend and work out together. You aren't limited to working out alone. Tonal can adjust when working out with a friend and it will track the results, as well.
With Tonal, you aren't limited to working out with a friend or partner in person. You could potentially work out with someone that has a Tonal too. This makes it the ideal option for those who have a friend or multiple friends with a Tonal.
As mentioned, the Tonal gym is complete. It requires absolutely nothing else. The system is designed to deliver as much as 200 pounds of digital resistance in a device that is smaller than a flatscreen television. You can add additional Tonal smart accessories that include everything from smart handles, smart bars, ropes, rollers, a bench, and a mat. However, none of this is necessary to get the most out of your Tonal gym.
2. NordicTrack Workout Options
You'll be able to take part in both live and on-demand strength training sessions. This will enable you to watch world-class personal trainers on the built-in high-definition touchscreen to see how to perform each exercise. Likewise, you can benefit from having expert personal trainers controlling your machine's power levels to enhance your experience and to help ensure you're always getting the right resistance level.
With the Fusion CST, you can count on having access to all of the insights of your workouts. This will enable you to visualize your progress to keep you motivated to continue on your fitness journey.
This is a complete home gym machine. When you buy the Fusion CST, you can count on having something that requires no additional purchases. You have a machine that features 20 power resistance settings that you can use to get in both strength-based and cardio-based workouts.
Price Compare
You Should Pick Fusion CST if…
If you are shopping on a budget and you are looking to save money, you can't go wrong with NordicTrack's Fusion CST. You are getting a complete home gym for a reduced price and it's delivering a similar type of experience.
You Want On-Demand Classes
If you want live classes, you are going to want NordicTrack's Fusion CST because you can leverage iFit's interactive personal training.
You Don't Need To Save Too Much Space
With the Fusion CST, it's not going to be too bulky, but it's much bigger and has a much larger footprint than the Tonal. If you can live with this trade-off, it's a good buy.
You Have Other iFit Enabled Equipment
If you have other iFit enabled equipment, you are going to want to add the Fusion CST to the mix. iFit offers an exceptional value especially if you are invested in the ecosystem.
You Want Built-In Heart Rate Monitoring
The Fusion CST has built-in heart rate monitoring. You can use the included Bluetooth-enabled chest strap which will help you get through your workouts by reaching your target zones to improve the effectiveness of your workouts.
Check current Nordictrack Fusion prices at Amazon
You Should Pick Tonal if…
You Want The Best Strength Training Experience
While NordickTrack's Fusion CST does a good job of delivering trainer-led workouts, the Tonal makes it even better. With Tonal, you'll have built-in artificial intelligence altering the resistance levels of your workout that can improve your progression.
You Don't Need Live Workouts
If you are fixated on trying to get live workouts, you'll want to opt for something other than the Tonal. Tonal only has on-demand videos that you can use for your workouts.
You Want To Save The Most Space
Tonal does this much better than NordicTrack. With the Tonal, you get a complete workout system in a device that is smaller than a modern flatscreen television. This alone makes it worthy of consideration for a lot of consumers because not everyone has a lot of space to place a bulky home gym.
You Don't Mind Spending More
The Tonal is going to cost more than the Fusion CST. Therefore, you may have to be willing and able to stretch your budget.
You Want Tonal's Proprietary Digital Weight Technology
Tonal offers digital weight technology that is proprietary and revolutionary.
References