We may earn a commission from the companies mentioned in this post.
Hopping onto a treadmill to burn calories and maintain a healthy lifestyle is essential. It is something more and more people are looking to incorporate into their workout routines because of how effective running can be.
While running is great, it's not always easy to rush outdoors for a long run. This is why a lot of people are now trying to add a high-quality treadmill to their home gym without compromising on quality. Some machines are compact, while others are built to offer limitless power.
Keeping all of this in mind, it's time to look at a market-leading brand named NordicTrack and whether or not its machines offer enough value.
This comparison is going to focus on three specific machines – The NordicTrack Commercial 1750, 2450, and 2950.
Features Comparison: What the 1750, 2450, and 2950 Have to Offer
NordicTrack Commercial 1750
It all starts with the gorgeous 10″ HD Smart Touchscreen. It is sleek, easy on the eyes, and allows you to quickly sift through all of the onboard programs without missing a beat.
The screen is large enough to offer insight into what is going on without becoming cumbersome. NordicTrack takes the time to design high-value screens that are not only effective for changing the settings but also for learning more about how you are doing during a run.
This touchscreen is perfect on the hands and is ideal even when you are sweating buckets. They have thought of everything when engineering the touchscreen and it is big enough to remain enjoyable throughout a workout session.
One of the key details you are going to think about with this machine will be the motor. You may look at the others and assume this is not as big, but it still packs a punch.
At no stage are you going to feel let down by the motor size and how effectively it integrates with the main settings. Instead, you are going to enjoy the refined power and how it all comes together. They have done a good job of making this a priority.
The benefits include:
Clean Power
Reduced Noise Output
Smooth Experience
This can be seen with how well the motor works and how quietly it operates when the machine is on. Just let the motor do its thing and working out will be a blissful experience.
They have taken the time to make it as seamless as possible from the moment you are ready to run to when it is time to step off.
With the NordicTrack Commercial 1750, you are gaining access to 38 high-quality onboard workout programs. This is ideal for those who don't want to get stuck with one type of workout program and want to toggle through different settings.
If you are particular about how they run, these programs are a joy to behold.
You are going to have the opportunity to learn more about how your body functions and what it responds well to. Since there are 38 onboard workout programs, you are always going to find something that works well for your body.
Just take the time to go through each one and see how it works out for your needs.
NordicTrack Commercial 2450
The first thing you are going to notice with the NordicTrack Commercial 2450 is the large screen. This touchscreen offers an HD visual that is easy on the eyes and a joy to look at while working out.
The 14″ touchscreen is perfect and offers complete access to all of the settings and workout programs. Go through all of them one by one and know the touchscreen won't let you down.
Just like the 1750, this touch screen is world-class and responsive even with sweaty hands. You are not going to struggle to touch the screen even if you are drenched in sweat. This is great for quickly toggling through different settings to personalize your run.
The motor is always going to be the center of attention with a product such as this and the 4.0 HP motor is a winner without a doubt.
This is a powerful, well-intentioned motor that offers a seamless experience everyone will enjoy. Whether you are a beginner or an advanced runner, you will get a lot of power out of this motor.
The benefits include:
Added Power
Ideal for Intense Workout Sessions
Refined Transitions
Due to how NordicTrack has taken the time to design this treadmill, they have made sure it works in a refined fashion.
This makes it easier to transition through different speeds without noticing a "hitch" that is common in cheaper treadmills.
It is this attention to detail that makes this treadmill stand out.
One of the key details you are going to think about before buying a treadmill is the onboard workout programs. Are you going to get the basic programs that every other machine has to offer or is it going to push things to the next level?
With the NordicTrack Commercial 2450, you are going to get a machine that is the real deal and offers an amazing 50 onboard program.
What makes this a major plus has to do with it being the highest any machine by NordicTrack has to offer. Yes, this includes the higher model (2950). With the 50 onboard workout programs, you are going to have a multitude of choices to go through one by one.
This is great for those who are picky about how they run and want to get it picture-perfect. If that is someone you can relate to then it is time to take a look at what this machine is all about.
NordicTrack Commercial 2950
If you are someone that wants the biggest HD touchscreen on offer and want to enjoy what the screen has to offer then it is time to start here.
The NordicTrack Commercial 2950 is impressive as the 22″ screen stands out from miles away. You are going to know this is going to take center stage as soon as you step on. The beautiful screen is a delight as soon as you set your eyes on it and it goes to work.
Toggle through the various settings and programs while choosing what works best for you. The scree never disappoints and is simply magical.
When it comes to performance, durability, and general quality, this is the ultimate touchscreen on the market right now. It isn't just about the size, but about the overall performance you're going to get with the machine turned on.
Choosing a world-class treadmill is all about the finer details, but sometimes you have to think about the heart of the machine which is its motor.
With the 4.2 HP motor, you are getting a refined machine that offers a tremendous amount of power. At no point are you going to feel like there isn't enough power to keep up with your demands. This is especially true when toggling through different programs.
When it comes to a world-class motor, this is right up there with the best.
The benefits include:
Top of the Line Power
Consistent
Multiple Safety Features
The best time to start seeing the power of this motor has to do with running at higher speeds or when following an iFit workout.
This is perfect for those who are particular about their iFIt workouts and want to do them properly. Just letting the motor do its thing will ensure you can keep up.
The workout fans are going to matter when it starts to become warmer and warmer. You will want to cool down and make sure you can maintain your performance during the latter half of the workout session.
With the average treadmill, you are never going to have the option to turn on multiple fans at once.
With this particular treadmill, you are going to have three different fans pointed in your direction. This ensures heating up is never an issue even if you are sprinting at full speed. You can relax on the treadmill, turn on the fans, and start to cool down.
Being able to do this right away is great when it is hot inside and you want to stay cool. Not only are these fans well-designed, but they are also powerful.
This is great for those who want a fresh breeze of air to blow across their body when running or walking.
See all Nordictrack treadmills and compare features at Amazon:
iFit Workouts: Do All the NordicTrack Commercial Treads Work with iFit?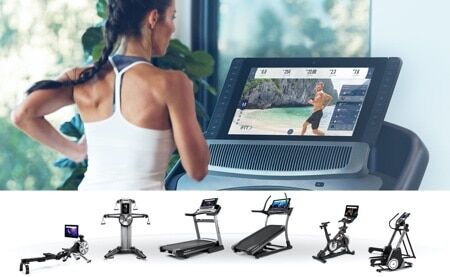 Yes, all of the NordicTrack treadmills are compatible with iFit.
Just sign up for iFit and you are going to be ready to go. The machines are designed to handle the nuances of the iFit membership program and will work seamlessly as soon as you set everything up.
Key workouts include:
Beginner 5K Running Series
Marathon Madness Running Program
Calorie-Burning Running Program
500-Meter Chase Program
And More
This is essential for those who want to do things the right way and want to see tangible results.
You are going to enjoy the iFit workouts and everything that comes along with them. They are engaging, unique, and offer access to some of the most entertaining workouts on the market right now. You will fall in love with them in a matter of minutes!
RELATED READING: Does Echelon Make a Treadmill?
Can the Nordictrack Treadmills Be Used without iFit?
If you are someone that doesn't want to sign up for iFit and prefers using the machine as a standalone solution then it is okay to go with NordicTrack's commercial series.
Yes, it is possible to run on the treadmill without having to sign up for the membership program.
The benefits include:
Long List of Workouts
Full Integration
Ideal for Beginners
Just turn on the treadmill and off you go.
It is that simple and you are going to have a slew of high-quality onboard workouts to choose from. This makes it easier than ever before to not only tailor your workouts but make sure you don't have to pay an extra cent to use the machine.
If you just want to work out and use the treadmill as-is, no one is going to stop you. It will work just as well if you are customizing the workout session based on what you prefer rather than following someone else.
Pricing Comparison: Which Nordictrack Treadmill is the Best Value?
Nordictrack Commercial 1750 – $1,799.00 + Tax + Shipping
Nordictrack Commercial 2450 – $2,299.00 + Tax + Shipping
Nordictrack Commercial 2950 – $2,999.00 + Tax + Shipping
See current Nordictrack prices at Amazon
Summary: Deciding Which NordicTrack Commercial Treadmill is Best for You
The NordicTrack commercial treadmill series is exceptional. There is so much value on offer and you are going to end up with something perfect for your home gym.
Each model packs a punch and offers a wide array of high-quality features that are going to make running fun again.
If you want the best fit for your home gym, it's time to look at the following considerations.
Consider the 1750 if you are looking for a sleek, energy-efficient machine that is going to offer a convenient running surface, 38 onboard programs, and iFit compatibility without costing a pretty penny. This is good for those who are on a tight budget.
Consider the 2450 if you are willing to upgrade a bit for a bigger screen, additional onboard workout programs, a stronger motor, and well-rounded heart rate monitoring. You get an additional layer of monitoring with this machine, which is beneficial for advanced users wanting to personalize their running sessions.
Consider the 2950 if you want the best possible treadmill with a long list of high-quality features. This includes a comprehensive selection of onboard programs, a strong motor, a large running surface, quiet operation, and a durable build.
Each machine brings something unique to the modern home gym and it is all about what you want.
Did Nordictrack make our top treadmill of the year? See our best choice below:
Resources