We may earn a commission from the companies mentioned in this post.
In this day and age, working out from home has become synonymous with the fitness industry's latest innovation. More and more people are trying to build out a comprehensive fitness set up in the comfort of their home, but it's difficult to choose the right machine.
Most people love the idea of using a mirror gym, but which one is ideal? Which one offers the most benefits and long-term usage options?
This is where NordicTrack comes into the equation with its Vault smart home gym.
Let's take a look at what the NordicTrack Vault is all about, how it works, and whether or not it is a good fit for your home gym.
What is the NordicTrack Vault?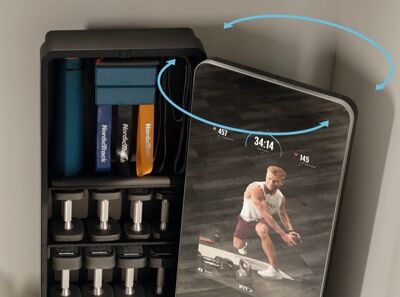 The NordicTrack Vault is an all-encompassing mirror gym designed to offer a complete fitness experience from the comfort of one's home.
The Vault has been designed by NordicTrack, which is a heralded name in the industry. It has a long list of gym equipment on offer whether this includes treadmills, bikes, and/or ellipticals. Adding to this list will be the latest mirror gym.
This is set up on a wall in your home with relevant equipment tucked behind the reflective mirror. Users can easily open the machine and take out equipment (i.e. kettlebells, dumbbells) before starting their workout.
The screen offers a complete solution for following workouts and getting more out of your routines.
RELATED READING: Best Smart Home Gyms for 2021 (Did Vault Make the List?)
What Makes it Different from the Competition?
The reason this machine stands out has to do with the underlying design elements. Most mirror gyms have a straightforward design meaning it is stuck on the wall and is nothing more than a screen.
In this case, NordicTrack has gone one step beyond in a bid to outdo the market.
This is seen with the inclusion of hanging racks and shelves that house key gym equipment. This equipment can be removed before a workout session within seconds. Just the simplicity of storing the equipment in one place is appealing in tight spaces.
This is where NordicTrack has done something unique and meaningful with its engineering.
Vault Workouts via iFit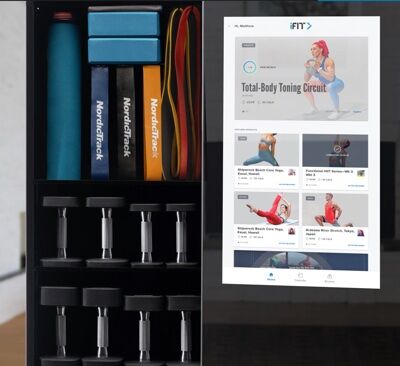 iFit is a comprehensive part of how the NordicTrack Vault functions and the value it has to offer. Users can sign up for the yearly program and gain access to a long list of customized workouts.
These workouts include:
Strength Training
Beginner Yoga
Sculpt + Tone
Interval
And More
Going through these workouts is a boatload of fun and can keep things entertaining during the process. Whether it is time to build muscle or just do a bit of yoga, the options are endless.
This makes it a versatile option regardless of your fitness goals.
Key Specs
32" Smart HD Touchscreen (Rotating)
Digitally-Amplified Speakers (3)
Safety Wall Strap + Safety Latch Mechanism
Dimensions: 72.65" H x 24.25" W x 14" D
Features
1. 60″ Reflective Mirror
Beginning with the aesthetically pleasing reflective mirror, this comes in at a whopping 24″ x 60″ design, which stands out and simply adds value to the equipment's elegance. It is not only large, but it also offers a creative way to optimize your living space for workout equipment.
Due to the reflective mirror being this large, it's easy to view from different angles especially when combined with the 32″ Smart HD Touchscreen.
Just having something like this by your side is empowering and perfect for the average user.
2. Vault Design
The main benefit that comes along with this mirror gym would be the "vault" design that is marketed by NordicTrack.
In general, the vault design makes it easier to store equipment right behind the screen. Whenever you need it, open the mirror gym and take out whatever is going to be used during the session.
The benefits include:
Easy Access to Equipment
Good for Smaller Living Spaces
Less Tiring
This is something alternatives don't offer on the open market making it a unique addition to the industry. Having the ability to go through items in this manner is fascinating and different.
3. 360-Degree Rotation
Being able to get different viewing angles is something a lot of users will crave. Sometimes, you are not going to be centered with the screen depending on what you are doing or how the home gym has been set up in the living space.
This is why using something that can rotate to such a degree is helpful and fun. It is a great way to workout without having to think about where you are standing all the time.
Just this peace of mind makes all the difference in the world and adds to the machine's quality.
4. Carbon Steel Frame
For those who are serious about going with a long-lasting machine, your first requirement is going to be to look at the foundation of the NordicTrack Vault.
This is a machine that has been built to last and isn't going to disappoint in this regard. You will know it is going to work well and is going to remain efficient at the same time.
The benefits include:
Reduced Rattling
Elite Performance
Perfect for All Types of Users
Due to the carbon steel frame, it continues to function well and doesn't get in the way when it comes to maintenance costs. You will know this machine is going to reliable at all times once it is put to use.
RELATED: NordicTrack Vault vs Echelon Reflect
What We Love About the NordicTrack Vault (Pros)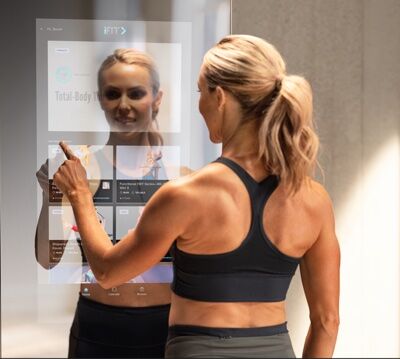 1. Great Build Quality
The build quality is exceptional due to the carbon steel finish. Just having something as refined and aesthetically pleasing as this is outstanding when setting it up at home.
Remember, it is going to catch everyone's eye, so having a solution such as this makes a difference. It is gorgeous and perfectly engineered to last.
2. Easy to Use
Usability matters when you are sweating and pushing through a workout. With its touchscreen and Bluetooth capability, you will know the results are going to be excellent from day one.
The benefits include:
Customized Settings
Ideal for Beginners
Complete Workouts
If usability is something you are after, this is the type of mirror gym that will get the job done right away. It simply works.
3. Well-Rounded Workouts
Whether it is using the dumbbells to power through a strength workout or dealing with different yoga poses, there is a workout for everyone through the iFit membership program.
This is ideal for homes with multiple people working out during the day.
The workouts are an absolute joy to follow and work well for beginners and experienced users.
4. Great Membership Integration
The iFit membership program is a masterpiece when it comes to results and performance. You will know it is going to remain a steady part of your routine simply due to the underlying quality.
The benefits include:
Long list of Workouts
Fun and Entertaining Instructors
Optimized for the Vault
This is one of those plus points that matter over the long-term. You never want to go with something inefficient, which won't be an issue here.
It is a great program that is made by professionals and properly synced with the NordicTrack Vault.
Cons?
1. Pricey
Dealing with a pricey machine is challenging for some, but it is going to be worth it right away. There is so much value on offer and they provide multiple variations (Complete vs. Standalone) to ensure you can find a good fit.
2. Takes Time To Get Used To
It is not going to be easy to learn at first, but the learning curve isn't drastic. You will get the hang of things eventually.
Some of the issues include:
Unique Controls
Assembly Time
Different Integration Methods
As you can imagine, this may take a bit, but you are going to get it eventually. The goal is to set it up in the right spot and then try a few workouts.
Price: How Much Does it Cost?
1. Complete Vault: $2,999
Exercise Mat
Dumbbells (5-30 lbs)
Yoga Blocks (2)
Super Resistance Bands (3)
iFit Family Membership (1 Year)
Hanging Shelves
Premium Shelves
Kettlebells (20 & 30 lbs)
Cleaning Towel
2. Standalone Vault: $1,999
Hanging Shelves
Cleaning Towel
iFit Family Membership (1 Year)
Review Summary: Is the Vault Worth Buying?
The NordicTrack Vault is an absolutely wonderful machine that has been engineered to perfection. It's robust, well-designed, and offers a slew of features that make it usable for the average user. If the goal is to get fitter and see positive results, you can't go wrong with this machine.
Just having the ability to use the "vault" design is unique and something that makes this machine stand out. All of the equipment is ready to go before a workout ensuring you are always well-equipped for the next session.
Just this attention to detail is something you are not always going to find in the fitness industry. It is a creative machine that has a purposeful design ideal for new-age workout enthusiasts.
RELATED REVIEW: Echelon Reflect Reviews