We may earn a commission from the companies mentioned in this post.
As gyms across the United States have shut down because of the coronavirus pandemic, more and more people have been adding spin bikes to their home gyms.
Companies like Peloton have spiked in popularity over the last couple of months since people who want to stay healthy are looking for an interactive option that helps them reach their fitness goals.
However, at $1900+ to buy a Peloton bike (along with the monthly subscription), purchasing a Peloton is quite the investment.
In this comparison article, we dive into two other high-quality fitness "smart" spin bikes, the Nordictrack S22i and MYX Fitness Bike, that rival Peloton's offering.
Workout Head-to-Head: Nordictrack's iFit vs. the MYX's Fitness Platform
Both biking systems offer impressive fitness platforms to help you reach your fitness goals. Not only do the programs offer classes you can take while riding the bike, but they also offer classes that you can watch while you work out next to the bike. This is perfect for people who're looking to get a full-body workout program.
MYX Fitness Workout Options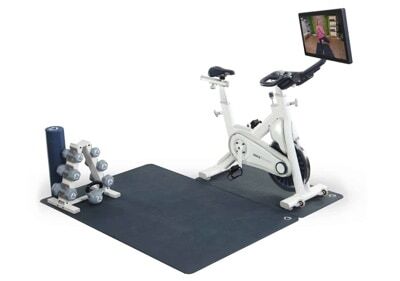 This sturdy bike has a 21.5 touchscreen that connects directly to the heart rate monitor that comes with the bike. As you complete more of MYX's workout classes, it will begin to suggest other perfect classes based on your workout goals and your performance during the classes. Since the system collects information about your heart rate as you exercise, it also uses this data to make intelligent class suggestions.
On the touchscreen, you can easily select from hundreds of cycling classes that feature knowledgeable instructors. Almost all of the classes also feature workout music that the instructors selected because they think it'll best accompany that specific workout.
Since the MYX fitness bike features so many classes, you'll always have time to get a good workout regardless of the amount of time that you have on your hands. Typically the classes range from 10 to 45 minutes in length.
In addition to its biking classes, the program also includes live or on-demand classes for other kinds of workouts, such as HIIT (high-intensity interval training), Barre, yoga, core, dance cardio, strength, and even kickboxing.
Currently, MYX says that it's adding about 40 new classes a week. The system also has full workout programs you can select to help you stay accountable as you work through a workout almost every day of the week. You can input your fitness goals, and the program will adjust from there! These programs include classes in body sculpting, yoga, and HIIT classes for your days when you're not on the bike.
Although MYX offers fewer programs than its competitors, it offers enough classes so that you'll never start to feel bored. If you were to pick one class a day, you'd still never catch up to work your way through all the classes that MYX has in their huge library.
Even if you find you prefer some specific trainers, the system will be placing new classes into the library every week that involve those same trainers. And if you somehow manage to make it through every single class that features your favorite trainer, you can always go back and redo some old favorites.
Nordictrack S22i Workout Options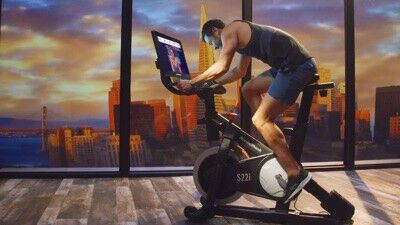 The Nordictrack S22i prides itself on being a high-end bike that wants to be the most like Peloton in its offering. With its 22′ HD touchscreen that swivels, NordicTrack advertises that you'll feel as if you're at a high-end fitness boutique as you work out in your own home.
The Nordictrack even has some special features in its fitness program that Peloton doesn't offer (and neither does MYX). NordicTrack offers an iFit subscription that gives you access to their hundreds of on-demand and live classes for $39 a month. The touch screen will suggest daily workouts based on your past stats and will dynamically adjust what workouts it thinks you should select as you use the bike more often.
However, a unique feature that the bike possesses is its ability to increase or decrease your riding incline automatically. With NordicTrack, the touchscreen is more than just a piece of metal that tells you how to pedal and encourages you to keep pushing through your workouts. Instead, the screen is tied directly into the bike and its system. Suppose you select one of the bike's features to ride a trail from around the world.
In that case, the bike will adjust automatically to the terrain- making you feel like you're actually there while also giving you a more realistic riding experience.
With the adjustable incline, your class instructors can also shift the incline for you. Whether you're in a live class or an on-demand class, the bike will automatically change its elevation to fit with what the rest of the class is doing. If you don't like the bike shifting automatically, you can choose to turn this feature off.
Learn more and Check Nordictrack S22i Price at Amazon.
Equipment Head-to-Head: Features Overview and Comparison
Both the MYX and the NordicTrack allow for a high weight capacity (they can support riders up to 350 pounds). Still, the NordicTrack differs from the MYX because of its ability to automatically shift the incline for its riders.
Other than that, both are extremely stable and sturdy bikes that can provide riders with an enjoyable riding experience. The ability to adjust the handlebar frame and the touchscreen makes it easier for riders of varying heights to comfortably ride for long periods of time.
The MYX bike is compact, sturdy, and quiet. Reviews claim that it offers a "real" feeling of riding a bike-more than Peloton does. The MYX achieves this feeling by having a heavier flywheel than Peloton (41 vs. 35 lbs). Due to its heavier flywheel, the MYX can offer a more stable bike ride. This is especially true for taller and "heavier" individuals who want to cycle. The heavier flywheel allows for MYX to support riders who weigh up to 350 pounds.
MYX also offers more adjustability in the bike's frame because the handlebar has more opportunity for adjustment than what some of MYX's competitors offer. This means that if you're shorter or taller than the average height, you'll be able to adjust the frame so you have a more enjoyable ride. Additionally, the bike's touch screen is adjustable and can swivel (something that Peloton doesn't offer, but both the MYX and NordicTrack do ). This is a major advantage. Not only is it helpful if you need to adjust the screen during a cycling class, but it also makes your MYX subscription worth more since you can easily adjust the screen to follow along during on-demand classes that don't involve you being on the bike.
The bikes feature a different kind of resistance system than its competitors that could be considered low tech (depending on the type of cycler you are.) Most at-home biking systems use a friction resistance system while the MYX uses a magnetic system. Unless you're a cycler who continually attempts to max out the available resistance, you probably won't ever notice a difference. The bike also makes up for it through the heavier flywheel it has.
Last but not least, the resistance pads on the MYX are supposed to last for 5 to 10 years. The company says that you just have to notify them when they need to be replaced, and they'll send them to you.
See all MYX features at their website.
Reviews of the Nordictrack s22i say that the touchscreen is positioned in the perfect place so it's easy to both see and reach during a workout, but it doesn't feel as if it's right in front of your face.
The NordicTrack also features the control buttons right on the handlebars, making it extremely simple for you to adjust the resistance or the incline you're experiencing as you ride. The bike also has a built-in fan that sits at the bottom of the screen, and you can easily adjust it with four power settings.
The Nordictrack also provides a high level of flexibility because it possesses hybrid pedals. These are perfect for regular cyclers who want to wear their normal tennis shoes every once in a while when they ride. This flexibility also makes the NordicTrack an ideal piece of equipment for families sharing the bike where not every household member possesses an SPD cycling shoe.
The Nordic Track is also a studier bike like the MYX and can carry a person who is approximately 350 lbs.
See all Nordictrack features at Amazon.
Pricing Head-to-Head: Which Bike is Cheaper?
The simple answer is that the MYX is a less expensive bike model, but when you look at some of the discounts that NordicTrack provides, the s22i ends up being close in price to MYX's Plus package. When considering your budget, you'll need to decide which features matter the most to you.
The beginning for the MYX fitness bike is $1,299. This is the basic package where you'll just be buying the bike itself along with a heart rate monitor. Both come with a one-year warranty. This price point will also include the cost of delivery and the assembly of the bike (you don't have to have the bike professionally assembled, but hey, you're paying for it so why not?)
If you don't own weights already and are building your home gym collection from scratch, you might want to consider buying the MYX Plus package. At $1,499, you'll get your MYX bike and the heart rate monitor, but you'll also receive a kettlebell, a 24-by-48-inch stabilizing mat to rest under the bike, a foam roller, a resistance band, a 48-by-72-inch oversized exercise mat for any workouts you decide to do off the bike, and a six-piece weight set. Even better, you can choose if you want light, medium, or heavyweights.
The pricing for MYX's subscription program is $29 a month, which is a little less than NordicTrack's, which is $39 a month
RELATED READING: MYX Fitness Bike Review
The NordicTrack comes in as a pricer home fitness bike option when it's compared to the MYX. The retail price for the Nordic Track is $1,999 for the bike.
The NordicTrack doesn't come with a heart rate monitor that connects to its iFit app. The bike does come with a pair of three-pound weights, which a lot of its iFit workouts reference for upper body strength building. Still, when you compare this to all of the weights and other pieces of equipment that you can get when you purchase an MYX Plus package for $1,500, a pair of three-pound weights won't make up most of your home gym collection.
Furthermore, the $1,999 price tag doesn't include the cost of having the bike shipped to you, which will cost another $199.
However, one of the enormous advantages that the bike's price tag does cover is the first year's subscription of iFit. This will save you $39 a month and save you $468 over the year. If you include the savings for not needing to pay for the iFit subscription for a year, this puts NordicTrack into a closer price range with MYX.
The NordicTrack also offers a longer-lasting warranty program than MYX does. NordicTrack has a 10-year frame warranty, 2-year parts warranty, and a 1-year labor warranty. MYX only offers a 1-year warranty on everything.
While both bikes are expensive options, when you compare them to Peloton, which charges $2,245 for its bike (and nothing else), you can see that you're getting more with MYX and NordicTrack. Both the MYX and the Nordic Track offer payment plans, so if you can't stomach paying for one of the bikes all at once, you can break the total payment down over a couple of years.
A note on the bikes' subscriptions: You don't have to keep the subscription, but if you cancel it, then you'll lose all of the tracking data that your bike has been collecting about your workouts over time, and you'll no longer have access to any live or on-demand classes.
RELATED READING: Is NordicTrack or Peloton Better
Summary: How to Decide Which Bike is Best for You
Both the MYX and NordicTrack are powerful spin bikes that you can have in the comfort of your home. Both bikes provide you with a boutique fitness experience. When the pandemic finally begins to lessen, you might find that you don't even miss your spin cycle classes anymore.
Although both MYX and NordicTrack are pieces of home equipment that can make working out at home a more enjoyable experience, a couple of key features set them apart.
Winner for Budget: MYX
The NordicTrack has a lot of amazing features and attempts to be more affordable by offering a month-to-month payment plan and offering for buyers not to pay for their subscription plan for a year, but at the end of the day, the MYX just costs less. At $1,299, there's a $700 difference in the amount that the MYX costs vs. NordicTrack. After the first year, your subscription to MYX will also save you $120 a year.
Even if you buy MYX's Plus package, you save money when compared to the NordicTrack and you get a lot of equipment that you can use with MYX's workout programs. The heart rate is also a nice feature if you don't own a fitness watch already, and it's convenient that it ties directly into the bike's tracking system.
Winner for "True Cyclers": NordicTrack s22i
The NordicTrack simply features a lot of amazing features that the MYX can't compare to. The bike's ability to adjust automatically based on the trail you're "riding" or the live spin class you're taking part in gives you more of a "real" cycling experience. For people who are used to going to spin classes on a regular basis, this can be a huge advantage. The bike's interactive leader charts also bring a competitive element to the classes.
Along with the bike makes as you're riding, the ability to wear SPD cycling shoes while riding is another advantage for people who are used to cycling. Even better, household members who ride the bike but don't have cycling shoes won't have an issue completing a workout.
The bike also features 24 different digital resistance levels- which you can easily switch to with the push of a button on the handlebar. The NordicTrack is designed to make the cycling experience as seamless as possible.
Get more details and see Nordictrack S22i Best Price at Amazon.