We may earn a commission from the companies mentioned in this post.
When going through a wide array of gym equipment, you are going to be confused as to which one is right for your needs. This is common and two brands continue to stick out as a must for those needing high-quality gym equipment – Peloton and NordicTrack.
If you are in this boat, it's time to understand what each brand has to offer and how their streaming workout content is among the best in the industry.
Here's a detailed comparison of the two fitness brands, what they stand for, and which one is right for your situation at home.
Equipment Comparison: Does Peloton or NordicTrack Have More to Offer?
1. Peloton Equipment Options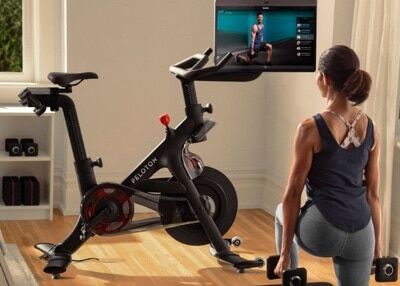 Bike
Bike +
Tread
Tread +
2. NordicTrack Equipment Options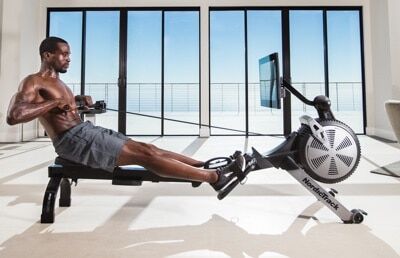 Commercial X11i
Commercial X22i
Commercial X32i
Elliptical FS7i
Elliptical FS10i
Elliptical FS14i
Exercise Bike S22i Studio Cycle
Exercise Bike S15i Studio Cycle
Commercial VR21
Commercial VR 25
GX 4.4 Pro
Commercial VU 19
Rower RW 200
Rower RW 500
Rower RW 900
Beginning with the options available through these companies, it's clear NordicTrack has a diverse set of options. They provide a whole host of equipment options for those who want elite performance and a tailored solution based on how they are going to work out at home.
This is relevant information for those who are thinking about fleshing out an entire home gym in one go.
While the Peloton does offer a good selection of options, it doesn't provide machines such as the rower and elliptical.
App Comparison: iFit vs Peloton
1. iFit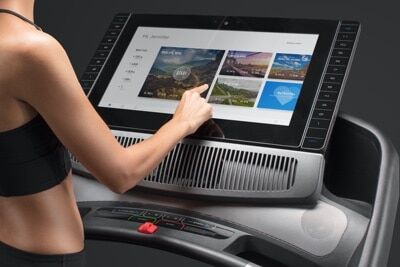 There is a multitude of workouts to choose from in the on-demand section.
This is perfect for those who get bored easily and want to go through a long list of videos throughout the month.
Pick and choose workouts tailored for specific needs and enjoy the process along the way. This is a major plus point with iFit and all that it has to offer.
It is the adjustments that are going to draw you in as a user. When you are working out, the automated adjustments make the process as seamless as you want it to be.
The benefits include:
Seamless Transitions
Safer
Easy to Use and Tailor
Other apps require you to do all of the legwork on your own and that can be difficult to manage.
iFit lets you handle these requirements automatically and that provides peace of mind during the transitions.
The community is wonderful on iFit and is perfect for those who are thinking about upping their workouts and pushing harder.
The real-time leaderboard is going to get your competitive juices flowing while offering insight into what others are doing while completing their workouts. This can fuel you and give you the little push everyone needs when they are fatigued.
Learn more about iFit at Amazon.
2. Peloton App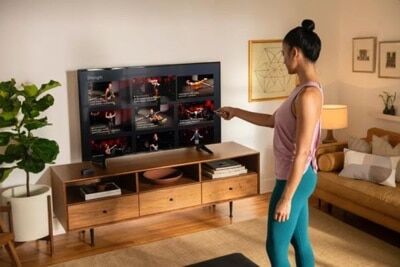 It all starts with the live classes and being able to join in at different times of the day.
These live streamed classes run throughout the day and let you join in when you are free. If you are available to power through a workout, join one of these classes to learn more about how to use the machine.
These workouts are fresh, unique, and led by professionals making them as safe as you want.
Streamed content is an advantage with this app and that's what makes it a show-stopper in the fitness industry. The unlimited content that is regularly updated will bring a smile to your face.
The benefits include:
Multiple Series of Workouts
Led by Qualified Trainers
Ideal for Peloton Machines
This content is easy to follow, safe, and offers real value for those who want to power through different types of workouts each day.
The variety is exceptional and something you are going to enjoy as you gain experience.
Ongoing Performance Metrics
The performance metrics are a real plus point when it comes to what this app has to offer. This means whatever you are doing on the bike or treadmill will be recorded through the app. This is key information that is going to let you know when you're performing well or when you aren't.
It's a great way to make adjustments when you are pushing too hard or not hard enough.
It can seamlessly integrate with a multitude of mobile devices for those working out on different machines. This makes the Peloton app versatile and easier to use on the go.
Imagine heading to the gym and wanting to workout. This app is going to let you do so even when your Peloton machine isn't available.
In the end, both apps are exceptionally well-done and continue to show how the fitness industry is developing as time goes on.
For those who are serious about going with a fine-tuned app, it's going to come down to the machine you're willing to purchase. Both apps are going to get the job done and it's essential to find a machine that's in line with your workout requirements.
With iFit, you are not going to have live workouts available and this can be tough for those who want to follow along in real-time. However, the streamed content is good and there is enough diversity to help enjoy your workout.
On the other hand, Peloton does an impressive job of delivering high-value live content but they don't have as many machines on offer such as the rower or elliptical.
Price Comparison: Is NordicTrack or Peloton Cheaper?
1. NordicTrack Pricing Options
Commercial X11i – $2,249
Commercial X22i – $2,999
Commercial X32i – $3,999
Elliptical FS7i – $1,999
Elliptical FS10i – $2,999
Elliptical FS14i – $3,999
Exercise Bike S15i Studio Cycle – $1,599
Exercise Bike S22i Studio Cycle – $1,999
Commercial VR21 – $999
Commercial VR 25 – $1,499
GX 4.4 Pro – $799
Commercial VU 19 – $999
Rower RW 200 – $799
Rower RW 500 – $999
Rower RW 900 – &1,699
Check current NordicTrack prices at Amazon.
2. Peloton Pricing Options
Bike – $2,495
Bike + – $3,295
Tread – $2,495
Tread + – $3,295
With pricing, you are going to notice the Peloton offers a reduced price on its treadmills. This has been done on purpose as the goal is to focus on launching a new treadmill that is going to be priced higher as the flagship model.
On the other hand, you are going to see a much more affordable set up when it comes to NordicTrack and its selection of machines.
This is essential for those who want a good deal.
Summary: Deciding Which Brand is Best for You
When it comes to choosing the right machine, it's going to come down to your preference as a user. Each person is going to have a unique perspective on how their workout sessions are tailored.
This is why it's going to become all about figuring out what works best for your situation.
You should pick Peloton if…
You are happy with something that's made of premium-grade materials, has a well-versed app, and provides a good option for those who are focused on elite performance.
You should pick NordicTrack if…
You should pick NordicTrack if the goal is to go with an affordable machine that has a good app, multiple resistance levels, and is going to be a compact fit for your home gym.
Take the opportunity to look at both of these bikes and then pick the one that is going to fall in line with what you prefer.
Resources