We may earn a commission from the companies mentioned in this post.
obé fitness is a new workout membership that allows you to work out in the comfort of your home while you feel like you're working with a trainer! The company's name stands for Our Body Electric, and they have over 5,000 on-demand classes and feature 22 live classes every day. The classes vary in length, so you can choose a quick 20-minute workout or take a longer workout that lasts around 60 minutes.
What is obé fitness?
obé fitness makes it extremely simple to workout wherever you're located because you can watch the exercises on a smart TV, laptop, or phone. The subscription saves past workouts to find them again in the future easily. It also keeps track of long workouts that you're in the middle of, saving additional time. Furthermore, the subscription lets you "heart" your favorite workouts so you can find them again later.
The program also has a strong social media presence and a strong community of users who motivate and encourage one another to reach their exercise goals.
Learn more and get a free-trial at the obe website:
What Are the Workouts Like?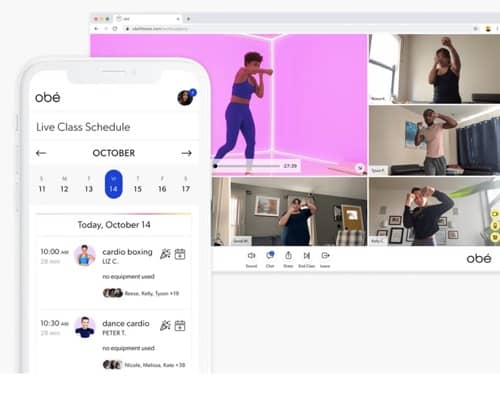 obé fitness offers many classes from the following categories: sculpt, yoga, yoga sculpt, dance cardio, HIIT, pilates, power, barre, and cardio boxing. Regardless of your fitness experience, obé has a class that'll fit with your experience level.
obé fitness also has predetermined workout programs if you're looking for something that would provide you with more routine in your life. The programs can be as short as 15 days or as long as 60. Users pick a plan based on experience level – beginner, intermediate, or advanced and classes become progressively difficult. obé fitness is continually adding new exercise programs, so you'll have plenty of new ones to choose from.
Some classes recommend weights, but only as a suggestion; if you need a higher or lower weight, you should select the weights that work best for you and your body. The rest time between sets is also a recommendation. If you find that you're too fatigued to finish the exercise class because there isn't enough time in between sets, then you can pause the video. The same goes if you're finding that the workout isn't challenging enough; you can fast forward through most rest time to provide yourself with more of a challenge.
Does obé fitness Have Live And On-Demand Classes?
obé offers both live and on-demand classes. This flexibility means you can work out in multiple ways! You pick the option you prefer and the one that fits better with your schedule. The classes are also easy to access because you can watch them on a big-screen TV, laptop, or even phone! This makes it simple to have a challenging and rewarding workout at your fingertips wherever you go.
obé has 22 live classes every day. With such a large number of live classes, you can easily find one that fits well with the workout you want to try and get in for the day. Since each class is scheduled for different times and run for differing lengths of time, it's relatively simple to fit one into your schedule.
On top of the live classes, obé offers over 5,000 on-demand workouts across multiple exercise categories. These workouts are available 24/7, so access is possible whenever it works for your schedule.
Most of obé's exercise programs recommend that you have three strength training workouts a week along with two cardio sessions. Yet, since you have such a large number of classes to choose from, you don't have to feel like you need to follow the program's recommendations. Instead, feel free to listen to your body and pick out classes that sound the best to you!
See the full suite of obé workouts at their website
Real obé Fitness Reviews: What Are Their Customers Saying?
Some users from high-profile fitness publications have described it as being a great tool to help them continue working out in a routine format. Check out some of the top reviews.
VOGUE
obe's live classes are intense, and mercifully, short. In 28 minutes, the session is over, and I collapse on my living room floor, drenched and panting.
SHAPE
At under 30 minutes, their workouts enable you to squeeze fitness into the busiest schedules.
Women's Health
The community that obé has created is amazing…and starts to connect with other people, and have this support system encouraging you to keep showing up.
How Is obé Fitness Different From Other Fitness Programs
Even if you're passionate about your physical health, the chances are that you've tried a workout program in the past that you haven't stuck within the long run. obé fitness tries to overcome users' want to quit or slowly "ghost" the program by creating a real sense of community between users – even if they can't be together in person. obé strives to make users feel like they are in a group fitness class as each person moves through their class.
obé fitness Partners With Other Programs
Another helpful aspect of obé fitness that engages a wider audience, and helps connect users, is to partner with other programs. Some of these partnerships involve diets like Whole30 or The Defined Dish or include influencers, like KERRently Sweating.
It Encourages A Social Media Presence
What separates obé fitness from older workout programs is the amount of engagement the program encourages on social media. Specific training schedules have the hashtag #sweatyselfies so various obé's program users can find each other and offer encouragement. It also involves the user's friends and family in the goal-setting process if they post on social media.
Versatility In Class Selection
obé has a massive selection of workout classes in a wide range of categories, so you'll never get bored. The company is continuously adding new classes, so you'll always have new programs to choose from. The company also works with many of the same trainers, so once you find a trainer whose style you enjoy, you can continue to pick out their classes over time.
Easy To Know What Weights You'll Need
As you click into any class, it'll tell you what weights or equipment you'll need for that class. This makes it easy and takes the guesswork out of what equipment you might need to "fully" complete the class. It also allows you to go straight through the workout since you'll have your equipment laid out before you start. This means you won't have to stop the exercise once you get started.
Don't own a lot of workout equipment? No problem! There are plenty of classes that don't require equipment. The classes that recommend it also talk through exercise options you can follow if you don't have any equipment.
Specific Training For Beginners
obé is also an excellent program for people at the beginning of their exercise journey because the membership has programs specifically designed for beginners. In those programs, the classes focus on correct form and explain why the form is essential. They also talk through alternative exercises people can pick from if they've had an injury or a pain point in a specific part of their body.
The specific training programs for beginners is an excellent feature that obé fitness offers. It ensures that anyone, at any fitness level, can work towards their physical goals. It also allows more users to become a part of the community and reach out to other obé users to find the community's encouragement and motivation.
Your account login remembers which programs you've been working through, so you can quickly access the next class when you log in. This helps save you time (and any frustration you might have from scrolling through an endless amount of classes to reach the one you want).
The site also allows for you to favorite the classes you've enjoyed the most so you can quickly come back to them in the future. This is also true if you see one that you want to try but don't have time to do at the moment. "Heart" it and then come back to it later.
obé fitness also works to get its users engaged by creating fun pop-culture themes, such as Sex and the City, Game of Thrones, and 80's aerobics attire. The company also pulls its community of users together by hosting a monthly class where a different nonprofit and cause are highlighted. During the class, users learn about the cause and how they can help.
Pros of obé fitness
obé has a large number of classes for people to choose from and has worked hard to build a large community of users who can interact with one another easily. Here are some of the main pros of the program.
obé has somehow managed to make online virtual classes fun. The bright pastel-colored studios give the workouts an upbeat feel. Instructors also play songs from popular artists in live classes. In on-demand classes, the instructors tend to play a kind of upbeat elevator music, but the instructors talk to you, so you don't tend to notice it as much.
It's easy to feel more engaged as the instructor's talk and may help you forget you're taking an online class. Often, the instructors will comment on the exercises, mention what they did over the weekend, or give you a piece of motivation.
Live Classes Are Better Than Other Apps We've Tried
Many of obé live classes format it super intuitive and easy to follow. There's also a lot of them. There's a 28-minute class every half hour from 7 a.m ET to 8:30 ET on weekdays and 9 a.m to 4:30 ET on weekends.
The back-to-back classes also make it simple for you to pair different complimentary classes together if you want to double up. obé's schedule usually makes this relatively easy. For example, if you wanted to do a lower-body strength class in your first session and then an upper body strength class in your second session. Each live class has a warm-up part, but not a cool-down part, so people who are doubling up on classes can easily make it to the next one. obé has dozens of on-demand cool-down videos, though, so you quickly find one that pinpoints the muscles you just worked out in the live class.
obé also hosts live pilates, dance cardio, cardio boxing, and barre classes – something that none of its competitors such as Nike Training Club, Peloton, or Aaptiv provide.
If you know that you're going to be traveling to an area where you aren't going to have service or don't want to use parts of your data, you can still have access to on-demand classes if you downloaded them ahead of time.
Whether or not you decide to stick with the live classes or complete on-demand programs, obé takes the decision-making process out of your exercise routine. obé is an excellent alternative for anyone who has ever felt overwhelmed trying to put an exercise schedule together.
Cons of obé fitness
Although obé is an excellent workout subscription with an extensive range of classes to help people reach their goals, it's also not for everyone. Here are some of the cons:
All Floor & Mat-Based Exercises
If you're looking to further your endurance on big gym equipment – such as a treadmill or indoor stationary cycle, then this isn't the program for you. All of obé's classes are either floor or mat-based (excluding one based mainly on a trampoline).
Many Classes Call For At Least One Kind Of Equipment
Equipment needs may or may not be a con for you, depending on who you are and how much equipment you already own. And although obé makes it simple for you to find classes that don't involve any equipment through their search filters, a vast majority of their classes involve at least one piece of equipment.
YOU MAY ALSO LIKE: Openfit Review
Many of the pieces of equipment that obé requires are small and expensive, but instructors give household item substitution ideas if you don't have a particular piece of equipment.
More Expensive Than Other Fitness Apps
One of the main cons of obé is its price range. At $27 per month, it's much more expensive than other fitness subscriptions. Even if you're paying on an annual basis, you're still paying $17 a month (for reference, Peloton's subscription runs at $13 a month).
However, obé does offer more live classes than other fitness apps. If that's your main draw to the subscription, then it's worth paying a couple more dollars a month.
How Much Does obé fitness Cost?
obé fitness costs $27 a month. If you subscribe to the $65 per quarter offer, it breaks down to $21.67. The company also offers a $10 gift card with sign up. However, the best savings for the subscription comes if you pay annually. With this offer, the cost is $199 a year, making the price $16.58 per month. The company also tries to give you an extra incentive to pay for the year by supplying you with a $20 gift card.
*Prices current at the time of publication – see most up-to-date pricing at obé website
What Equipment Do You Need?
Yoga mat, sliders, resistance loops, resistance bands, hand/free weights, ankle weights, yoga blocks, barre balls
How Long Does the Free Trial Last?
The free trial for obé lasts for 7 days. That's more than enough time for you to get in a couple of classes and see how well you like it! If you still can't decide at the end of your 7-day trial, then it may be worth it to pay for a month of obé. If you decide that you love it after that, you should pay for a year-long subscription since it will cause the price per month to decrease.
Review Summary: Is obé Worth It?
One of the main difficulties with sticking to a workout routine is managing to show up day after day (especially if you're going to a workout class). This can be especially hard when all you have to do is hit "start" on your phone for an on-demand class.
One of the main advantages of obé is that you have many options for live classes every day. This makes it easy for you to build them into your schedule and develop a routine that you'll be more inclined to stick with. You can schedule the live classes into what works best for your routine. If you're looking for even shorter classes to do throughout the day, you jump into one of the 10-minute classes.
The ease of selecting short yet highly impactful classes makes it far less daunting to workout. obé has also worked hard to make their users' not feel the "stress" of working out by mixing in bright, pastel colors into every class. This helps them feel more fun and calming.
The studio set design feels comfortable and accessible for all levels of athletes. Almost all of the studios are minimalistic, so you feel like you're in a high-quality fitness studio. The minimal design also keeps your attention from being distracted and turning away from the instructors. All of the physical trainers are kind and conversational; during workouts, they tend to talk to you in a way that makes you want to grab a drink with them after a session and become their friend.
obé fitness will also assess your fitness experience when you first sign up for membership. You have to take a quick quiz when you first sign up, and then the program will make suggestions to you from there.
The obé membership is certainly worth it if you're looking for a fitness program you might be inclined to stick with. It has a large variety of challenging, sweat-inducing classes that you can easily filter through based on the mood you're in that day. The company has already pulled together a massive community of users that are always willing to offer a kind word of motivation or support. The large number of live classes also makes it simple to mix workouts into your daily schedule. While the app costs more than some other fitness apps on the market, knowing that there's going to be a new live class every half hour makes it easy to remember a schedule when the live classes will be running.
If you're still on the fence, give obé's 7-day free trial a try! You can easily quit the program afterward if you aren't convinced that it's for you. On the other hand, you might find it's everything you've been missing in an exercise program.