We may earn a commission from the companies mentioned in this post.
In the past decade, Peloton has increasingly become synonymous with indoor spin bikes. The company has successfully launched innovative, trendy, and just downright fun indoor cycling bikes.
The company has revolutionized the treadmill and indoor exercise bikes market, essentially bringing them to the 21st century.
With Peloton exercise bikes, you no longer need to drag yourself out of the house to go to the gym for your spin fitness class. In just a few taps and an app membership, you will be connected with a live fitness instructor from New York City, who will soon have you sweating your behind off.
Such features are the reason why some of the high-profile owners like Hugh Jackman, John Legere, and David Beckham just can't say enough good things about their Peloton fitness bikes.
Numbers don't lie, right?
Well, by the end of fiscal year 2019, Peloton says it has sold over half a million connected fitness bikes and treadmills, and had sold just as many memberships.
People who swear by their indoor fitness products claim that it consistently delivers a unique experience, not just because it's an eye-catching bike that uses its own sneakers that clip on the pedals, rather, because it provides a flexible fitness schedule of 10- to 20-minute video sessions.
You also have access to over 20 personable fitness instructors that will stare at you from the 20" android tablet that comes affixed to the handlebars, who will even call out your name during the livestream.
There are also social features with a membership that let you virtually ride the bike with pals, a healthy music catalogue, along with achievement badges and leaderboards.
Still, there are a few caveats with Peloton bikes. First, it's hard to get away from the fact that they come with a hefty price of over $1,495, with $39 a month membership. That doesn't mean they aren't worth it though – they're often considered the best of the best, and with their new more affordable pricing point, they're right in line with many other biking options out there.
Thankfully, it's possible to get a Peloton-like bike experience for significantly less, and at times with less limitations, which is great for those of us that don't want to spend a fortune on exercise equipment.
In this post, we'll look at the 6 best alternatives to Peloton bikes available on the fitness market today.
Top 6 Alternatives to the Peloton Bike
Echelon EX5
Bowflex C6
Bowflex VeloCore
NordicTrack s22i
Schwinn IC4
Pooboo Commercial Stationary Bike
If you really want an indoor smart exercise cycling bike to help you sweat it out conveniently at your home and you just can't stomach the cost of a Peloton, there are a few companies that offer similar features and a comparable all-in-one connected fitness training experience without costing you an arm and leg for their bike and membership.
The following 6 best Peloton bike alternatives may provide you with the best spin cycling training experience for a fraction of the price.
1. Echelon Connect EX5s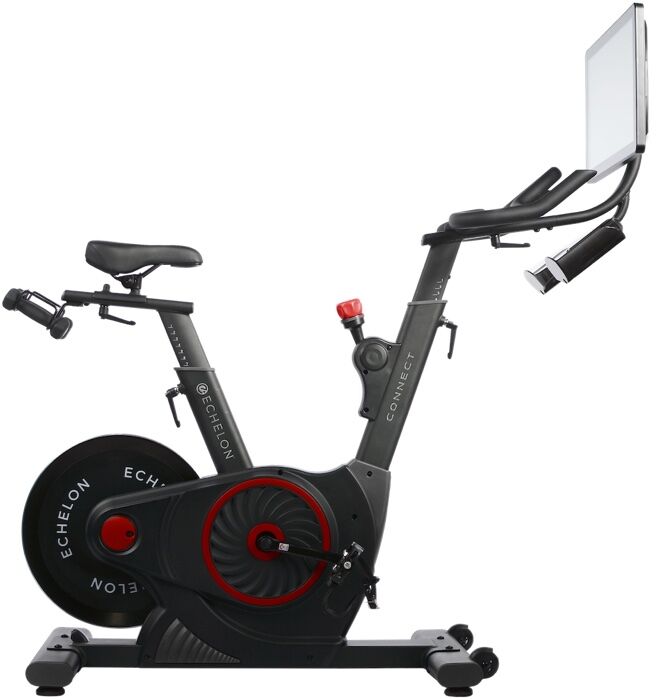 Echelon (see our Echelon bike review) is one direct cycling competitor to Peloton, and the company's Connect line of bikes have a starting cost around $840 plus membership (often less than a health club).
Why the big discrepancy you ask?
Well, most models require you to provide your own screen; where they pair with your phone via Bluetooth for the cycle-class sessions for home. Aside from that, it's hard to spot any major differences, and we think every one is sure to like this bike.
The EX1 Smart Connect is the no-frills, entry-level, and cheapest model that offers a rather standard studio exercise bike package and training experience. The EX3 and the EX5 offer more features, including dumbbell holders, resistance knobs, comfier seats, and access to Echelon workouts via their app and device of your choice.
The new EX5 Smart Connect may be designed to offer the most similar home experience and many of the same features to Peloton, with an in-built screen and features almost identical to the Peloton offering. Furthermore, the live and on-demand membership classes offered are straight off the Peloton playbook and may be a good way to get the studio exercise training classes you like from the included built-in screen display, if you want.
The EX3 Smart Connect is priced just over $1,000, and it looks and feels like a premium product. Options include a competition seat, lever-style adjustment, heart rate tracking, and an upgraded motor for precise magnetic resistance. Other options include an upgraded seat, a 33 lb flywheel, a powder-coated, durable frame, 32 resistance levels, and the Echelon Fit App, which which links users to live and on-demand virtual health workouts accompanied by a personal trainer.
With the app, any user can easily find a customized training program and instructors and ride at home to fit their personal needs.
Keep in mind that you do have to buy the app and a subscription to Echelon's workouts to use the bike as you'd do with Peloton. Still, you will be getting 30 days for free, and even with the monthly premiums, you may be saving a fair amount of money and have the option of returning if the bike isn't a good fit or you don't like it. There aren't many riders who decide they don't like this bike, though.
2. Bowflex C6 (Top Budget-Friendly Alternative)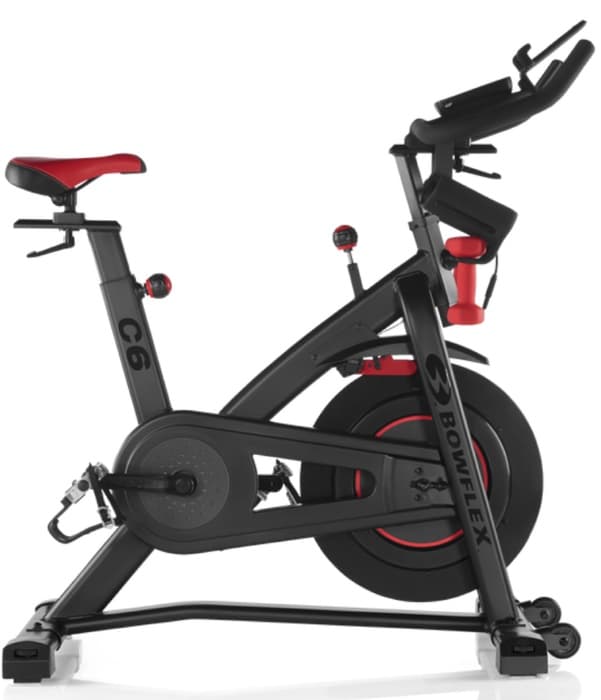 The Bowflex C6 (see review) is the latest addition to the pack, following its predecessor, the Horizon. It gives you a well-built indoor cycle that is designed to connect to the fitness app of your choice, including the Peloton app, albeit with limited functionality.
Nonetheless, the C6 offers a connected biking experience at less than half of the price of a Peloton, which may make it a great affordable solution for anyone looking for an indoor compatible with a tablet or smartphone for online classes.
It's also worth noting that Bowflex is working on building a handful of services/apps that will work together with the bike, including their own version of "Around the World", as you'd see with the higher spec'd NordicTrack.
The Bowflex bike's "Explore the World" feature lets you virtually ride through some exotic locations all around the world, with great, high definition videos of these location displayed on the screen.
Keep in mind that the bike itself isn't app dependent, meaning users can cancel their subscriptions to the apps and still use a goal-based program for their workouts.
The C6 features an electromagnetic resistance system, an intuitive resistance knob with 100 micro-adjustable resistance levers, and comes with an integrated device holder for your phone or tablet.
The C6 bike is also compact, which may allow it to fit in almost any room of your house.
Learn more below:
3. Bowflex VeloCore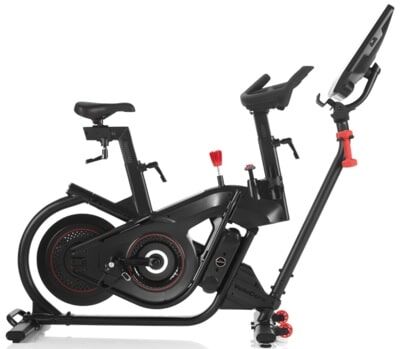 The VeloCore from Bowflex is one of the most innovative exercise bikes to hit the market in years. Not only does it offer you the opportunity to stream live and on demand works via the Peloton app, but it also has a built-in "lean" mode. That means you can actually lean into your turns, taking your "virtual" workouts to a whole other level.
On top the lean feature, you can also use the VeloCore as a standard exercise bike as well.
The VeloCore comes in two different models, with the main difference between the screen size. You can choose between a 16 inch touchscreen or a 22 inch model.
The screen is HD, and you can even stream your favorite shows on Netflix or Hulu when using the Bowflex JRNY app.
Want to take your workout up a notch? Feel free to use the free dumbbells that are included in your purchase of a brand new VeloCore.
4. NordicTrack Studio Cycle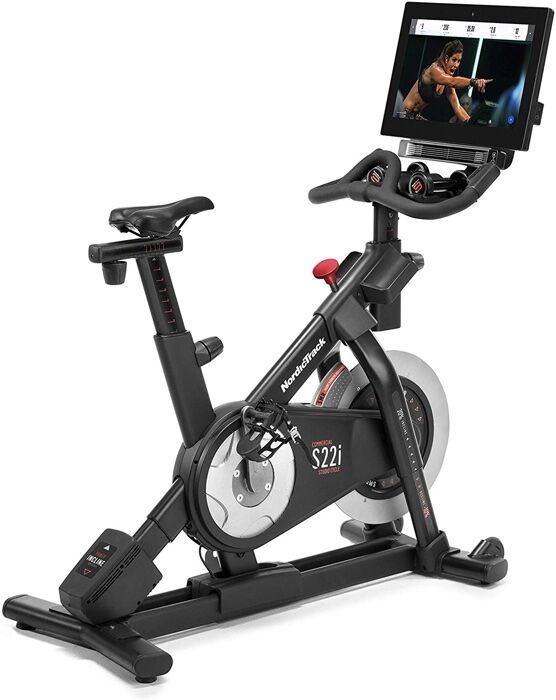 The NordicTrack S22i with iFit offers much of the key features that most people appreciate about a Peloton cycling experience. While the NordicTrack S22i with iFit is the most expensive cycling alternative on this list, it's the most comparable option to Peloton, and is still a considerably cheaper option.
The bike has stylish and sleek looks, and comes with a built-in 22-inch HD display with an interactive touchscreen used for their iFit training workouts.
The screen essentially broadcasts the iFit Coach, which lets you access high-energy studio sessions with professional iFit trainers who can control the incline, decline, track your heart rate (with right add-ons) and resistance of your machine in real time – something Peloton is yet to offer.
Moreover, with every purchase a one-year iFit membership to the classes is included.
The NordicTrack app currently has a one million user membership base. With the app, users can create challenges, may participate in live classes at home, track progress over time, and even add friends they like.
You may also add up to 4 profiles with out an additional cost, meaning four different people can use it if they like.
5. Schwinn IC4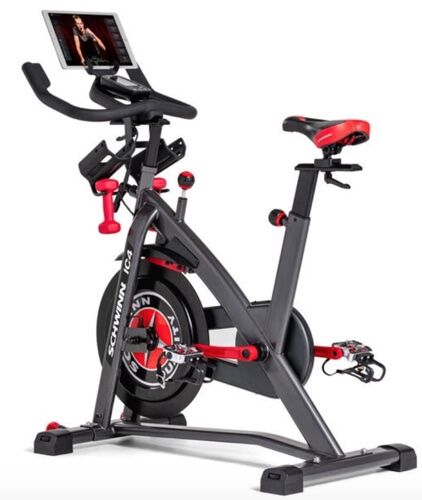 The IC4 is the newest exercise bike from Schwinn, and it's basically the exact same bike as number 4 on our list, the Bowflex C6.
The biggest difference between these two bikes?
The Schwinn IC4 is about $149 cheaper than the Bowflex C6. If you're looking to save a few bucks, then we'd recommend checking out the IC4, which offers the same options as the C6.
It works with a variety of live and on demand workout apps, including Peloton. It's also packed full of cycling features, a high-quality flywheel, race-style seat, and may be used without any apps as well if you're just looking for a great spin workout without all the bells and whistles.
Dumbbells, a media rack, USB charging station, and a beautiful backlit LCD display are something that's included with purchase.
Learn more at the official Schwinn website:
6. Pooboo Commercial Stationary Bike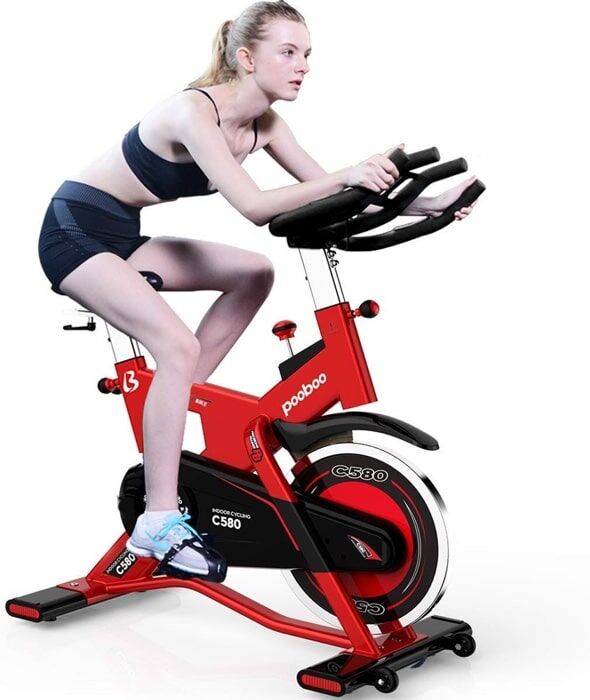 Featuring a 44-pound flywheel, with a commercial grade, heavy-duty frame, the Pooboo Commercial Stationary should offer excellent stability, support, and a smooth ride, even with the most intense of workouts and frequent of users.
The good thing about it's commercial standard is that it's of much better quality compared to the models designed for home use, and is perfect for the gym.
Its double triangle stable design offers more strength and durability, and the double barking and spraying makes it resistance to corrosion.
This bike also comes with a top brake system integrated with an infinitely variable speed system that lets you adjust your desired resistance more accurately. Both the handlebar and cushion have 4-way adjustable fit, which ideally lets users of all heights and arm lengths to find their optimal posture, so that they can work out comfortably and safely.
The handle bar includes two bottle holders and a tablet holder, which makes it easy and convenient for you to watch your favorite videos while exercising.
The bike comes with a big LCD screen that lets you keep track of your exercise progress by indicating the distance covered, time, and calories burned.
To help you move the bike easily from place to place, the bike features wheels at the front, which lets you easily store your bike away after use. All you have to do is tilt and roll it out away, with no need for muscle strain or heavy lifting.
Summary: Why Echelon is Our Top Pick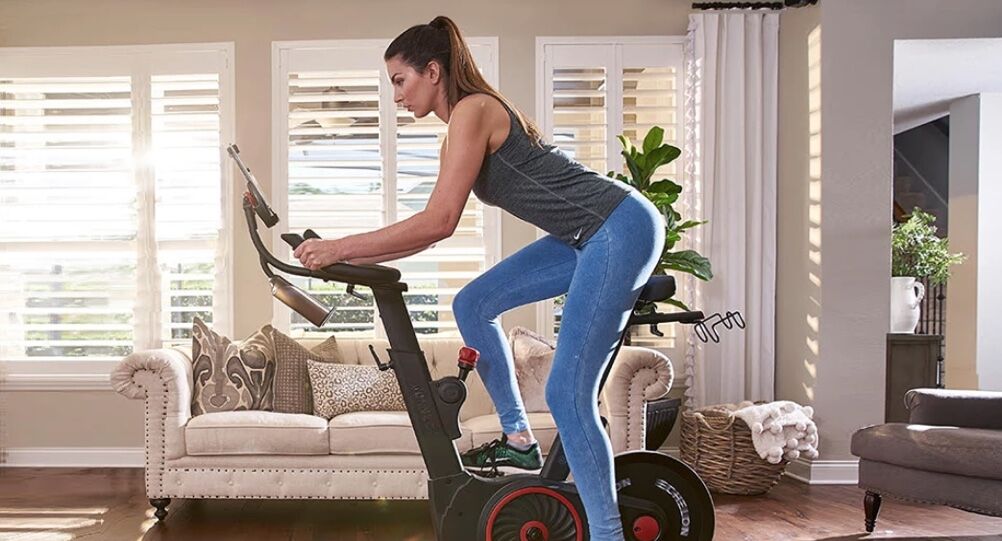 For the base model, the Echelon GT+, starts at around $899.
No matter the model you choose, you can buy one- or two-years' worth of class subscription with the package. The Echelon app serves both on-demand and live classes for a price of $40 a month.
While there's no screen attached to the front of the GT+, there's a handy little spot on the handlebars where you can slide in a phone or tablet.
The EX5, which we found to offer the best deal for the money, is nearly half the price of the Peloton offering, and it still gives you interactive workouts with professional and certified trainers through your own mobile device and the proprietary Echelon app.
The EX5 starts at $999 for the bike and one year of classes ($1,040 with one month of classes), or $1,600 for the bike and two years of classes. Overall, the longer the package you buy, the lower the monthly rate.
Our Top Pick?
Echelon…
All in all, while all the bikes on this list are great alternatives to Peloton, Echelon offerings are our top choice, mainly because of their variety in price points, their live and pre-recorded workout session options, along with their excellent customer service.