We may earn a commission from the companies mentioned in this post.
The at-home fitness industry is booming. This is for a variety of reasons, but one of them is the enticing options available to consumers.
Nowadays, you can get enjoy a gym or studio-like experience in the comfort of your own home. Thus, allowing you to get an effective workout without needlessly having to travel to and from the gym daily. However, with the booming industry comes a lot of options. This can make it difficult as a consumer to assess which one is right for you.
Two of the brands bringing the most to the table are Peloton and CAROL By the end of this article, you should be able to pick out which exercise bike is the right choice for your needs.
Features Comparison: What CAROL and Peloton Have To Offer
CAROL Key Features and Benefits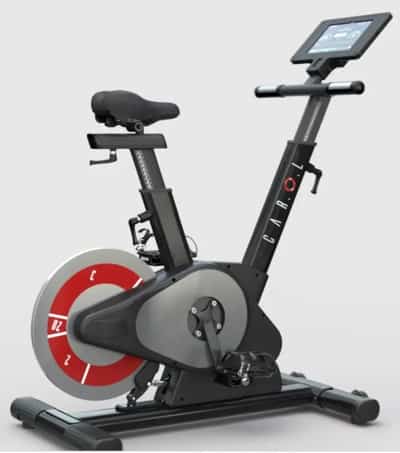 One of the biggest differentiating factors with the CAROL bike from the rest of the pack is its fully integrated Artificial Intelligence (AI) system. CAROL uses artificial intelligence to effectively analyze your performance throughout every session.
That way, the bike can intelligently adapt to your performance. It will automatically increase or decrease the resistance each time you step on the bike.
It will do so following your goals to ensure that you can get an optimal workout that gets you closer and closer to achieving your fitness goals and objectives.
Another key selling point that the CAROL bike has over the competition is the integrating of key safety features. It offers key safety features that are only possible because of AI integration.
The bike will not only monitor your heart rate throughout your riding sessions, but it will also alert you to when you may be reaching dangerous levels.
These built-in safety algorithms aren't something you will find available on any other bike available in the marketplace.
Another reason it is possible to get much more optimized riding sessions has to do with the use of more hardware. CAROL crammed a lot of hardware to go along with the AI that is integrated into this bike.
In fact, on CAROL's site, they say "[it] has 9 more hardware components than other bikes [1]." Therefore, it is capable of offering a lot more than the other bikes that lack these hardware integrations.
For instance, it has a highly accurate ergometer, an integrated HR monitor with ECG, and more.
With CAROL, it's all about the numbers. If you are someone who enjoys seeing your data, you will love what CAROL has to offer. You get both a web and mobile interface that will display useful metrics that you can use to track your fitness journey. This will give you visual feedback to tell you where you are at and where you are going.
Peloton Key Features and Benefits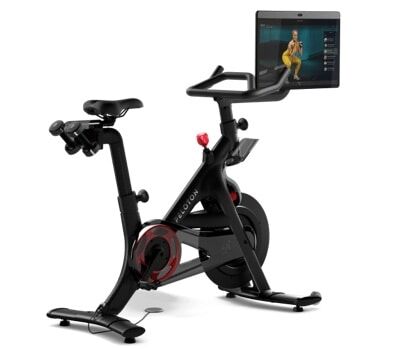 Built-In 22-24-Inch High Definition Touchscreen
When you buy a Peloton, you know you are getting a high-end bike that comes with a high-end touchscreen device.
Peloton packs one of the best touchscreen displays you will find in exercise equipment. Because of this, it can deliver one of the best smart connected experiences possible. After all, you can attend both live and on-demand in-studio classes using the immersive display.
Ultimately, it can make you feel as if you are in the studio and right in front of the instructor.
Industry-Leading Peloton App
Another thing that you get when you buy a Peloton is the perfect and most optimized experience to enjoy their industry-leading Peloton app. Peloton is much more than a product. It is much more of an experience. Peloton has the single best fitness app in the marketplace.
With a subscription to the app, you will be able to attend live weekly classes, sort through an on-demand library at your own pace, and participate in a diverse class type. There is no end to the value you can derive from the Peloton app.
With motivating instructors helping push you to new fitness heights, you will be giving yourself the best chance to hit your fitness goals in stride.
You can use the Peloton fitness app with other connected bikes, but you won't get the same seamless integration and experience.
Workout Comparison
CAROL's 8-Minute Workout
As mentioned, with CAROL, you are leveraging the power of Artificial Intelligence. The bike has a computer and algorithm that will guide you through your workouts to achieve peak consistency and efficiency. The algorithm works instantly to apply the exact amount of resistance you will need to reach was is known as "supramaximal" power [1].
The primary workout that is used is meant to provide an ultra-efficient workout that can help you get maximum benefit in as little as 8 minutes total. The lead workout replicates one that is used by scientists and it only has 5 steps to it. The bike uses its AI and guides you through a warm-up and then pushes you through (2) different sprints that force you to exert maximum energy with cool-down stages in between. It then follows with a recovery stage.
Peloton's Live and On-Demand Workouts
As mentioned, Peloton has a world-class app that offers a wide range of workouts that you can participate in. The workouts consist of both on-demand and live workouts that are run by professional instructors. You can find a diverse range of class types that include different themes, difficulty levels, and music.
Different Workout Options
With Peloton's industry-leading app, you are getting an app that will help you achieve your fitness goals in more than a single way. You get access to membership with live and on-demand classes in everything from cycling to running to strength training.
RELATED READING: CAROL Bike Review
You can think of the Peloton fitness app as your go-to to all things fitness. No matter what kind of training you are looking to do, you will be able to do it with Peloton.
This alone makes the app more appealing for a lot of people who are looking to incorporate cycling into their fitness routine, but who want much more than a bike or cycling workout.
With Peloton, you are always connected. Therefore, if you are working out in a class, you can see your performance and compare it with others.
When you are working out alone, you can't get the same feeling. This alone might be worth it for some who find it difficult to motivate themselves. The constant motivation that you can get with Peloton can set you up for success.
Price Comparison
CAROL Pricing Options
Peloton Bike Pricing Options
The Peloton Bike is priced at $1,895
The Peloton Bike+ is priced at $2,495
The Peloton subscription is priced at $39 per month for the all-access membership and $12.99 per month for the digital membership.
Who Should Buy a CAROL Bike?
The CAROL bike is perfect for someone who is looking for the most optimized workout possible. CAROL's use of artificial intelligence to create the most efficient workout is innovative and unprecedented.
With the seamless AI and hardware integration, you will get the most effective workout in as little time as possible. Those who prefer to work out alone and who want to have their workouts controlled by the computer and algorithms will love what the CAROL bike is bringing to the table.
It provides you with the ability to step onto the bike and get a highly optimized workout without any additional effort.
Best of all, the algorithm will constantly push you towards achieving your fitness goals. You will have a bike that is guiding you in the right direction at all times. You don't necessarily get the same thing if you were to opt for a fitness-led instructor.
You Should Buy a CAROL Bike If…
You want a highly optimized workout
You don't care about live or on-demand classes
You want your workouts controlled by an algorithm and not a fitness instructor
Who Should Buy a Peloton Bike?
The Peloton bike has the best fitness app hands down. Likewise, it offers superior hardware to pretty much every other bike in the marketplace.
With a gorgeous 22-inch or 24-inch high-definition display, you won't find a better and more immersive experience.
RELATED READING: Cheaper Peloton Alternatives
Those who are after a studio-like experience will much prefer what Peloton has to offer. It offers the kind of experience you would get if you were to pay money for a membership to a premium fitness studio.
A Peloton offers a premium experience that you don't get with some of the other fitness bikes available which is one of the reasons it is the current industry leader.
You Should Buy a Peloton If…
You enjoy participating in live fitness classes
You want more workouts than cycling
You want best-in-class hardware
You want an immersive studio-like experience
You want the Peloton experience and your friends or family have Peloton bikes
References