We may earn a commission from the companies mentioned in this post.
Now that there are more home workout options available, many households are looking to turn their extra bedroom or even extra space in their living room into a convenient place to work out. While the demand has certainly been boosted by people being forced to spend more time indoors and at home, the demand was increasing before the pandemic.
That being said, experts anticipate the market by revenue to grow at a CAGR of approximately 9% from the period between 2019 and 2025 [1]. If you find yourself among those looking to invest in new home workout equipment, you can see that you aren't alone. However, with increased demand has come increased supply. More and more fitness brands are popping up with their take on optimal at-home fitness equipment and consumers are benefiting from it.
With each fitness brand competing to offer something better, it's a great time to be a fitness consumer. However, with more options comes more choice. It's not as simple as closing your eyes and picking which fitness equipment to get.
Instead, you want to weigh your options and figure out which one would be best for your use-cases. By the end of this article, you'll have a good understanding of what MIRROR and Peloton bring to the table to figure out which one is right for you.
Features Compare: What MIRROR and Peloton Offer
1. MIRROR Overview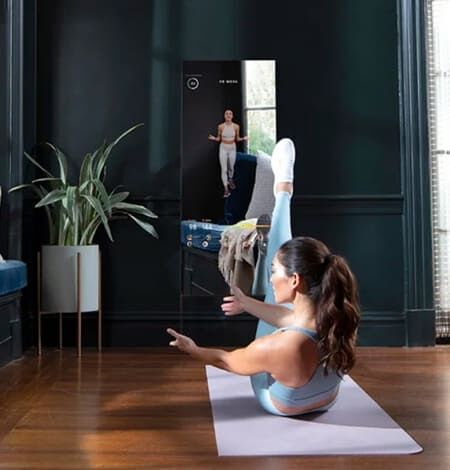 MIRROR markets itself as "the nearly invisible home gym." MIRROR's take on at-home fitness is all-encompassing. It's designed to give you a full studio-like gym experience in the comfort of your home without any bulky equipment needed. Their take is that you should be able to get a full gym-like experience in your living room without having a bulky piece of fitness equipment intruding on your living space. The good news is, they very much achieve that. The experience MIRROR provides is exceptional and it's likely to satisfy a niche market.
One of the main reasons a lot of people end up joining gyms instead of having their own is due to space limitations. The truth is, not everyone has an entire room to dedicate to working out. This leads a lot of consumers to try to fit bulky workout equipment into their bedrooms or living rooms which can be problematic. If you don't have a lot of space to work with, you're not going to like having to store a bulky treadmill or exercise bike just to use when you workout. With the MIRROR, you don't have any bulky equipment and it features an elegant design that makes it a part of your home decor. All that is required is two feet of wall space and you have yourself a full-blown home gym.
Powerful Fitness Technology Built-In
No, the MIRROR isn't just a mirror. While it may look unassuming, the MIRROR is packed full of advanced fitness features that turn it into a powerful workout companion. The MIRROR itself features advanced tracking technology that turns the mirror into an interactive smart gym that can get to know you. It's powered by an advanced and powerful camera and machine learning software that allows it to deliver real-time feedback based on your workouts, pace, and goals. It also helps to optimize preferences to ensure you are working out with the greatest efficiency. All of this makes the MIRROR a great value for those looking for studio-like workouts with innovative technology built-in.
One of the things a lot of people have grown to love with their connected workout equipment is the connected experiences they offer. MIRROR is no exception. With MIRROR, you can connect with friends, make a workout date, join different programs together, and even invite workout companions to cheer you on. All of this makes it an incredibly immersive and fun experience. Both of these things can keep you on track with all of your fitness goals. After all, one study showed that 95 percent of people who started a weight loss program with friends ended up completing it [2]. Thus, you have a greater chance of achieving your fitness goals if you stay connected and make your workouts social. Having a partner that you can rely on for accountability is key.
With MIRROR, you are getting expert-led workouts that you can count on. You'll be able to take part in workout classes from certified trainers from some of the top fitness studios in the entire country. They can motivate you and even live feedback on your workouts.
Not only will you be able to stay connected and work out with your friends, but you can participate in competitive classes and competitive workouts allowing you to compete with others with similar goals. You can even compete against yourself to try to beat your personal best which can push you harder than ever before. It's known that gamifying the experience can help boost your results.
2. Peloton Features Overview
Peloton is one of the most popular fitness equipment manufacturers in the space right now. You likely have friends or family that have themselves a Peloton bike or tread. Peloton does a good job of providing a good range of equipment with a premium experience.
While Peloton started as only having a connected fitness bike, they now offer both fitness bikes and treadmills. Therefore, you'll have a similar experience as you would in a gym with each. This is one of the best things about Peloton because they create world-class hardware. The Peloton bike comes with a built-in high definition screen and so does the treadmill. This can help you boost the immersion of your workouts and make you feel like you are getting your workouts in a professional studio gym.
One of the standout features of the Peloton experience has to be their world-class app experience. It's one of the best reasons to get yourself a Peloton. While you don't need to have Peloton-branded equipment to get and use a Peloton membership, it does give you the most seamless experience if you have it. With the Peloton app and membership, you will have thousands of classes to choose from with over 10 workout types. Whether you are looking for expert-led strength training workouts, yoga workouts, or even stretching – you'll find a lot of classes that will fulfill your needs.
Peloton is one of the most well-respected names in fitness. Thus, you can count on getting some of the best expert-led training classes and on-demand videos that you can access at your fingertips. You'll be able to take advantage of their diverse team of instructions that will guide you through each workout. You can even attend live classes that will allow you to get real-time instruction and feedback. Peloton does a great job of making the entire experience incredibly immersive and studio-like.
Connected Workout Compare
1. MIRROR Workout Overview
Large Variety of Workout Options
With MIRROR, you have over 50 different types of workouts to choose from. You'll find classes starting at beginner levels to expert levels.
Live and On-Demand Classes
You'll be able to join other MIRROR members and get real-time feedback that will give you the correction and motivation you need to continue going. You can also choose from on-demand classes if you want to get workouts outside of normal live session hours.
RELATED READING: MIRROR Review
You will get access to instruction from world-class fitness instructors. They will be there to provide you with expert-led workouts, motivation, and live feedback that you can use to push yourself.
You'll feel like you are training with a real instructor who is giving you real-time feedback through the advanced and immersive technology built into the mirror.
You'll be able to choose from only bodyweight workouts or workouts that include everything from resistance bands, dumbbells, kettlebells, and more. It's very versatile and it can fit whatever you're looking for.
2. Peloton Workout Overview
Live and On-Demand Workouts
You will be able to take part in either live or on-demand expert-led workouts. You can find over 10 different workout types streaming on-demand that will allow you to get your type of workout in when you want it.
To get the most out of the Peloton experience, you'll want to have a compatible bike or treadmill. Ideally, you'll want a Peloton branded bike and/or treadmill. However, you won't need one to get value out of membership. With the bike and/or treadmill, you'll have the seamless integration that measures your cadence and more. The Peloton bike and tread are the best-in-class workout equipment you'll find.
YOU MAY ALSO LIKE: Cheaper Peloton Alternatives
With Peloton, you don't need to have any equipment to get value out of the app. As mentioned, you can find a range of bodyweight exercises that you can leverage. This will help you get workouts in without owning any equipment.
With Peloton, you get the ability to track your progress with detailed metrics. This can be very advantageous because it can allow you to see graphs showing your progress and growth. This alone can push you further and harder. By seeing what you are doing and how well it's working, you'll be motivated to continue. Peloton also makes it easy to maintain your competitive spirit by allowing you to challenge friends, work out alongside others, and earn in-app achievements.
Price Compare: Which is Cheaper?
1. MIRROR = $1,495
2. Peloton Bike = $1,895
Peloton Bike Plus = $2,495
Peloton Tread = $2,495
Peloton Membership = $12.99 per month for Digital Membership and $39 per month for All-Access Membership
You Should Consider MIRROR if…
You Want a Small Footprint
If you want workout equipment that is going to deliver you a lot of workouts without taking up space, there is no better option. Not everyone has dedicated space for workout equipment. If that's you, the MIRROR is an extremely compelling option.
You Want Something Cheaper
The Mirror is going to be a far cheaper option than any Peloton equipment. Therefore, if you are looking for something to deliver high-quality workouts at a friendlier price tag, the MIRROR should be considered.
You Want A Lot Of Workout Options
As mentioned, the MIRROR can provide you with countless different types of workouts. By adding your accessories here and there, you can turn the MIRROR into any kind of experience you want.
Some people aren't going to want equipment. If you are looking to work out with only body-weight exercises or if you don't want a fitness bike or treadmill, you should be considering something like MIRROR.
You Want To Workout With Friends
MIRROR gives you the ability to share your workout experiences with your friends using innovative technology.
You Should Consider Peloton if…
You Don't Mind Spending More
Peloton is going to provide you with the best of both worlds. You can get the most premium workout equipment, with the best-in-class app companion.
If you are someone who is looking for equipment that will help you get intense workouts in, you can't find better options than what Peloton offers. They have the best fitness bikes and the best treadmills that you'll find in the marketplace.
Your Friends or Family Own One
If your friends or family own a Peloton, it makes it even more compelling. They do such a good job of creating a fun and competitive Ecosystem.
You Already Use The Peloton App
If you are one of the many who are already signed up for and using the Peloton app without Peloton equipment, you'll love getting Peloton branded equipment to add to the experience.
You Want Multiple Workout Options
As mentioned, you get the ability to work out on the equipment and off it. This is going to deliver you a lot more value than just having one or the other.
References: