We may earn a commission from the companies mentioned in this post.
Whether it's a beginner looking to purchase their first machine or a seasoned pro adding to their home gym, there's nothing more popular than a well-engineered exercise bike.
With more and more entries in the market, the exercise bike has become a must-buy for those who want to work out properly.
However, this has also led to an influx of expensive exercise bikes such as the Peloton. For those looking to steer clear of the expensive brands, the Schwinn IC4 hits a unique price point with a fascinating selection of features.
This review is going to dig deeper into what the Schwinn IC4 is all about, how it works, and whether or not it has what it takes to make you happy.
What is the Schwinn IC4?
The Schwinn IC4 is an all-encompassing exercise bike engineered to offer a customized workout experience at an affordable rate. The brand has been around for generations and is critically acclaimed for understanding the nuances of a well-designed workout machine.
In the world of new-age exercise bikes, this continues to appeal to the masses due to its ergonomic details and general build quality.
The Schwinn IC4 is a unique blend of power, versatility, and quality packed into one intriguing package.
Here's a quick video showing the IC4 in more detail:
Features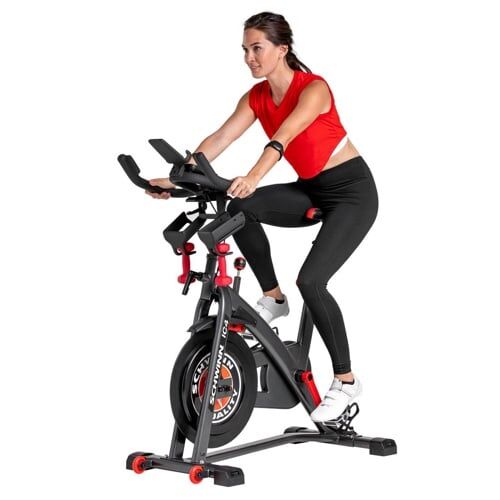 1. 40-Pound Flywheel Design
Being able to generate consistent results from an exercise bike is imperative. This exercise bike offers tremendous value due to its power-packed flywheel design, which allows riders to quickly push through a workout without having to deal with odd transitions or below-par resistance.
This attention to detail is something Schwinn has become renowned for and it's a big reason for their continued success. The team behind the creation of this flywheel design has taken the time to put together something refined and easy on the joints as the resistance is increased.
2. 100 Levels of Resistance
Resistance is an essential component of riding an exercise bike. While certain exercise bikes restrict riders and only leave them with 6-8 levels, this bike goes above and beyond to deliver real value.
The 100 micro levels of resistance are a must for those wanting to push their workouts to new heights.
The resistance levels offer:
Full Customization
Magnetic Transitions
Seamless Adjustability
The simple adjustments are ideal for those wanting to optimize their workout sessions each step of the way. This is especially important when following a workout video streamed through the Peloton app.
3. Bluetooth Console
Bluetooth integration is something most new-age exercise bikes think about. This is one of the most advantageous features available through the Schwinn IC4 because it allows users to connect their devices in a matter of seconds.
Rather than fumbling with your devices and hoping to get them to function, it's easier to get things linked to the main screen.
This is ideal for those hoping to get a good workout in while collecting all of their workout data.
4. 4-Way Adjustable Handlebars and Seat
Comfort is something no one should have to compromise on and that's what makes this machine wonderful. The team has put a considerable amount of effort into fine-tuning how everything works.
This includes providing multi-directional adjustments for both the handlebars and seat.
The benefits include:
A Range of Settings
Multiple Positions
Complete Comfort
Being able to toggle through these adjustments right away can be empowering. This is certainly important for households that are going to have multiple users working out throughout the day.
A rider can come over, play around with the adjustments, and then start to work on what is best for their needs.
Specs
Dimensions: 48.7″L x 21.2″W x 51.8″H
Belt Drive
BlueTooth Integration
Weight Capacity: 330 lbs
Machine Weight: 106 lbs
Warranty: Frame (10 years)/ Parts (3 Years)/Electronics (3 years)/Labor (1 year)
Does it Work with Peloton?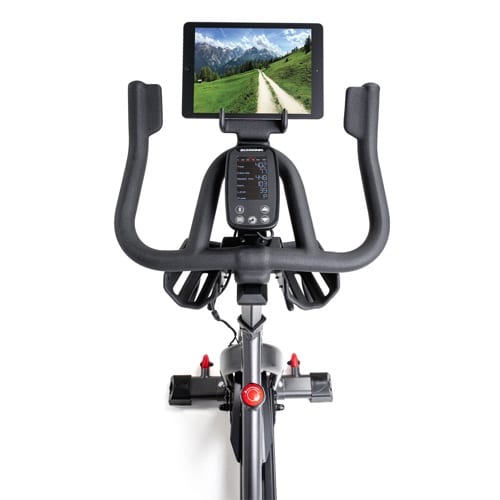 Yes, but with a few limitations.
While the Schwinn IC4 does work with the Peloton app, it doesn't directly integrate the app's contents onto the main console.
Instead, riders can individually sign up with the Peloton app, pay for the membership, and then stream this content on their TV and/or tablet. This is an ideal option for those with a good-sized TV close to their bike.
However, once the Peloton app is set up, the Schwinn IC4 exercise bike can work well with the live-streamed or on-demand workouts made available.
What Other Apps Does it Work With?
The Schwinn IC4 is also compatible with Explore the World and Zwift workout apps. Just like the Peloton app, these have to be streamed onto a separate screen (i.e. TV or tablet).
Learn more about what apps the IC4 works with below:
Pros and Cons
Pros
1. Made of Heavy-Duty Steel
The first thing riders notice with the Schwinn IC4 is its exceptional build quality. The heavy-duty steel is a sight to behold and offers complete protection even as the workout intensity ramps up.
Since it has a weight capacity of 330 lbs. it can handle a lot and continue to operate quietly.
This is ideal for those wanting to workout peacefully without having to worry about the machine breaking down.
To further demonstrate how much the brand believes in its bike, they have also included a comprehensive selection of warranty options.
This makes it easier than ever before to make the purchase and feel good about the investment.
2. Magnetic Resistance
The only type of resistance buyers should be looking for is the magnetic form. This is a must when it comes to transitioning between resistance levels and not having to take a break in the middle of a workout.
These type of resistance offers:
Seamless Switching Between Levels
Continuous Power
Reduced Pressure on the Joints
This exercise bike provides a straightforward setup due to its comprehensive resistance levels. The magnetic resistance is hitch-free and as efficient as it needs to be.
3. Customizable Seating
With the 4-way adjustable seating, you are always going to feel confident with how well it works. Users can easily fine-tune how the seat is depending on the type of workout they're going for.
It's also a major plus point for households that are going to have 2+ riders using the machine during the week.
4. Affordable
If you are someone that has a budget to keep in mind, it's best to go with the Schwinn IC4. When compared to other options such as the Peloton, this is one of the most affordable exercise machines on the planet.
This is advantageous because:
Full Value for Your Money
Consistent Set of Features at a Fair Rate
Excellent Warranty
Coming in at $799, you are getting an exercise bike that is jam-packed with elite features. Plus, the bike is going to age well making it one of the safer investments a person can purchase their home gym.
Why settle for something expensive when you can buy this type of exercise bike?
Cons
1. Console Requires an Adapter
This is a negative most people don't realize is possible until they take a look at the machine. It's an inconvenience if the adapter isn't close to the machine.
The console won't turn on unless it is connected to the adapter, which means you are going to have to be close to an outlet at all times. Keep this in mind when making the purchase and positioning your bike at home.
2. No On-Screen App Integration
One of the concerns noted with the Schwinn IC4 has to do with its lack of on-screen app integration. This means if you sign up with Peloton and join their membership program, it is not going to be directly integrated onto the bike's monitor. While the screen looks nice, you are still going to have to set up a TV or tablet for streaming purposes.
This can become bothersome depending on how a person feels about relocating their bike. It can restrict where you end up working out and that type of restriction is challenging at times.
Assembly Instructions: Is it Easy to Assemble?
Yes, this exercise bike is easy to assemble and is going to take no more than a few minutes to put together. Schwinn has been around since the late-1800s making it an elite company with years of professional experience. With a team such as this behind the engineering of the Schwinn IC4, you know it's going to be easy to set up.
Everything is included in the packaging and you are going to have no trouble at all assembling it.
Price: How Much Does the IC4 Cost?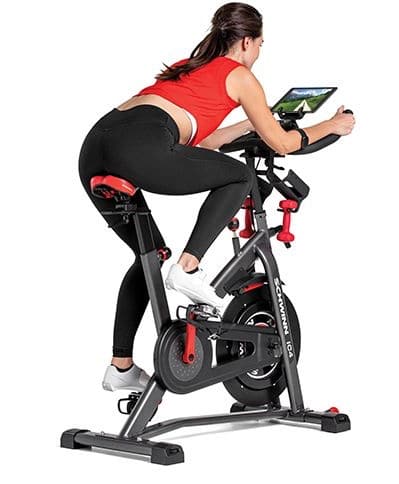 Schwinn IC4: $799 + Free Shipping
Review Summary: Where to Buy
When it comes to quality, consistency, and affordability, you can't go wrong with the Schwinn IC4. This is a world-class exercise bike that offers a long list of features and continues to impress with each workout.
Instead of investing in an expensive bike such as the Peloton, this is a budget-friendly alternative anyone can use. With its sleek design, ergonomic pedals, and adjustable resistance levels, the Schwinn IC4 holds up well during a workout session.
It's a must for those serious about investing in a good-quality exercise bike.
Ready to learn more about where to buy the Schwinn IC4? The only place you can currently find the IC4 is at the Schwinn website. Get the full details below:
More Schwinn IC4: