We may earn a commission from the companies mentioned in this post.
With more people spending more time than ever before at home, many are looking for ways to stay in shape without heading out to the gym. In fact, since early 2020, 76% of Americans have said they've tried working out at home and as many as 66% have said they prefer it to the traditional gym experience [1].
Luckily, more options than ever before provide you with a gym-like experience in the comfort of your home. With innovative brands like Tonal and MIRROR, you have a lot more choices for compact at-home fitness equipment that changes what the idea of a "home-gym" looks like. If you are looking to pick one of these innovative complete home gyms, you'll want to do your due diligence to select the right one.
While each offers unique experiences, you may find one to be more catered towards what you want out of it. By the end of this article, you should have a very good idea about which of these home gym experiences is for you.
Features Compare: What MIRROR and Tonal Offer
MIRROR Key Features and Benefits
Perhaps one of the biggest selling points of the MIRROR is its design. MIRROR was designed to be capable of being hidden in plain sight by blending in seamlessly with your home decor. They market it as "the nearly invisible home gym." It's easy to see why. If you didn't know about MIRROR, you wouldn't suspect the MIRROR to be anything other than a fancy mirror. One of the biggest barriers to entry with at-home workout equipment is space limitations. After all, not everyone has space nor wants to dedicate space to home gym equipment. Another major barrier to entry is having to dedicate space to home gym equipment that can stick out like a sore thumb and completely ruin your modern decor. Fitness-inspired brands like MIRROR have set out to create home gyms that don't force you to sacrifice space or your modern decor by creating equipment that blends right in with it.
Advanced Tracking Technology Built-In
Within the unassuming MIRROR product, you get a comprehensive workout experience. This is due to the advanced tracking technology built into the interactive smart gym. The MIRROR is powered by advanced camera technology combined with machine learning software. This ensures that you get a tailored workout experience that is based on your workout preferences, goals, and abilities. Meaning, the interactive home gym will continue to grow with you and learn more about you every time you use it. This can help to improve the experience you get with it every time you go into one of your workouts. MIRROR set out to solve the problem of people failing to reach their fitness goals and objectives due to not being able to break through fitness plateaus.
Another issue a lot of people have with home gyms and the entire experience is the loneliness of it. Also, a lot of people aren't self-driven when it comes to fitness. This is why it is so beneficial to get a workout buddy and someone to keep you accountable for your actions. The designers of MIRROR know this and that's why they added a connected and social experience that can help you get the external motivation you need. This is the external motivation you would normally get with a workout buddy at the gym. However, you can get it without having to step foot out of your house. Whether you want to make a workout date with your friend or join in the countless community competitions, you'll have a social element that can drive you past your fitness goals.
Live and On-Demand Classes
With MIRROR, you don't have to worry about working out on your own without instruction. With the membership for the service, you get access to both live and on-demand classes that will allow you to get the professional instruction and motivation you need. You can choose from over 50 different genres that range from 5 to 60 minutes in duration and that cater to all fitness experience levels. You'll get access to world-class instructors with a lot of experience. Best of all, MIRROR offers workouts that you can complete no matter how much or how little equipment you have available. Whether you want to workout with resistance bands, free weights, or nothing at all – you'll have optimized workouts to go through.
Tonal Key Features and Benefits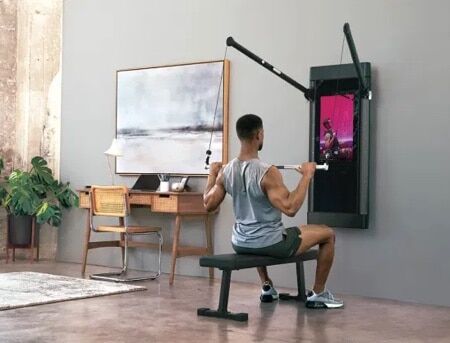 With Tonal, you're getting a complete home gym that features a very small footprint. The installation is extremely easy and all you require is a wall that has two studs. Tonal is capable of delivering total body workouts because it features a patented digital weights system. This system is capable of making thousands of calculations per second to deliver the right resistance using only magnets and electricity [2]. This makes Tonal one of the smallest complete home gyms in the marketplace. With so many people not having space to dedicate specifically to a home gym, this is one of the biggest selling points of Tonal.
With Tonal, you're not only getting a comprehensive total body workout machine, but you're also getting one that is advanced and interactive. The unit features a 24-inch interactive touchscreen display that will allow you to scroll through programs and follow instructors in real-time.
Another major selling point of the Tonal system is the built-in machine learning it has. This enables the machine to learn how strong you are and what you're capable of seamlessly. Once you complete a full-body strength assessment, it will assign the weights you should be at at the current moment. This can keep you from putting too much on your plate early on which can discourage you or even cause you to get injured. It will automatically increase weight as you continue to develop more strength. This will keep you from wasting your workouts. Many people struggle with knowing when to increase weights to build strength. The Tonal system takes this decision out of your hands completely to ensure you continue to progress towards your fitness goals daily.
One of the issues associated with working out at home is the lack of a spotter. Without a spotter, you cannot lift heavyweights. Without being able to push yourself to the brink of no energy, you won't make the kind of gains you're looking to make. The Tonal system has a built-in spotter mode that allows you to lift heavy weight with confidence. The system will automatically decrease the weights at any point during your lift which can allow you to finish your set strong and to keep you from injuring yourself.
Workout Compare
MIRROR Workout Overview
Choose From Beginner To Expert
One of the things to like about MIRROR is that it is for people of all fitness levels. You can choose from beginner to advanced so you can always find something that can help you get better.
Another good thing about MIRROR is that you can use it without any equipment at all. Better yet, you can find workouts with the equipment you do have available. If you only have dumbbells, you'll find dumbbell workouts. If you have resistance bands, you'll find dedicated resistance band workouts. No matter what equipment you have, you'll find dedicated workouts that you can fit into your routine.
RELATED READING: MIRROR Reviews
Many people cannot work out without music. With MIRROR, you'll be able to work out with your favorite songs playing in the background.
Live and On-Demand Classes
As mentioned, you can choose from both live and on-demand classes with MIRROR. This means you'll always have a workout that you can do no matter when you tend to get your workouts in. Best of all, they are always adding new classes. This can keep your workouts fresh. This can keep you continually interested and motivated to continue with your neverending fitness journey.
One of the best things about MIRROR is the ability to choose from over 50 different genres. Being able to choose from these many different workout genres ensures you'll find something that you enjoy. This will keep your workouts productive because you won't be forced into only sticking to cardio if you find it boring. You can choose from everything from cardio and strength training to yoga flow and boxing. You won't find yourself getting bored of your workouts which can keep you pushing to remain active.
You can bring some of the top trainers in the country into your home to provide you with guided 1-on-1 instruction with the most immersive technology.
Workout With Friends In-Person or Virtually
If you have someone in your home you want to work out with or if you have friends that have the MIRROR, you can work out with them and even compete with them. If not, you can do the same with other members of the community to keep you fully motivated.
Tonal Workout Overview
Hundreds Of Workouts On-Demand
With Tonal, you'll get to choose from over 100 on-demand workouts featuring a variety of workout styles. This is an impressive amount and it should keep you continually interested and able to find something that you vibe with.
Artificial Intelligence Guided Workouts
One of the greatest things about working out with Tonal is the built-in artificial intelligence. Through Tonal's proprietary technology, you'll be able to take all of the guesswork out of your workouts. This can keep you training optimally every time. You'll have artificial intelligence guiding you throughout your workouts whether it's changing the digital weights or checking your form. This can keep you working out as efficiently and as effectively as possible.
You can download and use the Tonal app to create custom workouts. This will allow you to easily create a quick workout that targets muscle groups you are looking to specifically target.
Workout With Friends In-Person
If you're someone that loves to work out with a partner, you can do it with Tonal. You'll be able to bring a workout partner to your home and have Tonal adjust weights and track the reps of both individuals who are working out.
YOU MAY ALSO LIKE: Peloton vs MIRROR
You can work out with your friends or family members using Tonal's virtual workout feature. Everything will be tracked from your virtual workouts and you can even motivate each other with virtual high fives after impressive sets.
You'll be able to leverage professional and experienced coaches through guided workouts with Tonal.
Price Compare: Which is Cheaper?
You Should Buy MIRROR if…
If you are looking for a more budget-friendly option, the MIRROR is likely your best option. MIRROR is less expensive because it doesn't include the same weight technology found in Tonal.
If you have your fitness equipment already, you'll likely benefit from MIRROR more. MIRROR can be used with existing equipment whether it be adjustable dumbbells, kettlebells, or even resistance bands. Also, if you want to get in workouts without equipment at all, MIRROR is the best choice.
With MIRROR, you will have access to a range of different live classes that can help you get the most out of the system.
Your Friends Have a MIRROR
MIRROR does a great job of creating an ecosystem that you will want to be a part of if you have friends with a MIRROR.
You Should Buy Tonal if…
You Want A Total Body Workout System
If you are looking for a complete and total body workout system that includes all of the weights you'll need for strength training and more, Tonal is the ideal option for you.
You Are Willing To Spend More
Tonal is the more expensive system.
You're Going To Buy The Smart Accessories
Tonal is such an amazing system by itself. However, if you're willing to shell out more for the smart accessories available for it, you'll have the most convenient and most advanced training system you can find anywhere. These accessories add a lot of value to Tonal.
You Want The Digital Weights
The digital weight technology Tonal uses is incredible and it's worth it for anyone who wants the ideal strength training workout equipment without the bulk.
You Want The Advanced Technology
With artificial intelligence built in, Tonal can help you reach your goals incredibly fast. You'll never feel like you're wasting a workout as the system adjusts as you continue to progress with your workouts.
References