We may earn a commission from the companies mentioned in this post.
Curved treadmills or the regular version – how can you decide which . I was there too at one point, which is what led me to the TrueForm Trainer and Runner Treadmills at the Rogue website.
If you've decided that the curved treadmill is the machine that's going to work best for you, then I definitely recommend starting the the TrueForm Runner or Trainer at Rogue. They're a top-of-the-line non-motorized treadmill, so they're built to last and stand the test of time.
Curved treadmills aren't for everyone, but if you happen to be one of the select few who are ready to step your game up, keep reading to find out if the TrueForm is the machine you've been looking for.
What is the TrueForm Runner Treadmill?
This is a non-motorized treadmill that is designed to teach the user proper running form. Recently, many companies have been producing and marketing non-motorized treadmills. In our testing and research, we found the TrueForm runner to be one of the best non-motorized treadmills available on the market at the time of writing.
There are many treadmills in the market that look very similar, and many run and perform in a similar way. However, the TrueForm Runner is not one that blends in with the crowd. It comes as a motorized treadmill that is built to react to even the slightest of movements, to allow its users to learn how to run properly. Generally speaking, the machine prioritized running from over Bluetooth speakers and other gadgets.
Here's a quick look at the TrueForm in action:
Get more details at Rogue's website:
Key Benefits of the TrueForm Runner
There are a few key benefits of using a curved treadmill like the TrueForm Runner:
With other conventional treadmills, you will need to account for maintenance costs to keep the motors in tip-top shape, as they are generally prone to burn outs, which require replacements or repairs. With a non-motorized model, there's a much smaller chance that the treadmill will break on you, as well as raising the overall longevity of the machine.
Burns More Calories Compared to Traditional Treads
According to research, curved treadmills help to burn more calories compared to the traditional treadmill, by up to 30%. This is because you self-regulate your workouts, which typically requires a greater level of mental toughness and concentration to continue at a high pace. Curved treadmills are designed to reward efficient and quick runners, which makes them ideal for weight loss and fitness.
Another key benefit of a curved treadmill is that it will engage more muscle groups compared to the conventional treadmill. Your hamstrings and glutes will particularly be called upon more often when running on a manual treadmill.
Promotes the Proper Running Form
Another key benefit of curved treadmills is that they promote the natural running form by engaging the muscle groups highlighted above. This is a major benefit when you switch from the treadmills to the track or roads. It also makes the treadmills perfect for working on your own running technique, which is something the traditional treadmill running usually has an opposite effect on.
Lets You Run at Your Own Pace
Many people prefer curved treadmills in general to motorized alternatives because they essentially let you set the pace. Instead of setting the pace and velocity and then trying your best to keep up, a curved treadmills will be powered by the force you put in it. This will help you avoid the bad habits of trying to keep up with a pace that's too fast and lets you base your running workout on how you're feeling on the day and your overall heart rate.
Curved treadmills, including the TrueForm Runner, are generally quite compact. This makes them easier to fit into a living room or a home gym, compared to some of the traditional treadmills that tend to be bulkier.
Pros and Cons of Air Runners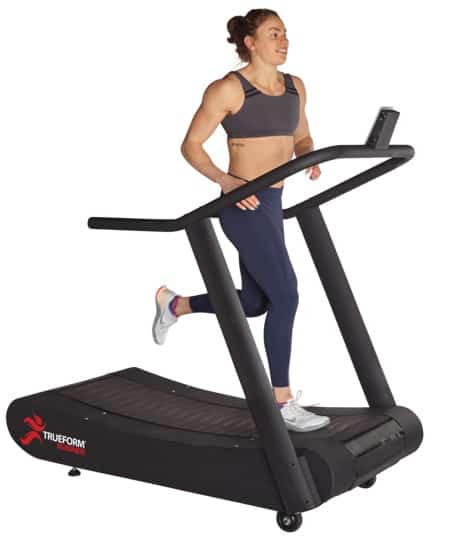 Pros
One of the main reasons why people prefer using air treadmills is the increased physical exertion. Keep in mind that the main purpose of a treadmill is to get the body moving and then pushing as hard as you can. And as there's no automation with regards to how the machine will work, users get the opportunity to control just how much they can get from the treadmill. This is great for anyone who's going to be pushing hard and want to power through some High Intensity sessions at home.
If you don't want to spend a lot of money on electricity, air runners are a great choice. They let you be frugal with your utility bills when getting a good workout. This makes them ideal for people on a tight budget, but still want to workout out with intensity.
On a similar note, you will save yourself a significant amount of money when you get an air treadmill. Unlike other treadmills, you will save a lot of money by investing in an air runner for your home gym. A comparable motorized machine will have a significant price increase over the typical air runner. This is why you should be looking at an air runner if you're on a budget/
Safety will always be important and this is something you get with an air treadmill. Bearing in mind that you will be putting in the effort to power your workouts, you will be able to stop whenever you want to. You don't need to rely on an in-built motor to stop when a button is pressed.
Cons
Depending on your preferred style of working out, a curved treadmills might not bring the electronic features you might be looking for. This is especially true if you are looking for a machine that can set your speed.
Air runners are also not the cheapest. Some of the XL models will cost you up to $10,000. However, while some of these equipment might be expensive, you only pay the initial price as they won't add a penny towards your electricity bill. Over time, this can save you significant amounts of money.
Why We Love the TrueForm Runner
1. All Around Great Performance
If you're simply looking to supplement your training with running, walking, or sprinting, the TrueForm Runner will provide you with everything you need. It will also work great when combined with other training equipment. With the TrueForm Runner, you can:
Do an EMOM with pull ups and sprints
Do long distance walking or running
Do overhead carries
2. Amazing Overall Quality and Build
While some of the treadmills come with components and frames made of plastic, the TrueForm Runner is made almost entirely out of high quality steel and aluminum. This makes it a strong piece of equipment, without even making it significantly heavier. It's one piece of equipment built for durability.
3. Curved Belt Surface
With the TrueForm Runner, there's no mechanism to elevate the treadmills for inclines. The most you can do is to imitate a steep surface by running closer to the front curve of the belt. The closer you get to the highest point of the curve, the more incline you will feel.
The curve at the end of the belt will help you integrate back kicks into your running workouts. This form of movement can help to strengthen your hamstrings, glutes, and hips, for a much stronger lower body and for increased agility and speed.
The curve will also help you get the treadmill moving more easily. When you drag your foot towards the top of the curve, you can easily set the treadmill in motion.
4. Speed Range
As a motorless treadmill, the TrueForm Runner features a proprietary Responsive Belt Technology that is designed to be receptive to the user's input and will move even with the lightest of walks. As such, you will have a lot more control of your speed as you start running faster, as the belt will immediately react to it.
5. Footprint
The TrueForm Runner is quite compact, and is even more compact than other treadmills on the market. Its footprint stands at around 64 x 36 x 63, which is pretty standard when it comes to the height and width. However, the smaller length should save you some considerable floor space.
The treadmill is also designed to support high levels of impact. It can comfortably handle up to 400 pounds of a runner's weight, and up to 700 pounds when the user is walking.
6. Display
The TrueForm Runner comes with a small screen that lets you stay on top of your speed, pace, and distance. The display itself is non-intrusive with its small size, which will go a long way in helping you focus on your runs other than constantly looking at your metrics every now and then. Powered by LED, the display will show your distance metrics in either miles or kilometers.
7. No Motor
The TrueForm Runner is operated manually. The user has to power the treadmill, which is done by simply walking or running on the belt. This can help to reduce the stride imbalance that some users struggle with when doing their runs on treadmills.
And while the treadmill is motorless, it does come with 100 bearings, each of them supporting the belt from underneath. The belt bearings are constructed from high quality steel, and you can be sure that they won't wear down easily. They also offer minimal friction and serve as great guides for the belt to adapt to your movements.
8. The Belt
The Kraiburg Rubber belt on the TrueForm Runner is made from repurposed tires. It's slip resistant and durable, and can support even the sweatiest of running sessions. We liked the fact that the belt production is also environmentally friendly, as it's both non-polluting and not regenerated with low quality materials that might compromise the integrity and build quality of the rubber.
TrueForm also offers customization on their running belts. You could substitute the rubber belt with an artificially made turf fitting for football, baseballs, and soccer players, who might prefer running in their cleats. You can also choose the running track belt option, which will be easier on your joints and muscles.
You could also swap out the standard rubber (Kraiburg) with a Naboso surface option. This is a form of textured surface that specifically actuates certain nerve endings at the sole of the feet, and can help to increase the stimulation of the feet. The Naboso Surface material option is often ideal for rehabilitation centers or anyone looking for a machine that could help cater to orthopedic injuries.
9. Cushioning and Feel
The tread you choose will have a key role to play in how you feel when running on the TrueForm Runner. If you opt for the standard Kraiburg rubber, you will tend to feel stable but flexible. With the running track alternative, you will feel more of a spring-like bounce, while when running on the Naboso Surface, you will feel the textured material targeting the nerves of your feet. Nonetheless, all the tread options will generally provide a smooth cushioning for a soft step on every impact.
10. Limited Distractions
The treadmill is designed to respond to every movement that the runner makes. While it won't come with features like a heart rate monitor or Bluetooth connectivity to use your smartphone or table with, it does give you some of the essential facets that any runner needs to elevate their running game. It's more like a running belt that reacts to every move you make and a metrics monitor.
Who Should Consider a TrueForm Trainer?
Anyone from a newbie to an avid runner who want to improve their running form
People looking for a treadmill that imitates running outdoors
Runners looking to have full control of their speed and acceleration
CrossFitters looking for a treadmill that's often used for WODs
Get more details and check current prices at Rogue
Who Shouldn't Buy a Rogue TrueForm?
Anyone looking for an electric treadmill with lots of powered features
Those who prefer a treadmill with a broader belt
Those looking to track their metrics like heart rate and calories on the equipment itself
Is Assembly Required?
With the TrueForm Runner, there isn't much assembly needed to piece it together. This is good because the equipment is quite heavy, and it could be a daunting task to have to piece everything together. The only thing that you'll need to do is to attach the LCD monitor to the handlebars and you will be ready to roll.
However, keep in mind that the treadmill weighs over 300 lbs. and while the transport wheels come in handy, you might need some help getting the machine to its final destination, depending on your size and abilities. Otherwise, there isn't much assembly required.
Is it Easy to Move?
While the TrueForm Runner is heavy, it comes equipped with two front wheels, which make it easier to move it around. It's recommended that you have a designated space for the equipment. However, the wheels will generally make the machine easily portable whenever you need to move it.
It's also worth mentioning that both the back and front of the machine are handles to let you lift up the machine as needed. The extra weight of the machine also allows it to be solid when stationary. The four adjustable platforms on every corner of the machine allow it to remain flat and stable, even when using it on an uneven surface.
Can You Walk on the TrueForm Runner?
Due to the speed of the belt, you can go from walking to sprinting and back to walking safely without the risk of being flung off the back of the treadmill. This is one of the risks that comes with using some other non-motorized treadmills.
Does it Run on Electricity?
No. This treadmill is designed to be operated manually. It's the user who powers it with every step. However, the display does run on batteries, though each purchase comes with both a rechargeable battery and a charger included.
Is it Expensive?
Some non-motorized treadmills can be a little more expensive compared to motorized one. With prices starting at $6,795, the TrueForm Runner will cost you considerably more than the standard treadmill, though its price is still within the range of manual treadmills, which start from around $4,000 and go to even hit $10,000.
Warranty Options
TrueForm does provide warranties for each part of the TrueForm Runner. The company guarantees that the frame will stand the test of time and that it won't succumb to defects. TrueForm provides a Lifetime Warranty to support this promise. Every purchase comes with a 10-year warranty on the trend and all its parts, which assures that these won't break down over time.
The LED display comes with a 2-year warranty, and the company will cover the cost of labor for any unforeseen repairs within 12 months of purchase.
Final Thoughts
Whether you're running to complement your strength training, in readiness of an upcoming marathon, or just want a convenient way to run indoors, the Rogue Runner is specifically designed to help you achieve your running goals, while improving your form to run faster, longer, and more efficiently. It won't do any of the work for you, which makes it beneficial for your running routine and even your overall health.
For anyone looking for a curved, manual treadmill, then you can't go wrong with the TrueForm Runner. From the high-end rubber trends to the 7-gauge steel frame, this treadmill is as solidly built as treadmills go. It's also backed by a great warranty, which is definitely nice to see.
The ability to customize the frame logos and colors as well as the option to choose between track and turf treads makes it a great choice for professionals and enthusiasts alike. It would also make a great choice for home gyms.
Ready to take your running to the next level?